Why Kendall Jenner & Devin Booker Keep Their Relationship Private
It has a lot to do with the supermodel's famous sisters.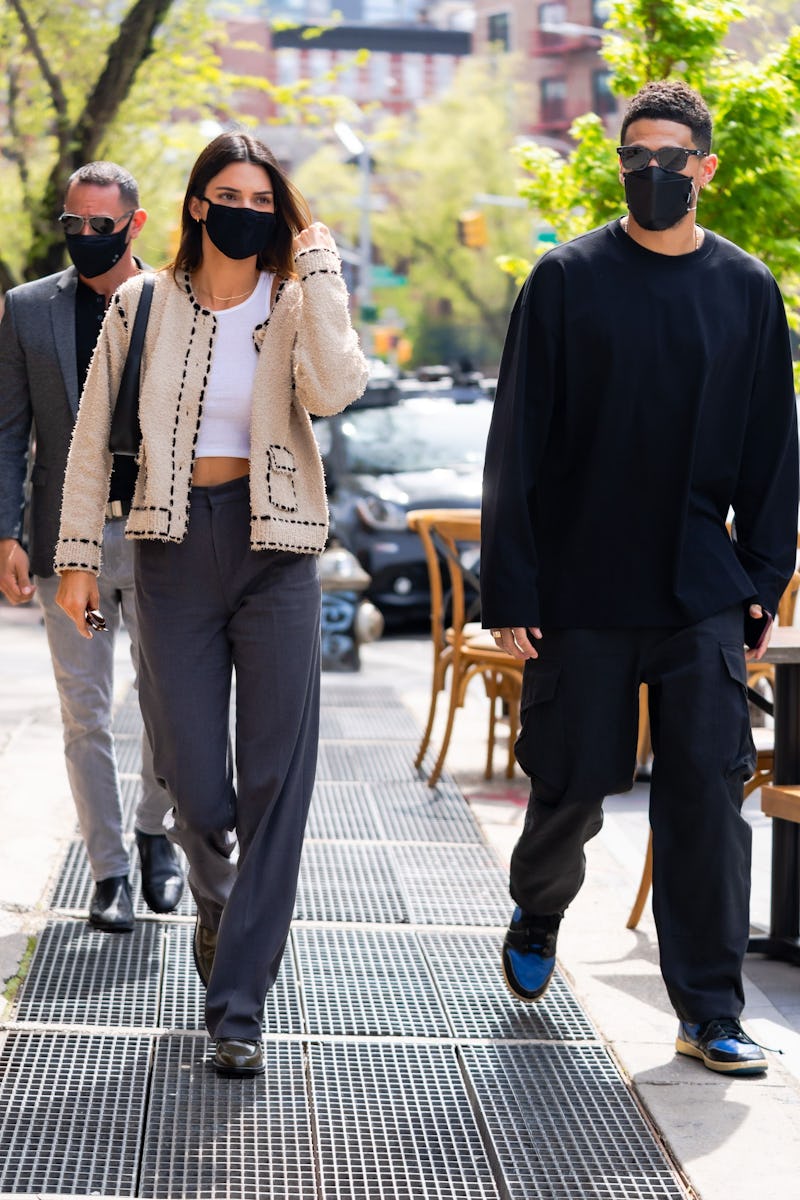 Gotham/GC Images/Getty Images
Kendall Jenner has been notoriously private about her relationships, but on Sunday, June 20, the 25-year-old reality star got candid about her romance with basketball star Devin Booker. During the final installment of her family's tell-all with Andy Cohen, Keeping Up With the Kardashians: The Final Curtain reunion, the supermodel explained that she has a different approach to dating than her older sisters. And considering she and Booker recently celebrated their one-year anniversary, her approach seems to be working.
"Kylie and I have had the opportunity to watch our older sisters go through marriages and relationships and breakups and all these things, and do them pretty publicly," the 25-year-old explained. And after witnessing Kourtney, Kim, and Khloé go through love and heartbreak on national TV, Kendall decided to try something different. "No offense to you guys at all, but I think it was personal preference from a really young age that I didn't want to [do that]," she said.
The Keeping Up With the Kardashians star doesn't regret keeping her romance with Booker out of the public eye. In fact, she thinks it actually took a lot of unnecessary pressure off their relationship. "I think it makes my life a lot easier and our relationship a lot better, to be completely honest," she continued. "I just feel like it's a private matter, it's not really for anybody else to judge or know."
Despite not divulging many (or any) details about her love life through the years, some fans noticed that a few of Kendall's rumored boyfriends were basketball players. But when Cohen fielded a fan question about whether or not she exclusively dates guys in the NBA, the model cleared the air. "I actually don't only date basketball players, if anyone's ever done their research, but I'm not ashamed that I have a type."
Prior to dating Booker, Kendall was romantically linked to several other basketball players including Ben Simmons, Blake Griffin, Jordan Clarkson, and Chandler Parsons. However, she also sparked romances with some of the world's most famous musicians, including A$AP Rocky and Harry Styles. Despite never confirming her relationship with the One Direction star, Kris Jenner let it slip that they were, in fact, an item during a recent appearance on The Ellen Show.
When it comes to her and her sisters' failed relationships, Kendall wants people to know that they are not squarely to blame. She also said that the "Kardashian curse" — a longstanding rumor that their exes' careers take a nosedive — is "offensive." "What I don't like about this narrative is that the blame is on us," she said. "I think the men need to take that responsibility. I think that we're all extremely giving and caring and loving women. And when there is a man in our lives we like, give everything to them, and as a family we all love them so much."
Although she's been keeping her current relationship private, her love for the Phoenix Suns player is clear. On Valentine's Day, Kendall confirmed their relationship on Instagram by sharing a cuddly photo of them in the kitchen, which she captioned with a white heart. And in honor of their one-year anniversary, the duo took to their Instagram Stories earlier this month to share photos from their first year together. In April, a source told People that this is "the happiest Kendall has ever been in a relationship."