KUWTK Reunion Trailer Asked Kourtney Kardashian & Scott Disick An Awkward Question
"So, do Kourtney and Travis [Barker] have your blessing?" reunion host Andy Cohen asked Disick.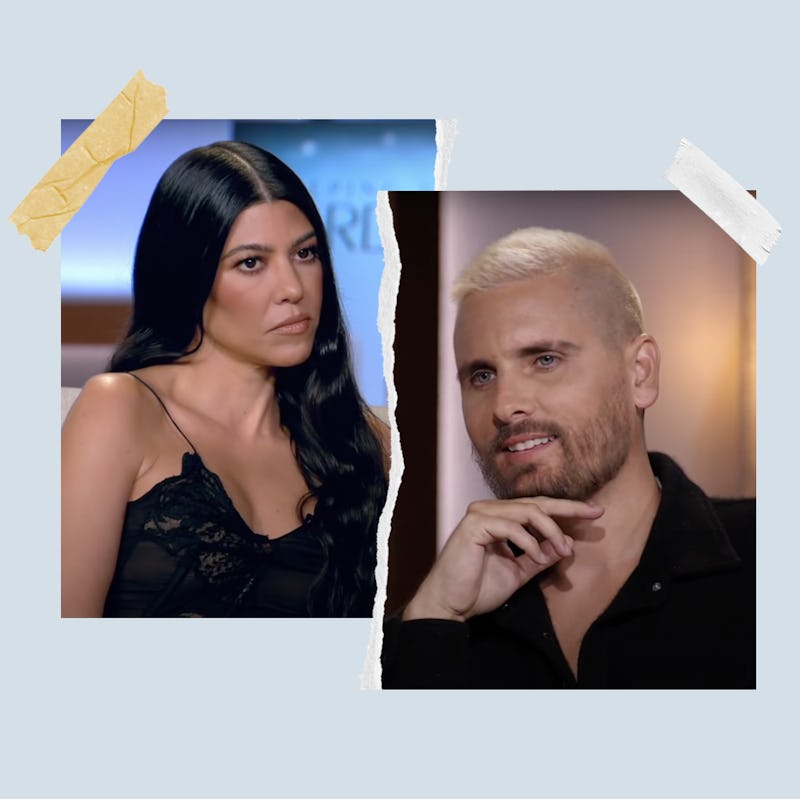 E! Entertainment/YouTube
Ahead of the June 10 finale of Keeping Up With the Kardashians, E! has released the trailer for the two-part reunion special that's slated for June 17 and June 20. Based on the dramatic preview, longtime viewers can expect the famous family to divulge a lot of juicy information. The reunion, hosted by Andy Cohen, will go where no Kardashian interview has ever gone before, complete with questions about Kris Jenner's falling out with Caitlyn Jenner, Tristan Thompson's cheating scandal, and yes, Kourtney Kardashian's complicated relationship with Scott Disick.
The preview opens with Kim Kardashian explaining that she has no choice but to live with her decisions while Kendall Jenner gripes about the lies spread about her family in the media. "The false narratives around my family, it's like offensive," the model says. Fortunately, this special offers the reality stars an opportunity to set the record straight on many issues, including why they decided to end the show after 20 successful seasons. "I think we're all feeling a little overwhelmed," Kris explained. "We had done it for so long."
Of course, the trailer only got more dramatic from there. After teasing a high-stress moment in which Kim relied on Kris to help her escape a dangerous situation, the Skims founder admitted that she owes someone (though we don't know who) a big apology. Unfortunately, that's just one of the clip's biggest cliffhangers. Elsewhere in the preview, fans are left desperate for answers when Cohen asks Khloé how she knew that Tristan would cheat again. It also remains unclear whether or not Kris and Caitlyn are on good terms.
Despite all of the unknowns, the trailer did provide some insight into one of the show's longest and most interesting relationships. "Do you think your relationship might have turned out differently if you hadn't shared so much of it?" Cohen asks Kourtney and Scott. To Kim's surprise, Kourtney said that things "probably" would've been very different, but that it was ultimately Scott's bad decisions that led to the demise of their 10-year-long relationship. "I think the substance abuse was the dealbreaker," the Poosh founder said. "I was pretty irresponsible," Disick admitted.
The Talentless founder's questionable behavior is something he's addressed openly throughout the show's final season. In a KUWTK sneak peek from last month, he and Kim discussed when or if they'll ever let their kids watch the show. "I'm just thinking, they're going to watch it at some point because it's our life," the Talentless founder said, explaining that the three kids he shares with Kourtney — Mason, 11, Penelope, 8, and Reign, 6 — will naturally be curious to see their parents' past relationship play out onscreen. "Honestly, the only person that did bad sh*t on the show was me," he added. "I really have some explaining to do."
Disick's past isn't the only thing he has to come to terms with. "So, do Kourtney and Travis [Barker] have your blessing?" Cohen asked Scott in the trailer, referring to Kourtney's hot-and-heavy relationship with the Blink-182 drummer. The question is left unanswered, so fans will have to tune in to the two-part reunion to find out Disick's answer, though he has previously voiced interest in rekindling his and Kourtney's romance. "Wherever Kourt stands, I stand with her," he said earlier this season. "I love you, and I'm ready to marry you right here, right now."