ANOTHER Bachelorette Contestant Just Made A Surprise Return To The Show
Bennett isn't the only one who came back for a second chance.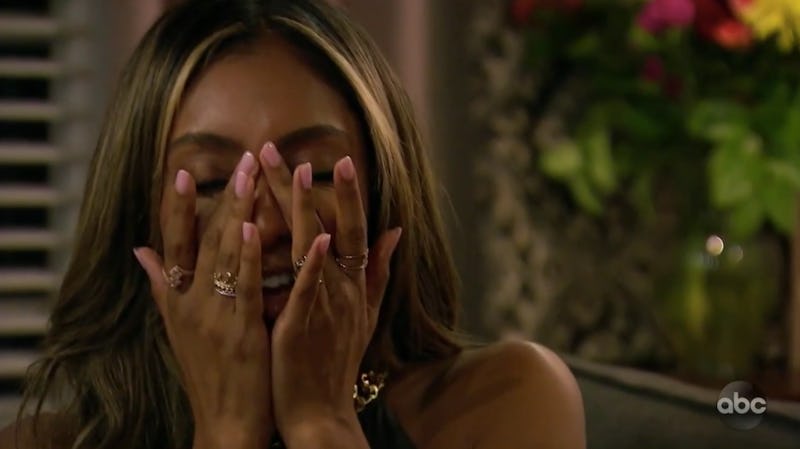 ABC/screenshot
Bennett isn't the only man who made a surprise return to The Bachelorette this season. After being eliminated during the "hometowns" episode, Ben came back after fantasy suites to finally tell Tayshia he loved her in the hopes that it would win him a second chance. But unfortunately for him, it may have been too little, too late.
"My brain couldn't work," he told Chris Harrison, referring to his unemotional reaction to their breakup. "I wish I wouldn't have shut down in the moment. The last interaction I had with Tayshia was so not like the relationship I had with her. I honestly don't know if I'm asking to be back in her life, I just feel the need to express myself."
Then came his knock on Tayshia's door. When she answered, she was completely shocked. "I know, I'm catching you off guard," he said, greeting her. He then apologized for the way things ended between them. "When things get emotional or confusing or tough or difficult for me, I often just shut down," he said. "I was so completely caught off guard … and I'm sorry for that."
He continued: "The feelings that I've had for you I've been describing this entire time. I just didn't know what it was, but I'm in love with you. I've been in love with you." He started to get nervous. "I blew it by not telling you in the moment. I've never felt this feeling and so I was just terrified, but I am in love with you. Like, the life we could have together, the thought of that, it keeps me awake at night. And I'm not sure what to do right now, I'm not sure what I'm asking for … I couldn't leave. But I just had to tell you."
Flabbergasted, Tayshia didn't really respond, other than to say she needed a minute. She then left the room and was shown venting to the producers. "There's a rose ceremony," she said. "What do I do with that?"
Between that and Brendan's exit, she has a lot to think about before handing out her final rose.
This article was originally published on