What The Original Gossip Girl Cast Has Said About Being In The Reboot
Some are definitely more open to the idea than others...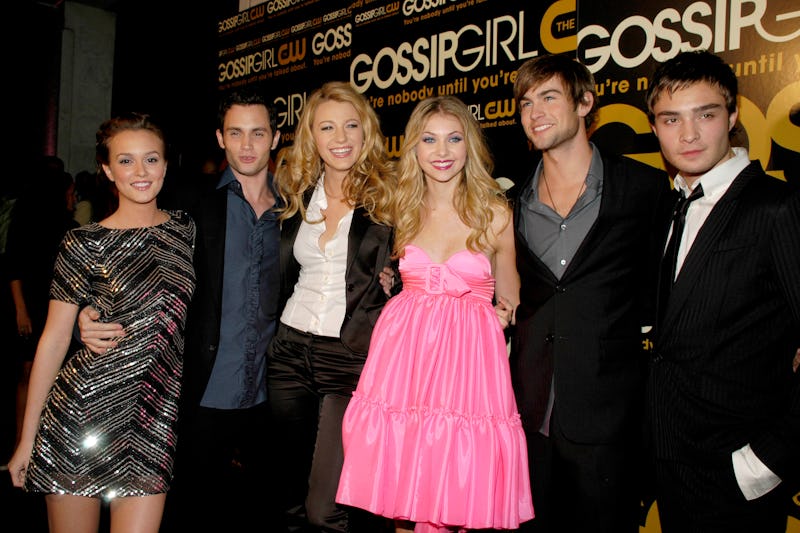 Patrick McMullan/Patrick McMullan/Getty Images
Nine years after Gossip Girl aired its finale episode, we're finally headed back to the Upper East Side. HBO Max's reboot of the series premieres on July 8, carrying on the original show's tradition of high society scandal and ostentatious behavior. It's not a true reboot, instead centering around a new cast of characters who exist in the same world. "I think of it like the Marvel universe. It's not a continuation or a sequel. It truly just is looking at a different angle," Joshua Safran, who developed the reboot and served as an executive producer on the original series, told Entertainment Tonight in 2019.
That means there will be plenty of references to the original characters — but they won't necessarily be in the show. "I would love for everyone to come back if they wanted to. The universe still exists. The characters talk about Serena, Blair, Chuck, Dan," Safran told ET.
However, while Gossip Girl's original co-creator Josh Schwartz — who's an EP on the reboot — told The Wrap that they reached out to everyone in the original cast about being involved, the actors themselves have been telling a different story. Here's everything they've said about the possibility of returning.
Kristen Bell as the voice of Gossip Girl
The only original cast member confirmed to return for the reboot is Kristen Bell, which is ironic given that she never actually appeared onscreen (save for a cameo in the series finale). Bell spent six seasons as the voice of Gossip Girl herself, opening and closing episodes with glossy monologues about the most salacious details of Blair, Serena, and their cohorts' lives. For the creators of the show, it was a priority that she be included in the reboot. "Kristen Bell has always been and will always be the voice of 'Gossip Girl," the producers said in a 2019 statement, per The Wrap.
Blake Lively as Serena Van Der Woodsen
One of the original breakout stars of the 2000s series, Blake Lively, confirmed in January 2020 that she's not involved in the reboot. "I don't know. I'm not a producer. I'm not involved. You gotta call them," she told E!.
However, she seemed more open to the idea of a reboot in 2017, so perhaps she'll change her tune for a potential second season. "It sort of all depends," she told Variety at the time. "Would I do seven years of the show? No, because it's hard work and I've got my babies, and I don't want to be away from them that much. But I've just learned in life you never say never."
Leighton Meester as Blair Waldorf
Known for her character's outrageous and iconic fashion, Leighton Meester's Blair Waldorf also won't appear in the reboot — at least in Season 1. When asked about the possibility of reprising her role in 2019, Meester told E!, "No one's ever talked to me about it except for in interviews, and I always say the same. I never say never. So, I don't know. No one's sent me that information."
However, if Meester does ever return to the show, she knows exactly what Blair would be doing. "When we last left Blair Waldorf, she had a kid with [Chuck Bass], and she was running her own fashion company," she told Elle in February 2017. "Blair Waldorf is probably about to debut her new fashion line. She's probably doing New York Fashion Week! She's got a runway somewhere."
Penn Badgley as Dan Humphrey
Penn Badgley, who famously hated being on the original show, surprisingly hasn't ruled out a return to the Upper East Side. "I have not had conversations with any of the creators yet," he told Entertainment Tonight when asked about the reboot in 2019. "I think it's pretty clear that, like, I've never been a proponent of Dan Humphrey's. I've never been necessarily the greatest friend or fan of Dan Humphrey, which now I reconcile in this way that I'm like, you know, I would love to contribute in a meaningful way to it. And I guess it would just depend on a lot of things…It would depend on how and why he's there."
Ed Westwick as Chuck Bass
Of all the original main cast members, Ed Westwick sounds the least enthusiastic about being in the new series. "Chuck Bass is played out," he said flatly in a 2017 interview with the Radio Times. "That's not gonna happen."
Chace Crawford as Nate Archibald
Chace Crawford, on the other hand, seems the most enthusiastic about the idea. "I would absolutely cameo. I'd have to!" he told Digital Spy in 2019. "I don't know what it would look like with us being in our 30s now, but I always say, because it was such a big part of my life, I'm open to anything."
Taylor Momsen as Jenny Humphrey
Taylor Momsen quit acting entirely during her stint on Gossip Girl, leaving in Season 4 to pursue music with her band The Pretty Reckless. She did make a cameo in the series finale, but it's less likely that she'd be game for the reboot. "I'm not looking to go back to it," she told Riverfront Times in 2014. "Gossip Girl was a great experience, and it helped in one way and hurt in another, but it feels like forever ago."