The Pennyworth Creators Say They Have Enough Story For Five Seasons
The iconic butler's fight may continue.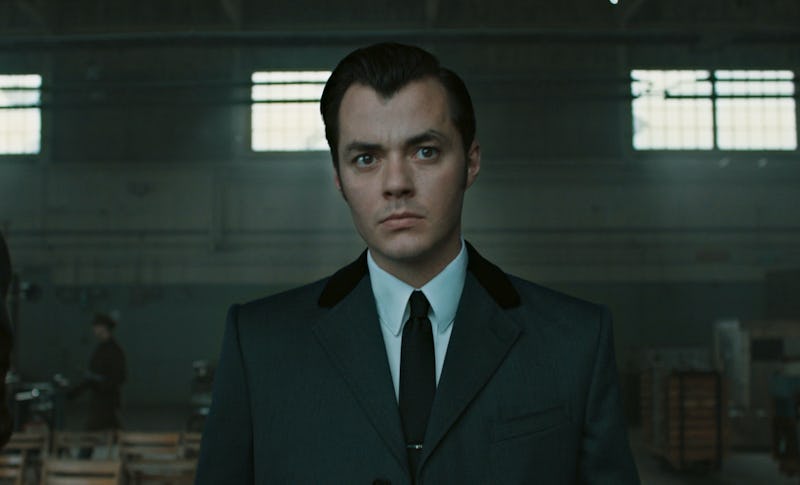 Epix
Epix's Pennyworth is wrapping up its civil war-set Season 2 this week, and it's not yet clear if Batman's famous butler, Alfred Pennyworth (Jack Bannon), will return for a Pennyworth Season 3. But showrunner Bruno Heller told Entertainment Weekly that he'd love to continue to explore the origin stories of the people who shaped Batman into who he is: Alfred, Lucius Fox (Simon Manyonda), and his parents, Thomas (Ben Aldridge) and Martha (Emma Paetz).
"I'm really excited for Season 3 because now we've got all the pillars in place," Heller explained. "As you can see this season, the world is changing very rapidly, and it's sort of an acceleration of what all of us have been seeing over the last 50 years, which is this race toward a strange new world that no one is really going to be familiar with or comfortable in. Batman is the modern mythical character that struggles with all of those contradictions."
He added that he and his team are very aware that their show could be setting up a future Batman story. "It's brilliant because we're working in a pre-comics world. It's a fantastic alternative DC London, so we can almost do what we like, but we're conscious that all of our choices as the characters we're creating will feed into the Batman thing," he said. He added that Batman "will come much later, but the choices we make and the people we become will inform who he is. I do feel conscious of that."
Take from that what you will, but it sounds like Heller is prepared for the show to go for a number of seasons if Epix continues to renew it. Director Danny Cannon even told Collider in 2019 that it was "easy" for him to picture five seasons of stories for Pennyworth.
"When we were first talking about this, Bruno said the villains were people like Jack the Ripper, which totally makes sense. The light bulb, for me, straight away was that it's England in the '60s, or this new Dickensian/Orwellian England in the '60s, so drawing from characters in classic literature in Britain is like our superheroes," Cannon said. "Whether they're the descendants of people or are related to people, or just look or feel like them, five seasons flashed in my head."
Heller added to Collider that he always approaches his shows as if they're going to be at least a five-season arc. "One of the things you have to start with, or at least I and Danny do, is that, if you don't have some idea of what Episode 9 of Season 4 is going to be, then it's probably not a good TV idea," Heller said. "In success, that's what you're going to be faced with, so it just makes sense to be sure that you have a story that has enough juice in it, that it will carry on, and can keep changing and growing."
And there's certainly more room to grow on Pennyworth, as all of the key characters are still in London in the midst of the devastating civil war with Lord Harwood (Jason Flemyng) and his powerful neo-fascist Raven Union. While Alfred and the Waynes have been trying to get to America to build a new life there, as of the penultimate episode, they haven't quite managed to break away from the war.
As for when the show could get renewed, the second season was announced about a month after Season 1 ended. (Season 2 was meant to start filming in January 2020, and was likely supposed to premiere in fall 2020; but due to the pandemic halting production, it didn't air until December 2020.) If that trend holds, we could be hearing renewal news some time in May, and third season could potentially debut some time in 2022.
Whether it gets renewed depends on how many fans tuned in this season. While ComicBook.com noted that Season 2 lacks focus and "doesn't exactly know" if it wants to be a spy series or superhero drama, the show still has a relatively high rating on Rotten Tomatoes. Who knows, maybe the iconic butler's fight isn't over just yet.