RuPaul's Drag Race UK S2 Is Back On Screens Very Soon
The show was forced to pause filming due to the coronavirus pandemic.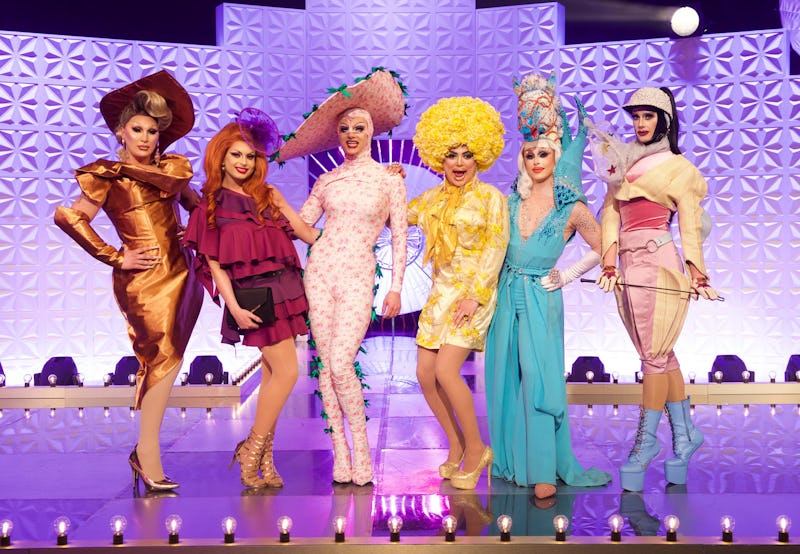 BBC/World of Wonder/Guy Levy
The first series of RuPaul's Drag Race UK took the nation by storm, and there's no sign of that stopping anytime soon. The likes of Baga Chipz, The Vivienne, and Divina de Campo have officially stolen my heart, and the runway looks and guest judge appearances kept getting better with every episode. So, will RuPaul's Drag Race UK return for series two?
Thankfully, the show's sophomore run is right around the corner, and Drag Race UK series 2 has been confirmed to be returning on Thursday, Jan 14, 2021. Can I get an Amen up in here? News of season two's long-awaited arrival was revealed in a sickening social media announcement, which read: "Santa called and said you can have one present early. The first episode of #DragRaceUK series two lands on @bbciplayer on January 14th at 7PM."
Mother Ru previously declared fans can begin "looking forward to better days," adding that she's "happy to announce the triumphant return of Rupaul's Drag Race UK." In a statement, the drag superstar added: "Early in 2021, season 2 will arrive will all the hope, joy, laughter and glitter you've come to expect from our brilliant queens. We're also currently casting season 3 with the best and the brightest Great Britain has to offer. We feel honoured that you've embraced our little show, and our only wish is that we can offer a smile at a time when we can all use it the most."
Per the Radio Times, filming for the new series was "interrupted" due to the coronavirus pandemic over the summer. The second season was halfway through filming before having to shut down, as BBC Three controller Fiona Campbell said on a virtual panel at the Edinburgh TV Festival. "I think the best thing I can say is hopefully if we all stay well and stable in the UK like we are now, we'll get it done by the end of the year," Campbell explained at the time.
Thankfully, production eventually got back on track, and judges Michelle Visage, Alan Carr and Graham Norton will once again join RuPaul on the Drag Race UK panel. Discussing the upcoming series, Carr revealed fans can expect season two to be bigger and better than the first, commenting: "Michelle Visage has had double the applicants this year so I think it's going to go up!"
Elsewhere, The Vicar of Dibley's Dawn French recently revealed she is set to make a special guest appearance on the show. Speaking on Jessie Ware's Table Manners podcast, the comedian divulged: "They did originally ask me to be a full-time judge, but I couldn't — I don't live in London. But I am going to be a guest judge in a couple of weeks."
RuPaul's Drag Race series 2 arrives on BBC iPlayer on Thursday, Jan. 14.
This article was originally published on