Why Shining Girls Is Unlikely To Return For Season 2
The literary version has a decisive ending.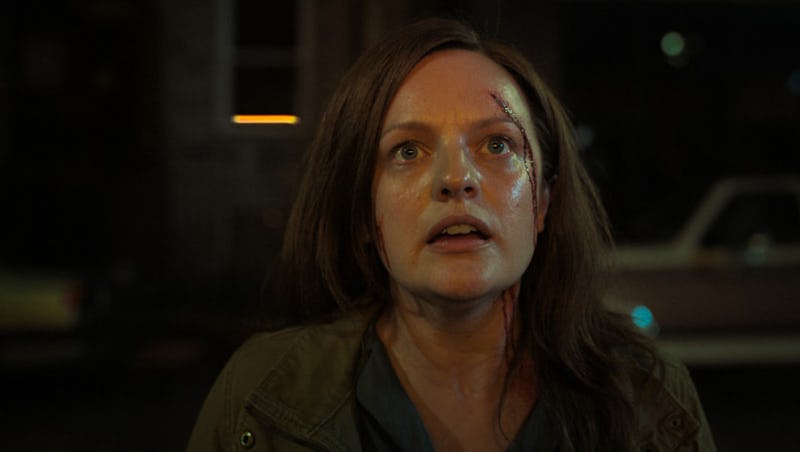 Apple TV+
Based on Lauren Beukes' 2013 novel, Apple TV+'s Shining Girls drops its Season 1 finale on June 3. Though the streamer has yet to reveal if there will be a second season, the eight-episode sci-fi thriller is likely to end as decisively as Beukes' book did. Shining Girls follows protagonist Kirby Mazrachi (Elisabeth Moss), a Chicago Sun-Times research assistant who years earlier suffered a brutal attack that "left her in a constantly shifting reality." After learning that a recent killing is linked to her assault, she teams with reporter Dan Velazquez (Wagner Moura) to solve the mystery around the murderous Harper Curtis (Jamie Bell).
Without giving away any spoilers, the book answers those questions. Though it wouldn't be unprecedented for the series to continue beyond its literary source material (see: HBO's Big Little Lies adaptation), it's a rarity. Beukes was involved in the show as an executive producer, explaining to Esquire that she had conversations about "the characters' motivations" and shared her research with showrunner Silka Luisa. Still, there were several differences between the book and series. "I think this adaptation, by necessity, is a different animal," Beukes told the magazine. "Everybody involved created something utterly rich and exciting and dark, but also true to the book's bloody heart."
Those differences included the introduction of a psychological distortions for Kirby, something the author deemed a "really great metaphorical treatment of trauma." Moss' character was also college-aged in Beukes' book, which "necessitated changes" to the Apple TV+ adaptation. Sharing that she was "hugely excited" when Moss signed on for the role, Beukes added, "We have a lot of young heroines finding their way, but to have an older woman carrying trauma — there's a weight and a resonance there that perhaps a younger actor wouldn't have."
Luisa, for her part, told Slash Film that Moss was the first actor they'd reached out to after she finished writing the pilot. Not only did the two-time Emmy winner agree to star in the series, but she also signed on as a producer and director. "I can't imagine anyone else but her playing Kirby," said the first-time showrunner, noting that Moss "really understood the show."
In the same interview, Luisa also shared how Beukes' "incredibly elegant" novel had "meant so much" to her, particularly the author's "delicate" handling of the themes. "We changed some structure, and the characters might have shifted, but I think the themes that she talks about in the book, we've been able to present [in an accurate way], hopefully," she said.
Even if the series doesn't continue, however, there is still good news for fans of Beuke's storytelling: Three more of her works are currently being adapted for film and TV. According to the South African author's website, the CW is developing a TV series based on the Survivor's Club horror comic. Meanwhile, Village Roadshow is working on a series based on 2014's Broken Monsters, and her 2016 short story Slipping also could be getting the big screen treatment in the future.