Will Smith Apologizes To Chris Rock For Slapping Him At The Oscars
"Violence in all of its forms is poisonous and destructive."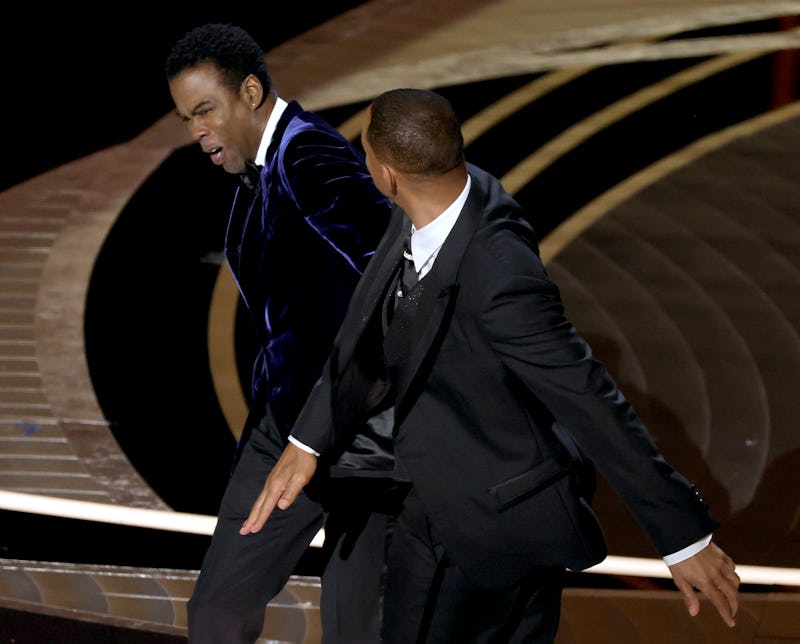 Neilson Barnard/Getty Images Entertainment/Getty Images
Update March 28, 2022 8:32 pm: In a Monday evening post on Instagram, Smith apologized to Rock for slapping him onstage at the Oscars. "Violence in all of its forms is poisonous and destructive," Smith wrote, calling his behavior "unacceptable and inexcusable." He added that while he understands that jokes at his expense are part of the job, he was set off by the attack on his wife's medical condition (Jada Pinkett Smith suffers from hair loss due to alopecia; Rock had joked about her shaved head).
"I was out of line and I was wrong. I am embarrassed and my actions were not indicative of the man I want to be," Smith continued, adding his apologies to the Academy, the producers, the attendees, and viewers around the world, along with Richard Williams and team King Richard. See the full post below.
Our original story appears below.
The 94th Academy Awards had plenty of snubs, surprise winners, and unexpected celebrity interactions, but one moment shocked viewers more than any other. While presenting Best Documentary Feature at the Oscars, Chris Rock made a joke about Jada Pinkett Smith looking like "G.I. Jane." Will Smith did not like the joke — possibly because Jada has been open about her hair loss condition. He stormed the stage and slapped Rock before going back to his seat.
Some audiences at home thought it was scripted, although the heated conversation that followed the slap was censored for U.S. viewers. But according to New York Times reporter Kyle Buchanan, who was present at the show, the exchange was not a part of the regularly scheduled programming. Once back in his seat, Smith yelled "keep my wife's name out of your f*cking mouth!" — as could be heard on uncensored Japanese and Australian Oscars broadcasts, which subsequently made the rounds online. When the U.S. broadcast finally turned its sound back on, viewers heard Rock allude to Smith's reaction before he finally presented the Oscar — to Questlove for his documentary Summer of Soul.
Later in the night, after winning Best Actor for his role in King Richard, Smith apologized to the Academy and his fellow nominees for the debacle in his acceptance speech. "Art imitates life; I looked like the crazy father just like they said Richard Williams [did]," he said, comparing himself to his character, the real-life father of tennis legends Serena and Venus Williams. "Love makes you do crazy things."
Smith was also comforted off-camera by Tyler Perry and Denzel Washington during the commercial break. In his speech, Smith revealed that Washington told him, "At your highest moment, be careful. That's when the devil comes for you." Smith was seen wiping tears from his eyes as he sat back down with Jada.
After the show, Smith alluded to the incident on Instagram, posting a video of him and Jada posing in their Oscars looks. "Me 'n @jadapinkettsmith got all dressed up to choose chaos," he captioned the post. In a separate comment on the post, he joked, "You can't invite people from Philly or Baltimore nowhere!!"
Variety confirmed with the Los Angeles Police Department that Rock declined to file a police report against Smith for the altercation. "If the involved party desires a police report at a later date, LAPD will be available to complete an investigative report," the statement read. Amid speculation that Smith could be asked to hand his Oscar back after breaking code of conduct, the Academy released a short statement on Twitter that condemned the incident without confirming anything else. "The Academy does not condone violence of any form," they wrote. "Tonight we are delighted to celebrate our 94th Academy Awards winners, who deserve this moment of recognition from their peers and movie lovers around the world."
It was all a lot to take in — and celebrities in the audience were stunned. In particular, Lupita Nyong'o and Nicole Kidman's reactions perfectly captured how viewers at home felt.
This article was originally published on