The Best Memes & Tweets About The 2022 Oscars
Twitter is losing it over this year's ceremony.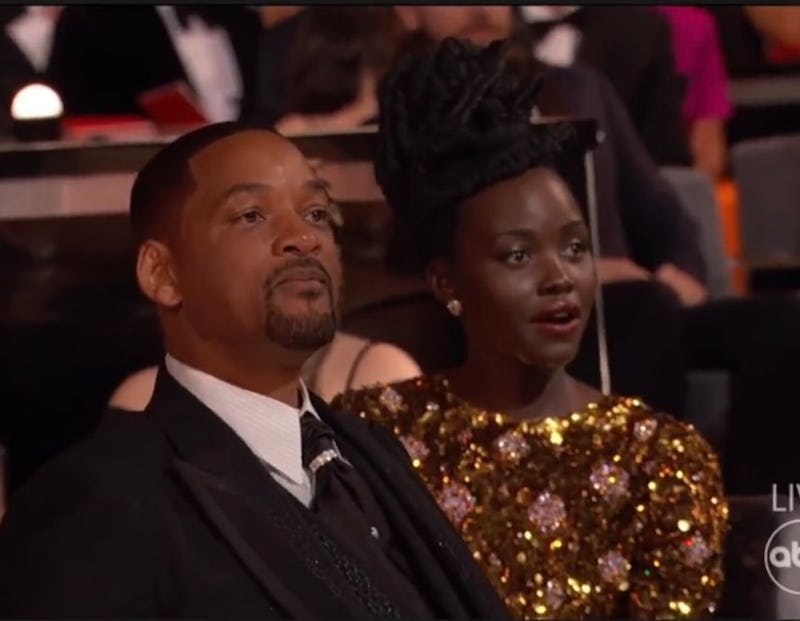 screenshot/ABC
The Oscars have arrived, and so have the stars. After last year's scaled-down ceremony, the Academy Awards have returned to their longtime home at the Dolby Theater in Hollywood, red carpet and all. And as the celebrities made their entrance, so did the memes and tweets from those watching live from home. From the best (and worst...) looks to the unpredictable red carpet interview moments, there was plenty to poke fun at.
The show started off with a bang: Beyoncé's performance of "Be Alive," staged at a tennis court in Compton, Los Angeles. One user tweeted: "Y'all better put Beyoncé whole performance on Twitter. No clips and bullsh*t. THE WHOLE PERFORMANCE!!!!!!"
After that, co-hosts Regina Hall, Amy Schumer, and Wanda Sykes — the first trio of women to share the job ("It was cheaper than hiring one man," Schumer joked in the opening monologue) — took the stage. Schumer wasn't shy about dragging her fellow movie stars in her first solo monologue as host, poking fun at Leonardo DiCaprio, Timothée Chalamet, and Maggie and Jake Gyllenhaal, as well as films like Don't Look Up and Being the Ricardos. Many were impressed with her quips, with one user tweeting: "Honestly bring back Amy Schumer to roast all the other nominees."
Regina Hall also killed her solo moment, which she used to bring a group of attractive men onstage — for a PCR test, of course. (The test was to be conducted backstage, with her tongue, naturally.) "Regina Hall has low-key been one of the funniest women in Hollywood for nearly 25 years," another Twitter user wrote. "She's absolutely killing her #Oscars co-hosting gig."
Of tonight's winners, Twitter users were psyched to see Ariana DeBose and Troy Kotsur win for Best Supporting Actress and Best Supporting Actor, respectively. DeBose is the first openly queer, Afro-Latina actor to win an Oscar, and Kotsur's victory makes him the second Deaf actor to take home a trophy. Viewers were also happy to see singer-slash-sitcom-queen Reba McEntire perform "Somewhere You Do" from Four Good Days, with Blink-182's Travis Barker at the drums, as well as brother-sister duo Billie Eilish and Finneas O'Connell perform (and subsequently win for) "No Time to Die" from the film of the same name.
Perhaps the most shocking moment of the ceremony happened right before Chris Rock presented the award for Best Documentary Feature. The comedian cracked a G.I. Jane joke about Jada Pinkett Smith, who shaved her head to cope with hair loss after her alopecia diagnosis. Her husband, Will Smith, who later won Best Actor for King Richard, then walked up to the stage and appeared to slap Rock in the face before yelling, "Keep my wife's name out of your f*cking mouth!" The reportedly unscripted exchange had viewers stunned, with Vulture's movies writer Nate Jones tweeting from the ceremony: "That Will Smith moment was so weird bc in the room it also wasn't clear about whether it was scripted or not. But once it became clear it wasn't, this place got real icy real fast."
Below, some of the best memes and tweets from the 94th Academy Awards.
The Slap Heard 'Round The World
Twitter (and Lupita Nyong'o) had a slew of reactions to most major moment of the night.
The Red Carpet Begins
But before all the chaos unfolded, expectations for film's biggest night were... mixed.
Red Carpet Fashion Was Eye-Catching
It wasn't just K. Stew's shorts.
The Show Begins
Things weren't chaotic, for a while. At first, we got to enjoy jokes from Amy Schumer, Wanda Sykes, and Regina Hall. We were so young then.
There Were Celebrations...
Wins in the Supporting Actor (Troy Kostur) and Supporting Actress categories (Ariana DeBose) had Twitter elated.
... But Things Took A Turn For The Bizarre
The "Fan Favorite" award highlighted a rather random selection of films, leaving Twitter confused (thankfully, we can help with that).
All Hail Reba!
Her performance of the Oscar-nominated song "Somehow You Do" by Diane Warren led to more meme-able moments.
And... Back To The Slap
There are just too many memes.