This Netflix Animated Series Is About An Ex-Yakuza Who Pampers His Wife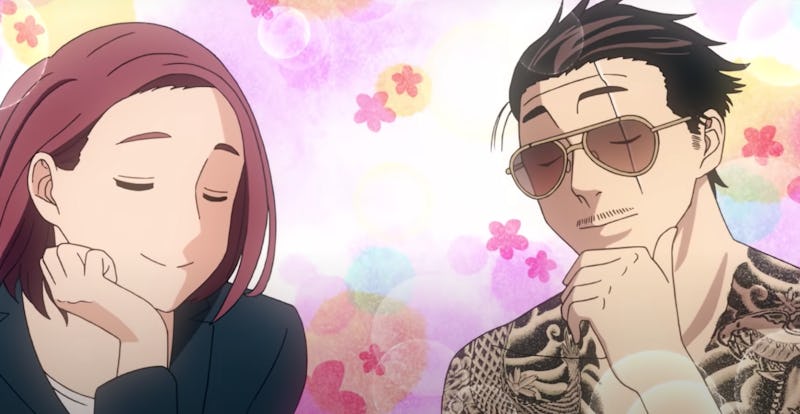 Netflix
Based on a 2018 manga by Kousuke Oono, Neflix's anime series The Way of the Househusband follows Tatsu, an ex-yakuza boss who retires from crime to become a househusband — aka a stay-at-home spouse who cooks, cleans, and dotes on his significant other. (The dream, honestly.) Though law enforcement always assumes he's up to no good, Tatsu focuses on making his wife, Miku, happy. "Oono breathes life into what many may see as the mundane task of caring for another," Rosie Knight writes for WomenWriteAboutComics. "... There's something that feels radical and lovely about that — finally recognizing the importance of all of the tasks which are pushed upon women, or determined by society as 'women's work.'"
The Way of the Househusband Season 1 was developed by Studio J.C.Staff and Netflix, and premiered April 8, 2021. While the season only has five episodes, each is broken into six smaller vignettes that explore a different aspect of Tatsu's homemaking. (While this may not appeal to viewers looking for a more streamlined narrative, it does reinforce how each chore feels like its own individual adventure or struggle.)
Currently, neither Studio J.C.Staff nor Netflix has announced yet if The Way of the Househusband will return for Season 2. But there's a good chance that it could get renewed, as Netflix has shown an active interest in offering more animated series and especially Japanese animation. Per Variety, anime is increasingly becoming a "global currency" for the streaming giant; Netflix reported that between October 2019 and September 2020, more than 100 million households globally watched at least one anime title on the platform. Anime shows like Baki, Aggretsuko, and Demon Slayer have all consistently appeared in the platform's top 10 titles, and its Seven Deadly Sins show ranked in the top 10 in more than 70 countries.
In the wake of those shows' successes, Netflix announced it would be releasing The Way of the Househusband along with 15 other anime titles, including Rilakkuma's Theme Park Adventure (a stop motion project) and Yasuke (based on the true story of a Black samurai who lived in 16th century Japan). Variety also noted that in 2020, Netflix also expanded the roster of animation studios that it partners with, so clearly Netflix is committed to continuing to offer more anime on its platform.
Ultimately, Way of the Househusband would be a good show for Netflix to continue to invest in. It's a very popular series, even spinning off into a 2020 live-action TV adaptation on Nippon TV. (Unfortunately, the live-action is not currently available outside of Japan. But you can read the original manga through Viz Media.) As long as audiences tune in to the anime, there's a good chance it could get another season. The manga is actually still running, so there are definitely more stories about Tatsu and Miku to adapt.
In terms of timing, though, even if Way of the Househusband is renewed, fans will likely need to wait a while for Season 2. It's unclear how long it took to produce, but per Anime News Network founder Justin Sevakis, animation production times can vary anywhere from a year and a half to much longer if there are delays. (It's also unclear if and how COVID-19 could affect anything.) Fans may very well have to wait until late 2022 or 2023 for a second season, but seeing Tatsu cook yet another adorable bento box would be worth it.