How To Make Your Makeup Look Professionally Done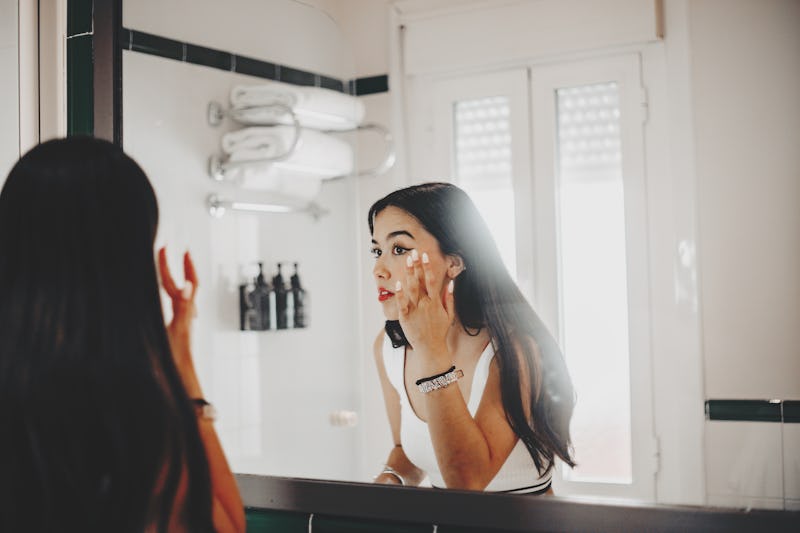 Carol Yepes/Moment/Getty Images
Makeup is supposed to be fun, yet sometimes it can just be annoying — especially when we all have that friend who somehow shows up with flawless makeup every single time. The good news is there are definitely ways to put on makeup like a pro. Remember when you see someone with an utterly flawless look that it's generally not because they were just naturally born with the God-given gift of makeup application, but rather that they've simply implemented a few tips and techniques that all of us are capable of mastering.
My personal makeup journey has had its fair share of mishaps and misadventures. Pictures of me from college show a startlingly white complexion accented with almost clownishly pink cheeks and unfortunate raccoon eyes. And not only were my colors off for my skin tone, but the products I was initially using were also totally wrong for my naturally combination skin, meaning I almost always had a less-than-flattering sheen to my face. I literally cringe when I see pictures of myself "made up" from the ages of 18 to 21.
The slow march to owning the right makeup brushes and knowing the proper techniques was slow and steady. And to be honest, I sometimes still end up sporting some serious makeup don'ts when trying something new. But in general, I've gotten a lot better at making my makeup look more flawless and professional, and I now have a few solid tricks up my sleeve.
Whether you're a makeup beginner or you just haven't been loving your look recently, here are seven tips that will make your makeup look way more professional.
1. Invest In The Right Tools
e.l.f Brush Set, $30, Amazon
Today contributor Sharon Yi went to beauty school for an assignment in order to share a few secrets with us nonprofessionals, and the number-one trick she learned was simply having the right application tools. "Let's say you were using mediocre brushes, mediocre products, and had average skill," she write. "Just by improving the quality of your brushes and using richer pigmented products, the application would immediately be better, even without improving your technique." The eight basic brushes she said you should have are: a foundation brush, concealer brush, fluffy powder brush, blush brush, small blending brush, flat eyeshadow brush, precision angle brush, and a lip brush.
Also consider: Real Techniques Starter Brush Set, $11, Amazon
2. Know That Contouring Is Your Friend
Yi also noted that one of the reasons professionally-applied makeup always looks so amazing is that professional makeup artists will almost always contour your face. One of her instructors, Rebecca Prior, put it simply when she said, "Contouring is the art of highlighting and shading. Anything that is lighter than the skin tone will make an area more prominent, anything darker will make that area recede." Thus, you can emphasize your cheekbones while de-emphasizing your forehead, or up-play your eyes and downplay your nose. You can draw attention to whatever you personally like best about yourself and what makes you feel beautiful. And while I know this particular technique can seem daunting (especially with all those crazy clown contouring videos making the rounds), I promise it's actually incredibly doable with a little practice.
Try: Lorac Pro Contour Palette Plus Brush, $45, Amazon
Also consider: NYX Wonder Highlight and Contour Stick, $12.48, Amazon
3. Get The Right Concealer For Your Skin Tone
L' Oreal True Match, $8.54, Amazon
According to makeup artist Ana Marie Rizzieri in a piece for Glamour, choosing a concealer a shade lighter or darker than your natural skin tone is a bad idea, as it will always result in the "goggle" or raccoon effect. She said that, ideally, your concealer will completely mask whatever discoloration is underneath. So finding a cream concealer that matches your skin tone will be most effective.
Also consider: Maybelline Fit Me! Concealer, $4.39, Amazon
4. Always Blend Up
The experts at Glamour also reminded us to always blend upwards when applying blush to your cheeks, as it will help lift and brighten your face. Odds are you may already be doing this naturally, but if not, it's definitely a technique you should implement.
Try: Real Techniques Blush Brush, $7.19, Amazon
Also consider: e.l.f. Angled Blush Brush, $7, Amazon
5. Never Use Just One Color On Your Eyes
If you've ever seen a professional makeup artist apply eye makeup, you've probably noticed that they always use multiple shades and colors to create depth and shape. In fact, it's arguably where you see the most difference between professional makeup and regular, at-home makeup. If you have no idea how to apply multiple colors to your lids, here's a super-helpful video from professional makeup artist Sam Chapman on how to properly blend different shades.
Maybelline New York The Nudes Eyeshadow Palette, $9.98, Amazon
Try: Real Techniques Eye Brush Starter Kit, $11.99, Amazon
6. Prep Your Lips
This video from beauty junkie and YouTuber Shaaanxo gives some great tips on how to prep your lips before makeup application, and it's especially helpful for before you apply matte colors that can really highlight a dry mouth area. You really just need a solid lip balm and ... a toothbrush.
Aquaphor Lip Repair, $3.79, Amazon
Also try: Bliss Fabulips Sugar Lip Scrub, $18, Amazon
7. Finish With Powder
OK, this is perhaps one of the most important secrets in the makeup artist's arsenal. In a piece on powders for XoVain, beauty editor Alle Connell explains that a finishing powder (sometimes used interchangeably with "setting powder") is the thing that will make your makeup last for hours, and it also creates a softer, more flawless look overall. However, Connell — along with most beauty experts — stresses that the key to finishing powder is to use it sparingly. Otherwise, you run the risk of looking washed out and over-powdered.
Try: NYX Studio Finishing Powder , $9.99, Amazon
Also consider: Maybelline Fit Me! Translucent Powder, $5.99, Amazon
Makeup should be fun and enjoyable — never a source of stress and disappointment. If you're feeling like you never seem to get it right, then don't worry. Most of it just boils down to having a few of the right basic tools, the right colors for your complexion, and, most importantly, practice! The people you know who always look flawless have probably spent hours fine-tuning their skills, so block out a few hours this weekend for some practice time, and don't be too hard on yourself!
Images: Carol Yepes/Moment/Getty Images