11 Ways To Keep Strapless Bras In Place
Genius hacks to keep you comfortable and supported.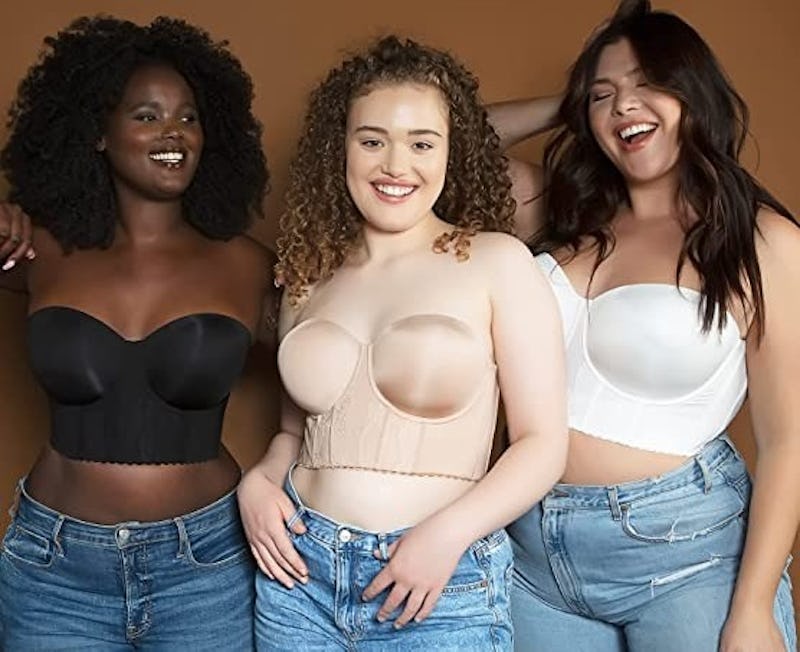 Amazon
We may receive a portion of sales if you purchase a product through a link in this article.
Certain fashion struggles can be so real — like which undies are most comfy under a tight pair of jeans, or how exactly to wear a blanket scarf (still working on that one). Perhaps the most elusive of all tricks, however, is finding ways to keep strapless bras in place. Thankfully, certain hacks exist to keep you supported and comfortable, even when wearing a strapless bra for several hours.
How To Keep A Strapless Bra In Place
Find creative ways to secure it: Even when your strapless bra is well-designed, you may want to get ahead of gravity with some creative hacks. Double-sided fashion tape, gripper fabric, and clear straps all help to keep your bra in place all night.
Keep it in good shape: Structure is important when it comes to strapless bras. For that reason, you'll want to care for them properly while both washing and storing them.
Try an adhesive option: If all else fails, swap the standard strapless bra for something stickier. Adhesive bras, body tapes, and nipple covers all provide coverage and support using skin-safe adhesives, most of which are reusable and resistant to sweat. As a result, your "bra" isn't going anywhere, granted it's stuck to your skin.
With all of that in mind, here are some tips, hacks, and tools you can use to keep your strapless bras working as intended for hours on end.
1. Choose A Strapless Bra That Actually Stays Put
With an overall rating of 4.3 stars after more than 6,000 reviewers, the Wacoal Red Carpet strapless bra is one of the most popular options on Amazon. Full-coverage foam cups, comfortable underwire, non-slip silicone strips, side boning, and a thick band keep it in place long-term — even if you have a larger bust. It comes in plenty of inclusive sizes and it's technically a convertible bra, meaning you can add straps if you want.
One reviewer wrote: "As someone who is a 34DDD, I didn't believe it was possible to find a strapless bra that would open up the world of halter or strapless fashion to me. And then I happened upon this bra, read the reviews, and decided to give it a try. [...] I can't tell you how excited I am about this after 30 years as an adult being restricted to wearing only things I could wear a 'normal' bra with."
Available sizes: 30D — 44G | Available color options: 5
2. Opt For Stretchy Materials That Move With You
If you find the structure of a strapless bra uncomfortable (especially under your everyday casual outfits), you may want to opt for something softer and stretchier. This strapless bandeau bra gets its security from its extra-wide band and premium nylon-spandex material, not to mention its non-slip silicone strips on the hem of the cups. It's wireless, but has removable pads for comfort and support, plus it comes with clear straps that you can attach for extra security.
One reviewer wrote: "This was exactly what I was looking for! I have had a hard time finding a strapless bra that actually stays put. This one works great! It does have that "sticky" liner on the inside that helps keep it up. There is also the option of the clear straps to help with that as well!"
Available sizes: Small — X-Large | Available color options: 4
3. Or Pick A Longline Bra For More Support
Those with bigger busts may find that strapless bras constantly slip down, but this Parfait Elissa full figure bra is designed to stay put thanks to its longline silhouette. Ample size options and multiple hook-and-eye closures help you find a secure but comfortable fit. The bustier also has boning, grippy fabric, and silicone strips, plus its smooth fabric (in four color options) remains invisible underneath gowns and T-shirts alike.
One reviewer wrote: "So I've tried MANY types and brands of strapless bras and have never had success. Until now. This is the first bra that I never had to pullup as the night went on. Super comfortable."
Available sizes: 32C — 42G | Available color options: 4
4. Secure It With Double-Sided Body Tape
No matter what you're wearing, double-sided clothing tape will add additional security and help to keep it in place. This is safe for both skin and clothing. It's also totally transparent and designed to stand up to moisture, movement, and time, all without leaving a residue on your clothes. Use it to secure your bra to your skin and your top to your bra.
One reviewer wrote: "Invisible support. I used this tape for an off the shoulder dress on a humid night in Dallas. It worked perfectly. Also used it with a strapless bra. Once again, success."
5. Or Add Your Own Gripper Bands
If you're handy with a needle, a sewing machine, or fabric glue, you can add your own silicone gripper strips to your strapless bras. This elastic band aims to create additional grip with its silicone wave design. It's easy to sew (or glue) onto any material of your choice, and each roll comes with 12 yards of tape.
One reviewer wrote: "Easy to sew, doesn't roll when in use, no issues with washing in the machine or dryer."
6. Try Invisible Straps With Convertible Bras
Convertible strapless bras have tabs that you can use to attach straps when needed — but when you add these clear bra straps, you get support and subtlety at the same time. They come in your choice of several widths, but all of them are adjustable and completely transparent.
One reviewer wrote: "I was a bridesmaid in desperate need of help. My strapless bra provided support but I wanted more. These straps discreetly handled the job."
Available sizes: 8mm — 18mm | Available color options: N/A
7. Wash Your Strapless Bras With Care
Some experts recommend only hand-washing your bras, but if you don't have time for that, there are ways to protect your lingerie in the washing machine. These bra wash bags keep your bras separate and protected to minimize snags, damage, and stretching. They come in a pack of three and are made from double-layered mesh and rust-resistant zippers.
One reviewer wrote: "These washer bags are great! I am impressed with the quality and durability. They are still in great shape 3 years later. The zippers work well. The fine mesh is nice because it doesn't catch little hooks like bra hooks."
Available sizes: Medium — X-Large | Available color options: N/A
8. Store Them Properly To Prevent Damage
In order to keep any bras in great shape (but especially strapless bras), you should avoid simply stuffing them in drawers. These hanging bra organizers offer a space-savvy but effective solution. Each one holds up to five bras, storing them in tiered pockets that protect the structure of the cups. Since they hang in your closet, you'll be able to see your collection at a glance and save space simultaneously.
One reviewer wrote: "I have always stored my bras flat, in a drawer, to give them their longest life but, it took up so much room!! When I saw this item I thought it was definitely worth a try! The product holds my 40C bras beautifully. I was worried about the stability and the cups sort of falling forward but the sturdy construction keeps the bras upright, no sagging and now I have my drawer space back!"
Available sizes: N/A | Available color options: 2
9. Try An Adhesive Bra
When a strapless bra simply won't work, an adhesive solution is definitely worth a shot. This adhesive sticky bra is a number-one best-seller that's racked up over 20,000 reviews. The cups are coated in a reusable silicone gel that withstands sweat and movement, so you get support and coverage without any straps or bands whatsoever. It comes in several colors and sizes up to a G cup.
One reviewer wrote: "I have had my struggles with strapless bras, boob tape, you name it. I've tried it all except sticky bras, because I simply could not comprehend that these two little cups could actually hold together while staying sticky. I finally caved to try it to take to Vegas with my clubbing outfits, and they are honestly SUCH a game-changer! Stays sticky, reusable, makes my chest look great under outfits!"
Available sizes: A — G | Available color options: 8
10. Or Nipple Covers For Minimal Coverage
If you love the feeling of going braless, but still want some nipple coverage, these Nippies reusable nipple covers have been called "magic," by reviewers. The sticky adhesive stays put while the tapered silicone (in your choice of five tones) completely blends into your skin. They're also washable, reusable, comfortable, and safe for sensitive skin.
One reviewer wrote: "A must have. I am amazed by these! I will never wear an uncomfortable strapless bra again. These stay on, are invisible under clothes and easy to remove."
Available sizes: Small — Large | Available color options: 5
11. Create Your Own Bra With Boob Tape
Finally, you can create your own bra with boob tape. These rolls of skin-friendly adhesive bands allow you to make your own strapless bra or create slings that offer invisible support for plunge tops and backless dresses. Available in several different colors and widths, the fabric is lightweight, breathable, and tear-resistant, plus you can cut it to the exact size you need.
One reviewer wrote: "This was so great! I didn't think it would work as well as it did but omg — it was perfect! I am a 36D and had ZERO problems all evening in a dress that I could only apply a small amount of tape to make it not show and it worked so well! It was also so comfortable also! Will never go back to a strapless bra!"
Available sizes: 2-inch — 3-inch | Available color options: 4
This article was originally published on