12 Best Nude Bras For Wearing Under White & Sheer Tops
Fan-favorite styles that come in so many skin-like shades.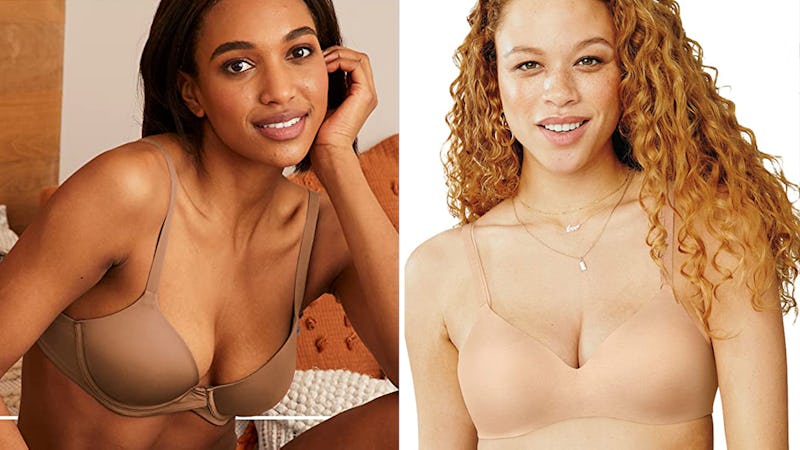 Amazon
We may receive a portion of sales if you purchase a product through a link in this article.
Sometimes your bra is so pretty, you want to show it off on purpose. Other times, you're looking for complete invisibility, and believe it or not, even underneath a white T-shirt, a white bra isn't the best way to go. The best nude bras for wearing under white and sheer tops will match your skin tone and be the right size and design for your needs.
What To Look For In An Invisible Bra
While your first thought might be, "Easy — I'll wear white underneath white," but white bras are actually one of the more obvious colors, as they reflect light no matter what color you're wearing on top. It turns out that a nude-colored bra is pretty much always your best bet when you're going for the invisible look.
That said, since everyone has a different complexion and skin tone, "nude" doesn't just mean one color. Throw in different body shapes, diverse preferences, and extra bra requirements (like strapless or backless), and you've got a full day of headaches awaiting you at the mall.
Fortunately, Amazon has a massive selection of bras that, according to reviewers, are actually comfortable, supportive, and a joy to wear. Here, I've compiled a list of the best and highest-rated bras on the market that also come in a wide range of nude tones, so your bra can be virtually undetectable no matter your outfit.
1. A Cult-Favorite T-Shirt Bra With High Sides
Lightly lined with foam cups and structured with underwire, Warner's No Side Effects bra has over 13,000 five-star ratings. While it's plenty supportive and comfortable, its popularity is largely due to its smooth, seamless design. High side panels, elastic-free bands, and body-hugging materials ensure that this one is nearly impossible to notice underneath even the sheerest fabric.
One reviewer wrote: "You cannot beat the price and quality of this bra. They are absolutely the best most comfortable smoothest I've ever had. You can't see it through your clothes, it never stabs, leaves marks, and the price is mind blowing for the quality."
Available sizes: 34B — 42C
2. This Push-Up T-Shirt Bra In Ample Nude Tones
This Maidenform T-shirt bra has all the right qualities to be virtually invisible underneath a white tee: It's low-plunging, covered in smooth satin fabric, lightly padded with supportive underwire, and features adjustable, convertible straps. That said, it also comes in a handful of skintone shades, including Cinnamon Butter, Warm Cocoa Brown, Paris Nude, and Sandshell.
One reviewer wrote: "My staple. I buy this brand and bra all the time love the look and feel. And I love that it's a real nude color for us brown girls."
Available sizes: 32A — 42D
3. A Convertible Wire-Free Bra You Might Forget You're Wearing
Smooth, seamless, and convertible, the Hanes Ultimate wire-free bra offers the support of an underwire alongside the comfort of a sports bra. The lightly lined foam cups and stay-in-place stretch band offer a surprising amount of structure, while the silky-smooth T-shirt fabric and plenty of color options remain invisible underneath sheer or white clothing.
One reviewer wrote: "This is my favorite bra. I've purchased 5 of them because I love them so much. They are super comfortable and don't show under t-shirts/tanks. I've yet to find another bra that fits as well as these. [...] Really good support for a wireless bra. And the price can't be beat."
Available sizes: 38A — 40D
4. This Invisible Triangle Bralette That's Still Provides Support
If you'd rather skip the wires and thick padding, opt for this Calvin Klein Invisibles triangle bralette bra. As per its name, it stays invisible underneath clothes thanks to its skin-blending seams, multiple skintone color options, plunge neckline, silky microfiber fabric, and tagless design. However, it offers a few supportive features that most bralettes don't, including molded cups and adjustable, convertible straps.
One reviewer wrote: "Worth every last penny. [...] Not having to worry about being confined by underwire or poked by anything felt freeing and the smooth lines of the bra looked invisible under my shirts."
Available sizes: X-Small — X-Large
5. A Wireless T-Shirt Bra Some Shoppers Even Sleep In
This one is supportive enough to wear underneath any outfit (including your low-intensity workout clothing), but according to reviewers, it's so comfortable, you could sleep in it. The Bali wireless T-shirt bra uses thick straps, a longline design, and two-ply cups with foam inserts for support. It's also seamless with flat, fused edges and plenty of nude color options, so it'll remain out of sight and out of mind.
One reviewer wrote: "These are sooo dang comfortable. I like the thicker straps, they are SO soft. I wear these to work under my scrubs, to the gym, and day to day."
Available sizes: X-Small — 3X-Large
6. This Shockingly Supportive Wireless Bra With 65,000+ Reviews
The Playtex 18-Hour Ultimate Lift bra is inclusive in so many ways: Its higher sides, fuller cups, wider cushioned straps, and a smoother back help to support most shapes without any wires. Its sizes go up to a G cup, and its 11 color options help everyone find a shade they like. No wonder it's earned more than 65,000 reviews on Amazon.
One reviewer wrote: "I have such a hard time finding the right sized bra and was skeptical if this bra would actually fit. Received the bra and I agree that the straps seem very short but after fully adjusting the straps were very comfortable and most importantly the support is great. I am so happy with this bra that I have actually just ordered 2 more."
Available sizes: 34C — 48DDD
7. A Gorgeous Lacy Unlined Lace Bra
The Wacoal Halo is an unlined bra doesn't skimp on support. It has a well-wrapped underwire, inner slings, and thick, non-slip, convertible straps — but its unlined, brushed lace cups breathe well and don't add any unwanted bulk.
One reviewer wrote: "As a bustier girl, I am on a constant search for bras that are supportive, comfortable, and that are not padded or minimizing. A tough feat, let me tell you. This is a wonderful bra. It is all the things listed above, as well as sexy. I also love that it is convertible to a racerback. It's a unicorn!"
Available sizes: 30D — 40DDD
8. The Best Nude Plunge Bra For Low Necklines
Your bra might be the right color to blend into your skin, but deep V-necks or wide, square necklines pose another issue: The cups may peek out from your top. The Calvin Klein push-up plunge bra has wide-set, adjustable straps, balconette-like cups, and a plunge-friendly design. Despite its minimal coverage, however, its underwire and padded cups are designed to give a push-up effect.
One reviewer wrote: "I'm always leary about buying bras online but this one worked out. It's smooth as silk and shows no lines. Fits exactly as expected. I love this bra!"
Available sizes: 32A — 36D
9. A Strapless Bra That Actually Supports Larger Busts
Strapless, nude-colored, and comfortable can be a really tough combination to find (especially for larger busts), but this Wacoal Red Carpet strapless bra has it all. Side boning and non-slip rubber strips keep it in place, while light padding and structured underwire provide support even despite the lack of straps. Its multi-way silhouette with removable straps allows you to wear it several ways, including crisscross and halter.
One reviewer wrote: "I am a 36 G and this bra fit perfectly! I bought it to wear under my bridesmaid dress, but intend to continue to use it under tank tops for the summer. Very soft material, and good, thick padding in the cups. [... I was] pleasantly surprised at how well it holds me up with no straps. FYI, it does come with removable straps in the same color as the bra."
Available sizes: 30D — 44G
10. This Front-Close Underwire Bra That's So Easy To Put On
The front clasp on this Bali Comfort Revolution front-close bra serves two purposes: Without a hook-and-eye closure, the back is extra smooth for additional invisibility, and the bra is super easy to put on — even for those with shoulder injuries or limited mobility. Aside from that, its stretch foam cups are comfortable, its Cool Comfort fabric wicks away sweat, and its front-adjustable straps help you find the best fit with ease.
One reviewer wrote: "I'm getting ready to have shoulder surgery and I needed a front closure bra. This bra is super comfortable and easy to put on and close. I'm plan on buying another one soon. The price is fantastic as well!"
Available sizes: 34B — 42DD
11. An Adhesive Bra For Strapless & Backless Outfits
If your outfit is strapless and backless, finding an invisible bra becomes even more difficult. Cue this adhesive bra, which comes in six skin-like tones (from Pink to Coco) and cup sizes up to a G. It's made from 100% silicone for a seamless texture that offers coverage, it has a super-sticky adhesive that stays put despite heat and sweat, and its center clasp pulls the breasts together for support and cleavage.
One reviewer wrote: "I can't believe how amazing this product worked! I literally just stuck them on, put on my dress, and completely forgot I had it on. It was so comfortable! It stuck the entire time and didn't move at all. Removal was easy."
Available sizes: A — G
12. These Best-Selling Pasties For Ultimate Invisibility
A number-one best-seller in breast petals, these Nippies reusable pasties are incredible if you're looking for just a tiny bit of coverage. They use a sweat-resistant (but reusable and skin-friendly) adhesive to stick to breasts and cover the nipple. Granted, they come in five shades and are made from silicone with edges that seamlessly blend into your skin, reviewers wrote that the pasties were totally invisible and they forgot they were wearing them.
One reviewer wrote: "I am completely blown away how well these blended into my skin. They were practically invisible under my sheer top. One of my biggest concerns was if it would irritate my nipple piercings, but the covers were comfortable and low key. I highly recommend these."
Available sizes: Small — Large
This article was originally published on