9 Stylists Share Their Fave Shampoo & Conditioner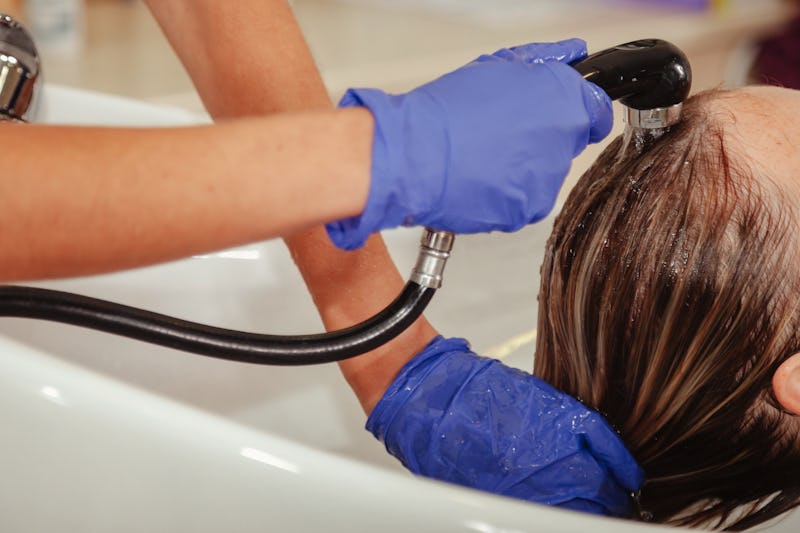 Alexander Golubev / 500px/500Px Plus/Getty Images
Without giving it much thought, many of us have probably stuck to using the same shampoo and conditioner for years. If it ain't broke, don't fix it, right? But it can't hurt to give your favorite shampoo and conditioner a break by switching things up a bit.
With dozens of different brands and formulas out there, many claiming to take your mane to top model status, it can sometimes be difficult to choose the right products for your locks. A walk down the shampoo and conditioner aisle can easily get overwhelming for me, so I feel the pain of anyone who's ever spent hours reading product labels. There's anti-frizz this and keratin-infused that. This one adds volume and the next one is chock-full of hydrating oils. The options honestly seem never-ending, so sometimes it's hard to tell what your hair really needs.
Luckily, there are plenty of professional stylists willing to dish on their fave products. Their knowledge of ingredients and experience with diverse hair textures arguably make them the perfect sources for finding products that will actually work in your favor.
If you're considering adopting new products into your hair care routine and don't know where to start, I've hopefully made your job a little easier. I've asked nine professional stylists to share their favorite shampoo and conditioner to use on themselves and clients. Read on to find a suggestion that just may become your new go-to.
1. Chelle Neff, Owner Of Urban Betty Hair Salon
Nano Works Gold Shampoo, $120, Ulta
If you've ever colored your strands, then you're probably aware of the possible dangers of dyeing your hair. Overdoing it can really dry out those precious locks, but if you're a repeat offender when it comes to dye jobs, stylist and salon owner Chelle Neff of Austin, Texas has a go-to duo that may work wonders for your colored mane.
She tells me via email that the Pureology Nano Works Gold Shampoo and Conditioner are worth every penny. "My hair is platinum and I had to bleach it four times from roots to ends to get it to the perfect color," says Neff. "This is the only shampoo and conditioner that kept my hair soft and made it feel like virgin hair."
As an added bonus, she says it detangles better than other products she's used.
2. Monaé Everett, Hair Room Service
No-Poo Original Zero Lather Conditioning Cleanser, $10, Deva Curl
There's an expert-recommended shampoo and conditioner out there for my fellow curly-haired divas, too. Celebrity stylist Monaé Everett of Hair Room Service in Brooklyn, New York personally knows what it takes to maintain well-nourished ringlets.
DevaCurl carries her favorite shampoo and conditioner in its curl-friendly line of products. "I love the No-Poo and always follow it up with the Heaven In Hair Mask," says Everett via email. "It leaves my curls moisturized and frizz-free."
3. Frederic Moine, Stylist & Salon Director At Paul Labrecque Salon
Repair Shampoo Restorative Hair Wash, $28 - $94, Paul Labrecque
Sometimes our hair needs some extra TLC when all of the frying, dyeing, and styling take their toll. Paul Labrecque stylist and Artisitc Director Frederic Moine of New York, New York favors his company's Repair Shampoo and Conditioner for reviving damaged hair.
"It's a milk and eggs protein-based product, the perfect mix to repair hair keratin that has been damaged with chemicals and heat," Moine tells me in an email. There are also a restorative hair lotion and finishing cream available so you can repair your strands every step of the way, from washing and conditioning to styling.
4. Jami Asad, Hair Designer At Alan Koa Salon & Spa
Bain Fluidealiste, $43, Kerastase
Fondant Fluidealiste, $20, Kerastase
When it comes to finer hair, the more lightweight the product, the better. You don't need any heavy products weighing down your locks, after all.
Jami Asad, a hair designer at the Alan Koa Salon And Spa in Madison, Wisconsin, recommends the Kerastase Bain Fluidealiste Shampoo and the Fondant Fluidealiste Conditioner. "I love this shampoo and conditioner because [they are] lightweight for finer hair types, like my own," Asad tells me via email. "It helps smooth unruly, dry, and chemically-treated hair, transforming your lengths to be softer, smoother, and silk-like."
5. Brandy Marlin, Hair Room Service
Oi Absolute Beautyifying Shampoo, $14 - $19, Davines
Of all the cleansers that claim to give hair incredible volume, Hair Room Service's Brandy Marlin of Los Angeles, California considers the Oi Shampoo and Conditioner by Davines to be her favorites.
"[They] smell heavenly, and give awesome body and shine without weighing down the hair. I'm absolutely addicted," Marlin tells me over email. If you're looking for an extra boost of hydration, she also recommends trying the Oi All-In-One Milk as a leave-in conditioner.
6. Nazzi Brewer, Hair Room Service
Quenching Shampoo, $31, Bumble and Bumble
I'm all too familiar with dry hair and perhaps you are, too. The summer sun may even be responsible for your hair's dryness and excess breakage. Celebrity stylist Nazzi Brewer of Hair Room Service in Orange County, California says her favorite shampoo and conditioner are the perfect "hydration pick-me-up" for really dry strands.
Bumble And Bumble's Quench Shampoo and Conditioner are must-haves for your routine, according to the stylist. "[They] will gently hydrate your strands and make your hair soft to the touch without weighing your locks down," Brewer tells me in an email. And don't worry if you're rocking dyed tresses. She says the Quench duo is also safe for colored hair.
7. Miguel Estrada, Hair Designer & Director Of Education At Julien Farel Restore, Spa & Healthcare
Vitamin Shampoo, $25, Julien Farel
Giving your hair the proper nutrients is what it's all about for Miguel Estrada, New York-based hair designer and Director Of Education at the Julien Farel Salon. His favorite shampoo and conditioner duo is the Julien Farel Vitamin set.
"I like them because they're packed with the best bio-actives as well as hyaluronic acid that nourish and hydrate your hair," Estrada tells me over email. "This duo gives you the best color protection and gives your hair the ultimate body, shine, and movement." Talk about a triple threat.
8. Jessica Bowland, Hair Room Service
Kerasilk Color Shampoo, $21, Amazon
The Goldwell Kerasilk Color Shampoo and Conditioner are Orange County, California-based stylist Jessica Bowland's favorites. She tells me that 85 percent of her clientele has colored hair and practically lives at the beach. Making sure they have color protection as well as moisture is a must, which is why she loves the Kerasilk Color line.
"The shampoo is like none other that I've tried, making your hair feel like you don't really even need conditioner," Bowland tells me over email.
9. Bianca Lauren McMillan, Hair Room Service
Macadamia Professional Deep Repair Masque, $36, Birchbox
Hydration Elation Conditioner, $16, Sally Beauty
Los Angeles, California-based stylist Bianca McMillian of Hair Room Service has a diverse clientele with varying hair textures. Using natural products to hydrate strands are her main concern when styling curly and corse hair.
Her go-to products are the Deep Repair Masque by Macadamia Professional and the Hydration Elation Intensive Conditioner by AS I AM. "They both contain nutritive ingredients to reconstruct and repair the outer cuticle leaving tresses like butter, manageable, healthy, and full of shine," McMillan tells me in an email. As a huge fan of AS I AM products, I'm fully backing her up on this one.
Apple Cider Shampoo, $15, Fekkai
Cleansing Conditioner for Fine Hair, $26 - $35, Ulta
McMillan is also accustomed to styling clients who have thin or super oily hair. If these characteristics describe your own mane, she recommends adopting a clarifying regimen.
She suggests doing an apple cider vinegar rinse every two weeks and on wash days, which she recommends every two to three days. You can DIY the wash yourself by mixing equal parts of apple cider vinegar and water (preferably purified, according to McMillan).
But if DIY-ing isn't your thing, the Fredric Fekkai Apple Cider Shampoo is her go-to. To finish the washing process, McMillan likes the Matrix Biolage Cleansing Conditioner for fine tresses because it's lightweight and "moisturizes your hair without leaving buildup on your scalp."
Now you've heard it straight from the experts. So get to spoiling that gorgeous mane of yours with a new shampoo and conditioner that may be just the change your locks needed.
Images: Alexander Golubev / 500px/500Px Plus/Getty Images; Courtesy Brands