7 Genius Ways To Keep A Strapless Dress Up, According To Stylists
To quote Idina Menzel: "I think I'll try defying gravity."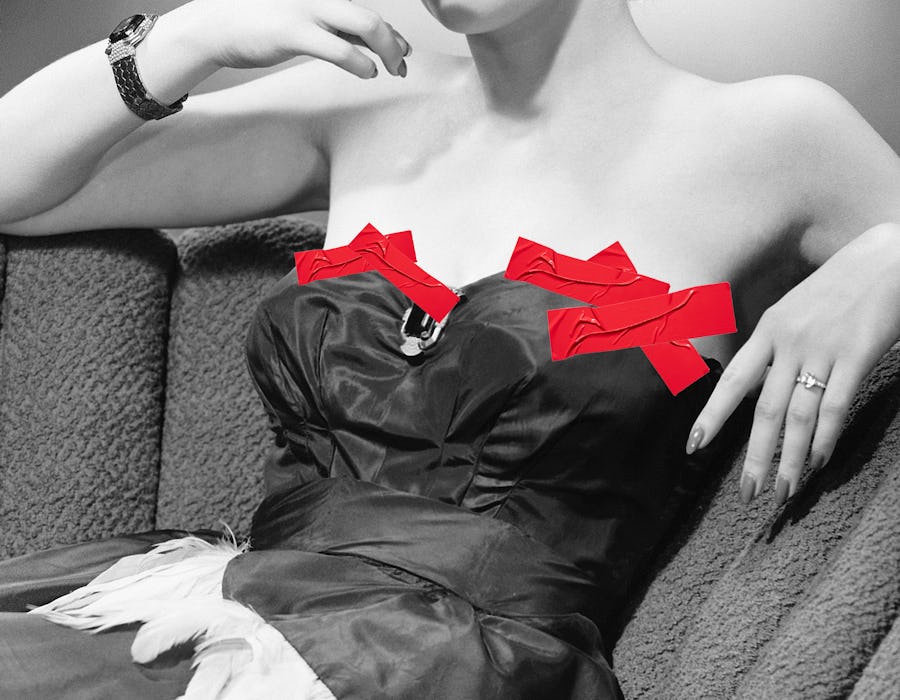 We may receive a portion of sales if you purchase a product through a link in this article.
There are few universal life experiences, but I strongly believe that pulling and tugging on a strapless dress that's dropping dangerously low is, unfortunately, one of them. No matter how stylish they may be, strapless designs just refuse to stay put. If you've ever been personally victimized by a little strapless number, don't swear off the style just yet.
Virtually every celebrity in the game (Kim Kardashian, Megan Thee Stallion, Hailey Bieber, etc.) has rocked the collarbone-baring look effortlessly — and you can too. Because there are ways to circumvent the inevitable slip-down, starting with the choice of the garment itself.
Strapless garments with some sort of boning or corsetry in the bodice are key. The close-fitting design details by definition add a level of grip that keeps them secure. Another great option: silicone grips. Clothes with a built-in silicone band along the neckline offer extra stick to keep your gown from falling.
If your favorite strapless number isn't equipped with either, worry not. There are other tools professional stylists swear by to keep even the most stubborn of garments in place. Fashion tape, double-sided tape, and good old-fashioned safety pins can do the trick.
I asked stylists for their expert advice on how to keep your strapless dresses in place. Here are all their genius tips.
1. Look For These Design Details
A tube dress doesn't offer much support up top, it's true. There are certain styles, however, that will likely stay in place. "Find something that's more body-hugging in the ribcage area, such as a corset-style dress," stylist and writer Samantha Sutton tells Bustle. "Even if it's a bit loose in the actual bust area, this will provide support underneath and prevent your strapless dress from slipping down."
If the number you're eyeing doesn't have any sort of boning, don't fret. You can also look for details like smocking and ruching, or very stretchy fabrics. Per celebrity and editorial fashion stylist Joiee Thorpe, recommends cupped or elastic band styles, the latter of which she assures is "great for all body types and will stay up with no hack."
2. Get It Tailored
If your gown isn't snug enough up top, every stylist I polled agreed that the "best solution" is to have it tailored. Audree Kate López, stylist and influencer advises: "Take it to the tailor to make sure the chest area isn't too big. They can [also] add in darts around the bodice to make it more fitted."
Even with alterations, fabric plays a key role. López says, "A thicker, more structured dress will have an easier time staying up." So avoid flimsy fabrics like jersey or cotton-jersey blends, otherwise, they'll need extra anti-budge reinforcements.
3. Rubber Grips Are Your Friend
Some ensembles already come with extra help, so keep an eye out for those when shopping. "Look for a strapless dress that has an elastic, rubber, or silicone lining at the top of the dress so it grips to your skin and won't easily slide or fall down," says López. You can also add your own silicone tape to the neckline, if your chosen look comes grip-free.
4. Wear A Strapless Bra
Per Thorpe, a well-fitted strapless bra is a "must-have" for keeping dresses in place. "Wearing a well-fitted strapless bra definitely gives support to help hold the dress in place," she says. López agrees. "So many people wearing bras are not wearing the correct size. This impacts how the bra and the rest of your clothes fit you," she explains. "If the band is too tight, it could create lumps in the back or if the cup is too small, you will be falling out of it. It's not giving you or your dress the right support."
Your choice of bra, however, also depends on body type. For those with larger breasts, López says, "You might not have space to wear a bra under your dress so you can wear petals, pasties, or boob tape if you want nipple coverage. I suggest doing the 'scoop and lift' so your breasts are not getting pushed down and flattened with the dress."
5. Body Tape Is Key
Double-sided fashion tape has been a Hollywood go-to for years and is extremely accessible. López shares her technique: "Add the fashion tape to the garment first and then remove the second side and apply [it] to your body. Rub for a couple of seconds to make sure the tape adheres to [the] garment and skin." Make sure your skin is dry when applying the tape, though you can dab on body oil or lotion to help with removal.
Not all tops, however, can be held up by double-sided tape alone. "If your dress is made of a lighter material, like a breezy cotton, you should be fine," Sutton shares, adding, "Beading or other elements that might add weight can still pull the piece down and prevent the tape from properly sticking."
For more heavy-duty options, Thorpe has a few ideas — one of which you can find in the home section. "Double-sided tape can be very thin, so I actually use Scotch Restickable Clear Tabs," she says. If that still doesn't work, she recommends: body adhesive glue. (Yes, that's a thing.) Stash a few extra strips in your purse — especially if it's going to be a late night.
6. Try It On
When it comes to strapless garments, making a trip to the dressing room is always worth it. "Fit is super important, so definitely try something on before purchasing," says Sutton. It's also crucial to move around in it. "Jump up and down, wiggle around, and consider that hours of wear and maybe even sweat will be involved later on," she recommends.
You should also try on different sizes to ensure you find the best fit. "If it feels a little loose, size down for something snug. You can also look for adjustable options to ensure you get a perfect fit, such as a dress with a tie, or something that has elastic at the top, which can prevent it from moving."
7. Utilize Accessories
There are accessories that won't just help you look more put together, they'll also keep your 'fit in place. Lopez recommends adding a belt. "If the dress is not staying in place on its own, you can add a belt around your waist."
Meanwhile, for a more layered look, you can try wearing a T-shirt or a turtleneck underneath your strapless item. The extra fabric will hold up better than bare skin.
This article was originally published on