5 Pairs Of Women's Underwear That Prevent Chafing
We only recommend products we love and that we think you will, too. We may receive a portion of sales from products purchased from this article, which was written by our Commerce team.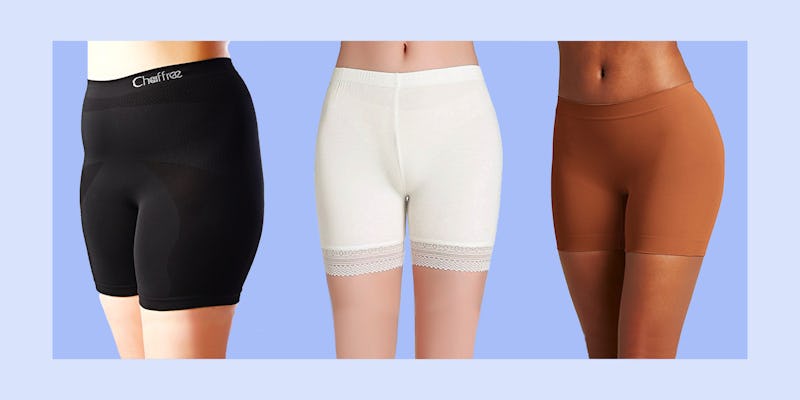 Amazon / Bustle
There're few things more irritating, literally, than the frequent rubbing of thighs. In addition to discomfort in the moment, it often brings bumps and frustration later on. Fortunately, there are women's underwear that prevent chafing so you don't need to suffer any longer.
What Causes Thigh Chafing?
Thigh chafing can affect anyone. When our thighs, or any part of our body, rubs together vigorously and frequently, it creates friction that can cause raw, irritated skin. This happens when there's moisture on our bodies or in the air, so that's why things can be extra uncomfortable in summer.
How Do You Prevent Thigh Chafing?
As Bustle editor Lisa Fogarty points out, there are some clever ways to prevent chafing like dusting powder, anti-chafe balms, and hearty vegetable oils that can minimize friction and protect the skin from becoming irritated. But those solutions can wear off throughout the day. For long lasting, fool-proof protection, the best way to prevent chafing might be to prevent skin from rubbing together at all and you can do just that with the right pair of underwear. For the exercise enthusiast or those who live in humid climates, high-performance panties with moisture-wicking fabrics can help keep you dry while you work up a sweat while those fond of dresses and skirts can find underwear that creates the perfect lightweight barrier to prevent the painful friction.
If you're in search of a pair of underwear that's going to keep you comfortable, then these are the panties worth stockpiling in your armory of underwear.
Shop The Best Underwear That Prevents Chafing
In a hurry? Here are the best full-coverage underwear options that stop thighs from rubbing together.
This article was originally published on