Fear Of God & 6 Black-Owned Brands Launch T-Shirt To Help George Floyd's Family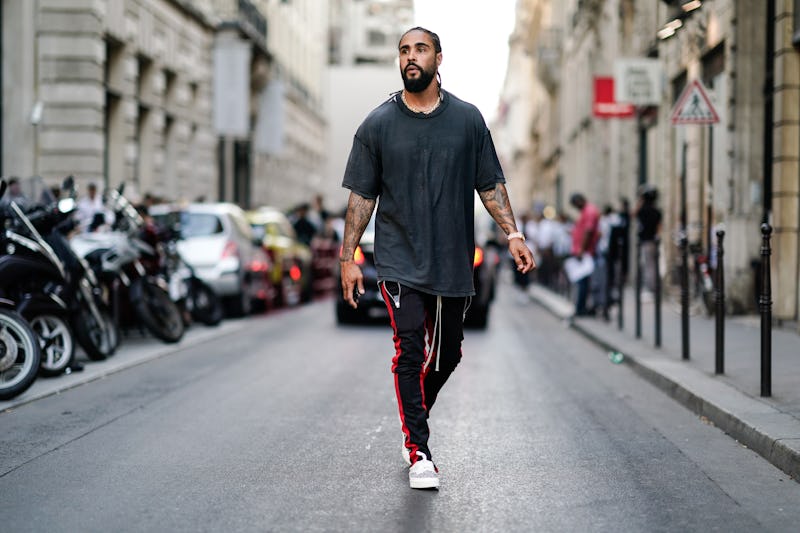 Edward Berthelot/French Select/Getty Images
A limited edition T-shirt from Fear of God will help raise funds for the family of George Floyd, the 45-year-old Black man who was killed by a white police officer in Minneapolis last week. His tragic death has sparked days of protests against police brutality worldwide. The movement is impossible to ignore, and many brands and labels are finding ways to give back to those affected by racial injustice.
On Friday, June 5, Fear of God will launch a "super collab" T-shirt made in partnership with eight independent designers, including Pyer Moss' Kerby Jean-Raymond, Denim Tears, and Melody Ehsani of ME. It features the initials "GF" on the front for George Floyd, with logos for all the collaborators printed on the back. It will be on sale beginning 9 a.m. PST on Fear of God's Instagram.
"In honor of George Floyd, the life lived, and in support of the generation after him, we are supporting the link in bio, the Gianna Floyd Fund (George Floyd's Daughter)," the brand wrote on Instagram. "Standing in solidarity with other independent and minority owned businesses, we're donating all money raised tomorrow thru the sale of a limited run of GF tees."
Fear of God founder Jerry Lorenzo shared a more personal message on his own Instagram, recounting where he was and what he was doing when he learned about Floyd's death.
"Our FG is a GF now," he said. "On May 25, 2020 when I learned of George Floyd's death, I was visiting my parents in Northern California. As we pulled into Sacramento late Saturday night at a gas station near my parents, a middle aged white woman said to me at the counter, 'Every time you guys walk in here [with] masks on, I think we're about to get robbed.' Quickly reminded of my blackness, I was eerily comfortable back in the woods of Northern California, where I'm no longer 'Jerry Lorenzo' but just another Black man. The same guy I've been my whole life, dealing [with] the same consistent themes."
In his post, Lorenzo shared that Fear of God "is fueled by a generational love," a love that can serve as an example to children of "what's possible."
"[It's] a love to create an independent business that my children have the choice to one day carry on," he said. "George's daughter Gianna will not have this choice. We can never become for her what was lost, but we can help fill a small hole in her life by providing one thing she may not have to worry about."
If you miss out on buying one of the exclusive T-shirts, you can still have a positive effect on Gianna's future. People who would like to contribute to the fund — which has raised more than $1.5 million to date — can make a donation on the GoFundMe page.