The Best Heels For Bunions, According To A Podiatrist
Yes, you can still wear heels, but you'll want to consider some specs first.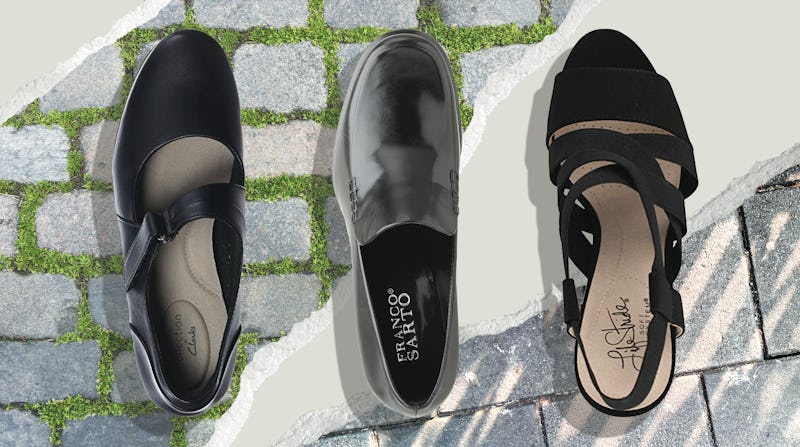 We may receive a portion of sales if you purchase a product through a link in this article.
Wearing high heels when you have a bunion can be a challenge. However, when you have a formal event to attend or the dress code at your workplace dictates a certain type of footwear, wearing them is sometimes necessary. Luckily, the best heels for bunions will cut down on pain thanks to low, thick heels, a rounded toe, and a pliable upper.
The Expert
Sophia Solomon is a New-York based podiatrist and foot and ankle surgeon at Silverstone Podiatry. Dr. Solomon received a doctorate from the New York College of Podiatric Medicine and then completed an intensive residency in Reconstructive Foot and Ankle Surgery at Brooklyn's Wyckoff Heights Medical Center.
What To Look For In The Best Dress Shoes For Bunions
According to Dr. Solomon, people with bunions should avoid pointy-toed heels and instead opt for ones with a rounded, more spacious toe box. Also, pay mind to the materials. In an interview with Bustle, Dr. Solomon wrote, "Leather is a much more accommodating material, whereas plastic usually doesn't stretch very much and may cause friction and skin irritation."
When shopping, you'll want to heed the advice of doctors and say "no" to stilettos and other uncomfortable heels that put extra pressure on your toe and bunion area. Instead, look for a low-height shoe with a thicker heel shape. You may also want to consider ordering a wide-width shoe size in order to ensure the toe area isn't too tight.
Heads up: If you're looking for footwear that's designed for bunion sufferers, you may also want a pair of the best ballet flats for bunions.
Shop The Best High Heels For Bunions
In a hurry? Here are the top pairs of comfortable dress shoes for bunions.
Expert:
Sophia Solomon, podiatrist/foot and ankle surgeon at Silverstone Podiatry
This article was originally published on