The 4 Best Compression Socks For Wide Calves
Supportive socks that feel like hugs for your legs.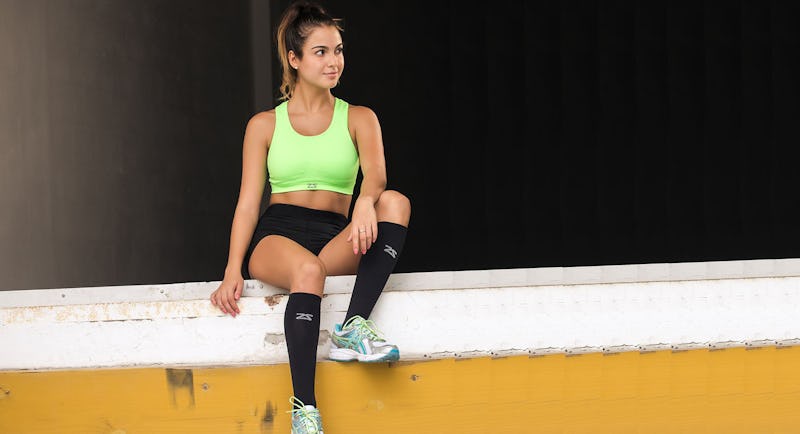 Amazon
We may receive a portion of sales if you purchase a product through a link in this article.
When it comes to working out, compression socks are one of the most underrated pieces of clothing you can own. Not only do they feel like a hug for your legs, but they also improve your blood circulation and reduce swelling. The only problem? Standard socks may not work for every size. Luckily, the best compression socks for wide calves are comfy and can help prevent swelling while working out, traveling, and spending long hours on your feet.
What To Consider When Choosing Compression Socks For Wide Calves
To choose the right socks, it all comes down to one word: stretch. While most options offer some stretch, compression socks for wider legs usually feature a higher percentage of spandex woven into their fabric for a perfect fit. You'll also want to look for elastic bands around the top that are made from extra soft, stretchy fibers so that the socks stay put without digging into your skin.
Next, consider your personal style. The options are nearly endless when it comes to athletic compression socks, but there are also dressier options you can wear under a chic pair of boots or a long skirt. There are even standard socks that look like crew socks, only with gentle compression to help relieve foot pain throughout the day.
Shop The Best Compression Socks For Wide Calves
1. A Standard Sock For Everyday Wear: SB SOX Compression Socks
2. A Textured Option You Can Wear Under Boots: Dr. Scholl's Circulatory Texture Socks
3. A Knee-High Sock That's Worn By Professional Athletes: Zensah Tech+ Compression Socks
4. An Affordable 8-Pack With Lots Of Stretch: CHARMKING Compression Socks
It's not easy to find the best compression socks for wide calves. Here's a roundup of some excellent options to help you narrow down your search.
This article was originally published on