If You're Prone To Swollen Feet, These Socks Will Change Your Life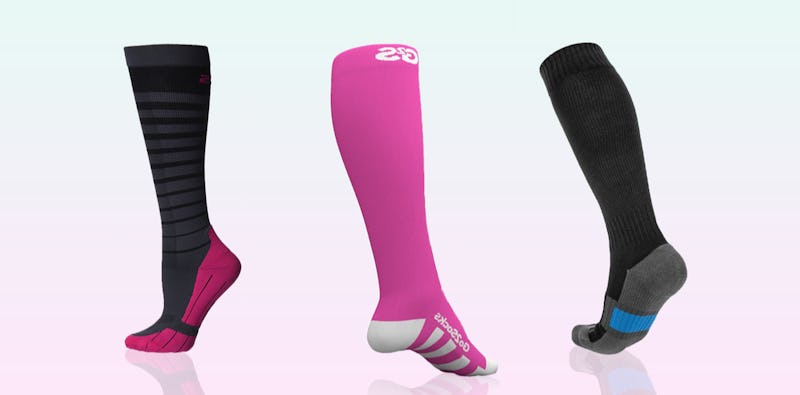 Amazon / Bustle
Notoriously ugly and often uncomfortable, choosing the best compression socks for women can be difficult. Once strictly the provenance of grandmothers, in recent years, these accessories have come into their own as one of the hottest trends in athletic performance gear. During that time, the marketplace has become crowded with sock options in varying levels of compression, performance fabrics, sizes, and thankfully, styles.
While I can't guarantee you'll be sporting any of these stylish compression socks at Paris Fashion Week next year, they're definitely way more attractive than those of the past, and what's more, you'll find that there are models specifically designed to fit your needs, no matter what those needs may be. Designed to increase circulation and blood flow throughout the legs in order to reduce pain and provide a re-energizing effect, you may find that compression socks are a helpful accessory if you have a job that puts you on your feet for large parts of the day (nurses have sworn by them for years); if you're a runner or hiker, or participate in other athletic activities that also rely on lots of leg/foot use; and of course if you travel a lot. Pregnant moms also may find compression socks especially beneficial in helping to relieve the swelling that goes hand-in-hand with this stage of life, although as with anything else during pregnancy, you'll want to consult your doctor before giving them a try, to make sure they're right for you.
Here's my look at five of the best compression socks by need.