88 Plus Size Shoppers Share Their Favorite Places To Buy Clothing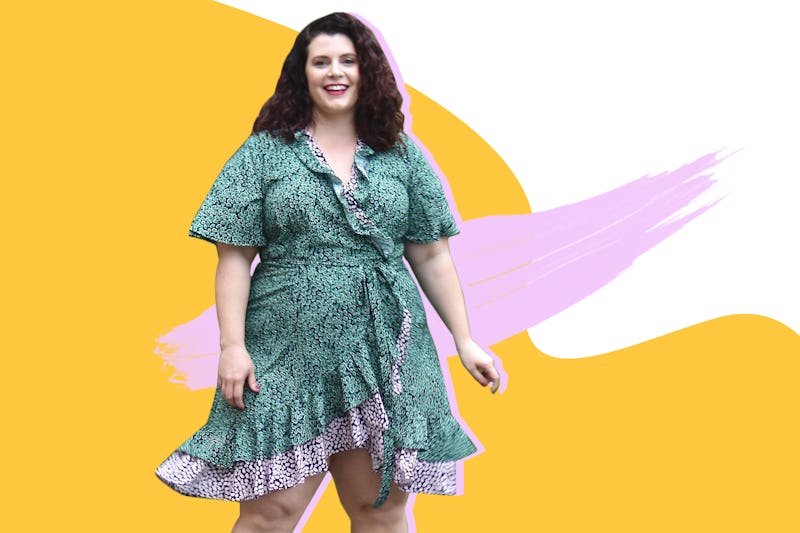 Kristin Mahler/Bustle; Courtesy MIndy Scott
Clothes shopping is often described as "retail therapy." It's allowing your mind to wander among racks and racks of new style possibilities after a particularly long week. But for plus size shoppers, the thrill of spending on style can be more traumatizing than tranquil. These people, however, have had enough of being tossed aside by the fashion industry, and they're speaking out about how stores and shops can better serve them.
As part of our Fitting Room package, Bustle recently put out a survey to explore shopping, sizing, and the intersection of the two. The goal of the survey was to find out people's feelings about the experience of trying to find clothes that fit — their tips and tricks, their favorite stores, their frustrations, and what they'd like to see change in the industry. Through the survey, plus size shoppers shared their experiences shopping for clothing. The experiences, which range from humorous to heartening, demonstrate how plus size customers can be more fully included in the fashion world — and how much size inequality still looms over society.
Out of the 448 of people who responded to our survey, 88 were shoppers who identify as plus size. These people wore a size 10 or above, and called themselves plus size solely — not plus size petite or tall. Here's what they had to say about plus size fashion "rules," awful sizing, and trying to navigate a clothing world that often disregards plus size fashion lovers.
What They Think About Shopping In General
There are silent fashion "rules" all plus size shoppers know as gospel. Don't wear patterns. Don't wear bright colors. Don't wear anything form-fitting. These rules were created to encourage plus size people to fade into the background, not drawing attention to themselves through playful or sexy fashion.
These rules, as you've probably heard, are also completely bogus. And the plus size people we surveyed had a lot of fun challenging — and shattering — the style status quo.
"For my body, I try not to stick to the rules," one responder said. "Sometimes it's fun to mix prints or wear two flowy pieces together. Plus size clothing doesn't have to have some strict guideline all the time."
But while tossing rules aside can be empowering, there's still a clothing barrier facing many plus size shoppers — stores that still see these "rules" as bible. Many fashion lovers felt they could only find ill-fitting, bland clothes that seemed haphazardly thrown together as an afterthought rather than carefully designed.
"I'm middle heavy so sometimes some clothes just don't lay right or don't fit my stomach, but fit everywhere else," Chicago-based office manager Kate O'Hagan, who wears anywhere from a 16 to 22 in clothing, says. "I end up buying bigger tops than I really need."
Navigating this shopping environment that can seem like it purposefully discourages pleasure from clothes shopping can be both mentally and emotionally taxing, plucking at insecurities and bringing up body-negative feelings for plus size people.
"Trying on and shopping for clothes used to be one of the most anxiety-inducing things for me," Chicago-based writer for Bustle Alani Vargas, who wears a size 16, says. "I would get so discouraged and be in a foul mood for hours...It's taken 22 years for me to really be okay with my body, to love it for all that it, to realize that 'healthy' and 'beautiful' come in all shapes and sizes, and in turn be okay with how my shopping experiences go."
What They Think About Sizing In General
For most responders, issues around sizing rule their experience with shopping. Instead of scrolling through endless pages of clothing options online like their straight-sized counterparts, many plus size fashion lovers struggle to find pieces that suit their style and size.
"I range from 16 to a 22 just solely based on the brand or store," O'Hagan says. "It's frustrating. I don't understand why there isn't an universal sizing chart. It can be exhausting to remember what size I am for each brand."
Some people who took Bustle's sizing survey pointed to the pressure to fit in smaller clothing, even if you are the only person who will ever see the sizing tag. The social pressure to be thin follows plus size shoppers during the shopping process, influencing the way they see the experience even from the comfort of your home.
"Look at the sizing chart and don't get too caught up in the size you're ordering," one responder advised to other plus shoppers.
Another respondent agreed, saying to focus more on fit than a number and cautioning to never let a number define your shopping experience.
"Sometimes it's better to size up and be comfortable then worrying about fitting and things being tight," one responder said. "When trying clothes, I usually take two sizes and then decide."
But the main problem, for many, is simply that brands often don't offer plus size options to begin with. There's no need to look at sizing charts when you know you won't fit into any of the clothes offered by a retailer. And that feeling of sartorial rejection runs deep for many shoppers.
"When I think about how brands don't offer things that fit me, the message is loud and clear — 'Your body is wrong,'" Abell says.
What They Think About Shopping In Store Versus Online
The majority of plus size shoppers who answered Bustle's Fitting Room survey — a sizable 68 percent — shop mostly online and sometimes in stores. Ten percent report shopping online only, while only three percent shop in-store only.
One reason so many people favored shopping online is the instant availability of plus size items. While shopping IRL can sometimes be unreliable when it comes to finding plus sizes, online shopping makes the search a little more bearable by cutting shopping time significantly.
"There are very few brands that carry my sizes in store," Oakland-based nonprofit director Megan Abell, who wears a size 16 or 18, says. "Even if they claim to carry my size in store, the items are usually sold out or hard to find. I've pretty much given up shopping in-store, it's just not worth my time. I buy 90 percent of my items online."
Many online shoppers recommended sorting by size to avoid the scavenger hunt, and comparing measurements to ensure a perfect fit.
Where They Like To Shop
The people who answered the survey had a lot in common, including their favorite places to shop. Major retail stores like Target (offers sizes XXS - 4X; 00 - 26W; tall/short options), Old Navy (offers sizes XXS - 4X; 00 - 26W; tall/short options), Nordstrom (offers sizes XXS - 3X; 00 - 30, petite/tall options), Forever 21 (offers sizes XS - XXL; 0 - 26), LOFT (offers sizes XXS - XXL; 00 - 26, petite/tall options), and Madewell (offers sizes XXS - 3X; 00 - 24, petite/tall options) were popular among plus size shoppers. Stores known for catering to plus size consumers, like Torrid (M - 6X; 10 - 30, petite/tall options) and Eloquii (12 - 28, petite/tall options), were also popular brands in responder's closets. Online-focused brand ASOS (offers sizes XXS - XXL; 00 - 26; tall/short options) was a favorites among those surveyed, further proving brick-and-mortar isn't the ideal shopping situation for plus size people.
Stores like H&M (offers sizes XXS - 4X; 00 - 30 online) and American Eagle (offers sizes XXS - XXL; 00 - 20; tall/short options) also made the cut as popular shopping destinations, though both brands don't turn a sharp focus toward plus size shoppers — especially in-store, where both stores stock limited plus sizes.
Retailers known for having wide plus size selections — like Addition Elle (offers sizes X - 5X; 12 - 26; tall/short options) and ModCloth (offers sizes XXS - 4X; 00 - 30) — also received a lot of love from shoppers, too. But, according to respondents, finding places to shop was less about personal style and more about which stores offered their size.
"It's difficult to say what my favorite places are to shop," Abell says. "It's so piecemeal. The offerings for plus size women are still minuscule, and the styles offered from those brands so varied. I can't really identify a shop that encapsulates my style or that I know will reliably have lots of stuff I like."
While almost all of the 88 respondents had places they shop in common, this could be attributed more to the sizes offered and wide-reaching availability of brands rather than a common personal style between respondents.
"I can't just walk into Urban Outfitters (offers sizes XS - XL; 0 - 14) or Zara (offers sizes XS - XXL; 0 - 14) and know that their standard sizes in most things will fit me," Vargas says. "I'm super happy with my main places to shop at (American Eagle, Forever 21, and Target), but it'd be nice to have more options."
What Could Be Better About Their Shopping Experience
When it comes to what more could be desired from respondents' shopping experiences, the answer is a lot. From more quality clothing to more availability to standard sizing for all brands, plus size shoppers have a lot of wishes to make shopping more enjoyable and accessible.
Some shoppers also called to abolish "vanity sizing," or the common practice of assigning smaller numbers to larger sizes to encourage sales. With vanity sizing, the goal is for retailers to show you a smaller size to feed into size insecurities, making you feel more apt to buy if you feel "thinner" in their clothing.
"[My shopping hack is] comparing measurements between stores where I know I fit into their clothes to make sure sizes at another store are comparable," one respondent said. "As a plus size woman, vanity sizing is constantly part of the shopping minefield."
Most respondents, however, had the same simple desire — to simply be thought of by brands during the clothing creation process.
"I feel like some brands consider plus size clothes as like an afterthought, and the quality of clothing just goes out the window," O'Hagan says. "I hate going into a store and seeing the 'regular' size clothing and then assuming the same clothes will be available in plus size, but it's not."
To make their shopping experience better, plus size people want to feel heard and considered. These shoppers aren't just ready for the fashion world to change. They are ready and willing to help — or, rather, force — it to change.
"I don't think [brands] collaborate enough with plus-size people to really understand what we want," O'Hagan says. "Just a simple asking of, 'On a scale of 1-10, do you think this simple shirt needs a flower maze graphic with some inspirational quote?' My answer would be -500."