10 Signs Your Dog Loves You, According To An Expert
And it's not just because you're the one with the treats.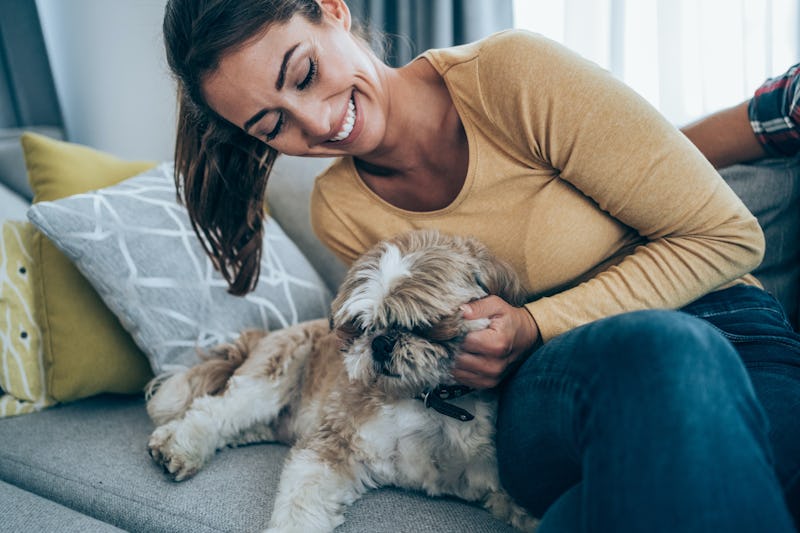 VioletaStoimenova/E+/Getty Images
There's a lot to love about dogs. They're loyal, cuddly, and bring their fair share of laughs into any home. They make for the perfect walking companion and are pretty much always down to ride shotgun in your car so you don't have to drive alone... even if you're going somewhere as boring as the pharmacy. It's not hard to figure out how or why to love a pup, but it's slightly more challenging to determine how a canine feels about you. In an effort to help you do this, I've done a little research on a few sure signs your dog really loves you, and of course, consulted an expert.
According to Dr. Ashley Randall DVM, owner of the West End Animal Wellness Center in Atlanta, Georgia, dogs do in fact have emotional feelings, and have they have their own way of showing us. "Some dogs can even actually smile!" she says. Dogs are so cute and wonderful and perfect that reciprocity probably isn't required for you to continue to love your pet — but it sure won't hurt to get some confirmation that the affection goes both ways. And while any one of these 10 cues can give you the proof you're looking for, you can also rely on your instincts (appropriately, just like your dog would). If your pup loves you, you're going to feel it in your gut.
Assuming you don't trust your gut, though, these specific signs will go a long way toward helping you better define the relationship with your dog.
This article was originally published on