13 Surprising Signs That Your Dog Is Sick
#7: They're acting more affectionate.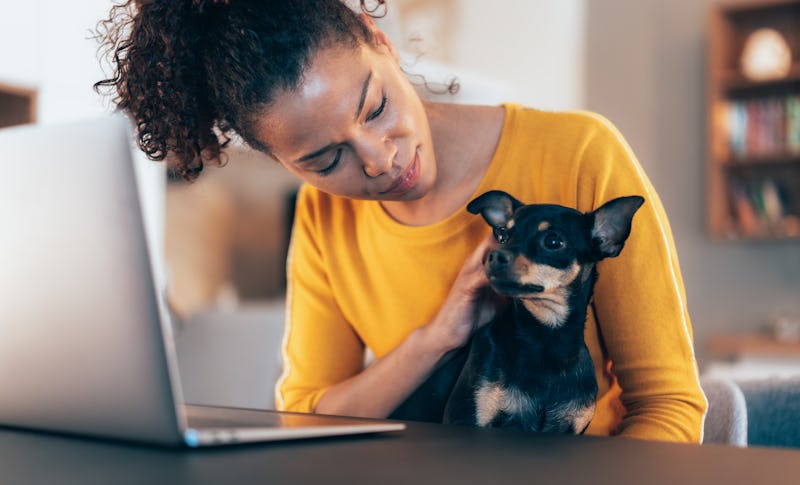 filadendron/E+/Getty Images
Since dogs obviously can't tell us when they're not feeling well, it's important to be aware of signs your dog is sick, so you can come to their rescue, and take them to a vet when necessary. "We usually don't actually see clinical signs from them until things have been going on for a while," says Dr. Tierra Price DVM, founder of BlackDVM Network, and shelter and emergency vet in Los Angeles. For many dogs, signs of illness will look the same — they won't want to eat or play, they'll have diarrhea, etc. — but any type of change is worth noting, and looking into.
If you're familiar with your dog's personality and their day-to-day activities, it'll be easier to spot changes as they happen, and the moment they seem "off" or start acting different, you should start thinking about your next move. "If you're not paying attention, the issue can progress, and then you don't necessarily know until it's too bad, or too late for us to do anything," says Dr. Ashley Randall DVM, owner of the West End Animal Wellness Center in Atlanta, Georgia.
When your dog isn't feeling well, it never hurts to bring them to the vet for a check-up. "It's better to be overly cautious than not cautious enough," Robert Trimble DVM, co-founder & Head of Veterinary Services at Fuzzy, tells Bustle. But it's also obviously a good idea to do everything you can to prevent illness from happening in the first place, by following a few simple tips from your vet.
"One of the easiest ways to provide the best care for our pets is to have a veterinarian perform a physical exam twice yearly, provide preventative vaccinations, and administer anti-parasitics (flea preventative, heartworm preventative, and intestinal parasite treatment) to deter easily preventable diseases," Trimble says. Randall also notes the importance of having a relationship with a vet and bringing the animal for a check-up at least annually. She stresses the importance of this due to unforeseen issues in the future. By having a reliable relationship with a vet, you can ensure your puppy gets the proper help in any kind of situation.
If any health concerns arise between appointments, definitely speak up. If the situation is becoming serious, quickly, and you need help immediately, call (888) 426-4435. This is the ASPCA Animal Poison Control Center and it is a 24/7 hotline there to help you, and your pup in any situation. Here are a few signs your dog might be feeling ill, so you'll know when to take them to the vet.
This article was originally published on