How Much You Should Spend On Rent In New York City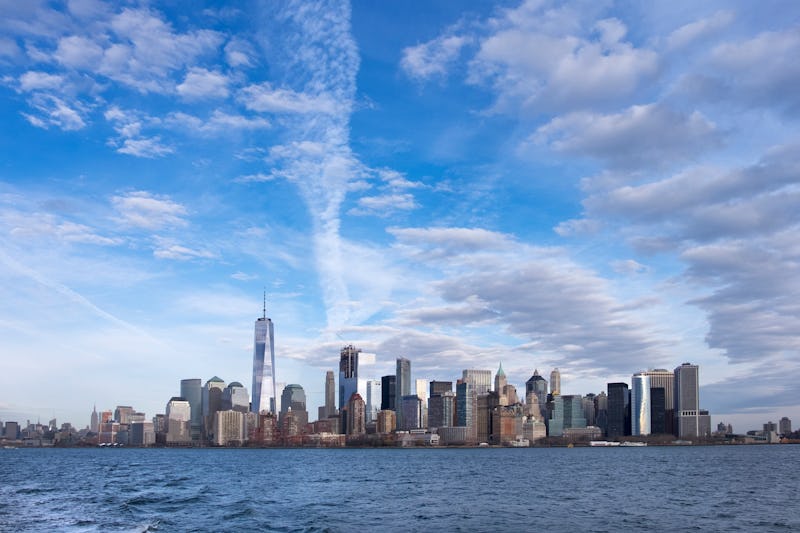 Loop Images/Universal Images Group/Getty Images
People do a lot of crazy things to make ends meet while living in New York, and unless you are #blessed, the rental market can be pretty daunting. When beginning the dreaded apartment hunt, it can be difficult to determine how much you should spend on rent in New York City. Each year, newly minted college grads flock to this skyscraper mecca for culture, fashion, business, entertainment, and so much more. With all the competition, good deals go quickly, and there are plenty of Craigslist scams out there to avoid. Many have come up with "creative" solutions to afford housing in the Big Apple. I am among them, having lived (more like "squatted") for a time after college in a ground floor Bushwick loft with nine roommates and only one bathroom. My cubby of a room which we had constructed ourselves had no window. I would not recommend it.
When deciding how much you should spend on rent, conventional wisdom states that 30 percent of your net income (earnings after taxes) should go towards housing. But with the median starting salary for a bachelor degree-holding grad in 2015 at $45,478, that only leaves the renter with approximately $850 to spend on rent a month. The average starting salary for anyone going into liberal arts and humanities is even lower at $36,237! Hence, why I ended up living with nine other roommates.
Since the market is so competitive, most landlords are looking for their tenant to have a dependable income that is 40 times the rent. However, many brokers recommend looking at your rent as 25 to 30 percent of your gross income, and cutting back on other outside expenses (even if that means a few dinners consisting of free bar snacks and a cheap beer to make it work). After all, New York is the second most expensive real estate market in the nation! According to the listings site Zumper, the median rent for a NYC one-bedroom apartment in March of 2016 clocked in at $3,280 a month.
Bustle spoke with real estate broker Shii Ann Huang, who is with the Corcoran Group, concerning what advice she would give to people looking for an apartment in the city. Huang warned that the NYC rental market may be a bit shocking at first.
"If you've never lived in the city before, it may be a rude awakening between expectation and reality," said Huang. "The key is being flexible and understanding what is most important to you, such as space, location, light, or living alone." The saying goes that you should always look for size, light, and location when hunting for apartments, but you will never get all three.
The winter of 2015-2016, the most expensive median rents for one-bedrooms in Manhattan included neighborhoods such as NoMad with an average of $4,500, the Flatiron District district coming in at $4,380, and Tribeca at $4,300. The more affordable neighborhoods included Washington Heights at $1,780, Central Harlem averaging at $2,000, and East Harlem at $2,120.
Many flee to Brooklyn in hopes that these one-bedroom rents won't hit $4,000, however the top Brooklyn 'hoods aren't far behind their island buddies. Currently, the priciest places to lay down stakes are around the Brooklyn Bridge in Vinegar Hill with an average of $3,899 and DUMBO at $3,880. And just behind them is hipster haven Williamsburg at an average of $3,300. The numbers may sound daunting, but there are still deals to be had!
If you're on a budget, Huang suggests, "A lot of people are going to the outer boroughs and upper Manhattan for cheap rents within NYC. Ridgewood, Bay Ridge, Hamilton Heights is where people are going for deals. Highest rents remain in neighborhoods like the West Village, Tribeca, the Upper East Side." So forget about living those Gossip Girl or Sex And The City dreams until you have the hefty paycheck to match.
Huang's key advice for beating the competition is all about being prepared when you enter the hunt. "Look online first to get a sense of what you like and what you can afford in your budget. Next, get all your financials together, pay check stubs, W-2s, tax returns, bank statements, and parent guarantor. This way, when you see the right apartment you will be able to present a full application before anyone else," Huang recommends. "Knowing what you want and speed is very important in NYC. Good apartments move quickly."
You may also get a leg up on the market by picking the optimal time to move, says Huang. "Winter is the best time to get a low rent — it's cold, and so less people are looking. Landlords are more willing to negotiate rather than face a vacancy." But the window is short: "Prices start to peak in the spring, early summer and early fall." This winter, according to Zumper, one-bedroom rents dropping by 1.8 percent and two-bedrooms decreasing by 2.4 percent. So if you are considering a big move, you may want to put off looking for a new pad till the mid to late summer or when the weather turns cold again.
Images: Loop Images/Universal Images Group/Getty Images, giphy