16 Actually Creepy Instagram Caption Ideas For Halloween
"Werewolves howl. Phantoms prowl. Halloween's upon us now."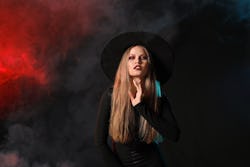 Shutterstock
As Halloween grows closer, it's hard to ignore the spooky feeling in the air as the crisp, fall chill sets in. Halloween is a time for fun and elaborate costumes, creepy decorations on everyone's lawns, and a general devilish vibe that gives you goosebumps at night. So, if you want to post a Halloween-themed photo on your Instagram page, you're going to need a scary caption to go along with it to really capture the spirit of the holiday. There are plenty of creepy Halloween Instagram caption ideas that will definitely score you more likes.
The history of Halloween is just as spooky as the day itself. Also known as All Hallows' Eve, it's a holiday that can be traced all the way back about 2,000 years to a pre-Christian Celtic festival called Samhain. There isn't a lot of information on Samhain (pronounced "Saa-wen"), but researchers believe it was a time of communicating with the dead — which is essentially what Halloween is. Halloween is a day when many believe the spirits of the dead are able to cross over into our world. Because it's so focused on death (skeletons, ghouls, ghosts, demons, the underworld), it's pretty terrifying.
Even spookier? Many of the fun Halloween traditions we know and love have horrifying backstories. Take jack-o-lanterns, for example. According to an Irish legend, the jack-o-lantern is based on a man named Jack who was a trickster who tried to fool the devil. When he died, he didn't go to hell, and instead put his soul into a pumpkin... like a jack-o-lantern.
That story is definitely pretty creepy, but it's also probably not something you want to use as an Instagram caption. Instead, capture that same feeling with the below quotes and phrases:
This article was originally published on