27 Instagram Caption Ideas For Your Favorite Plant Posts
"Say aloe to my little friend."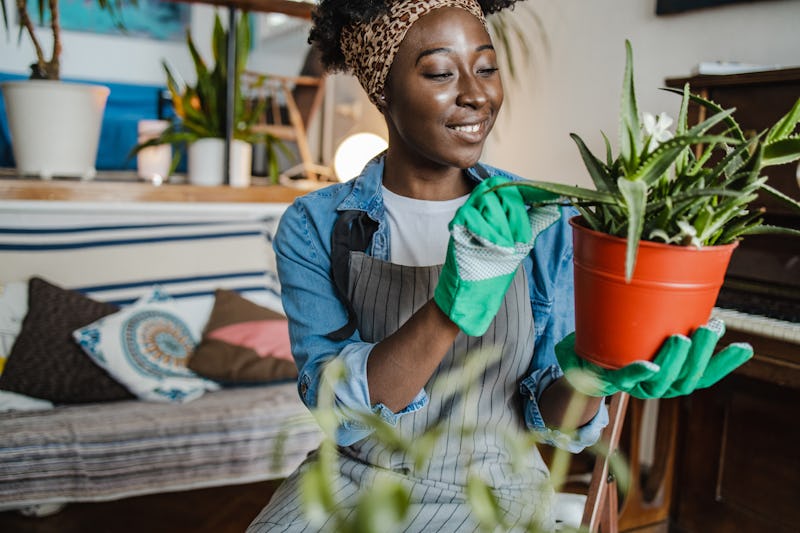 blackCAT/E+/Getty Images
So, you're adulting like a boss and you've filled your apartment with an abundance of plants. It's only natural that you'd want to show off your sanctuary on social media, which is why you're going to need these Instagram caption ideas for plants. Seriously, that Monstera Leaf, also known as the Swiss cheese plant, looks too good not to share, and it definitely has a perfect plant caption to go along with it. In case you haven't noticed, plants are getting just as much love on social media as adorable dog and cute kitten snaps, and your succulent garden shouldn't get left out.
"Thirty years ago, the (mostly) unkillable plants were relegated to remote deserts and dusty garden-store shelves," Alyssa Bereznak wrote for The Ringer. "Then came a drought, social media, and a generation of itinerant aspiring gardeners — and suddenly, the succulent became the trendiest members of the plant kingdom." Even if you don't have a green thumb, succulents are ideal housemates that hardly need anything, and not to mention, they make the perfect Instagram post. According to Megan Cain, owner of plant and gift shop The Zen Succulent, caring for a plant can be the ultimate stress reliever, and it can even better your mood! "It's amazing to see all of your hard work pay off with the unfurling of a beautiful new leaf — it's like the plant is saying 'I love you' in real-time," says Cain. Plus, your Instagram plant caption can be succute! See what I did there? Sorry, there's a lot more comin' where that came from.
This means they can bring you joy and the plant captions can spruce up your Instagram feed, even if you forget to water them for a few days ... err, weeks. And, your special succulent and superb Swiss cheese plant both deserve witty, punny, and inspirational, and not to mention, punny Instagram plant captions for their big debut. If you want to give your plants the props they deserve, head to your social accounts to caption all the magic.
This article was originally published on