18 Spooky Quotes About Halloween To Use As Instagram Captions
"It's as much fun to scare as to be scared."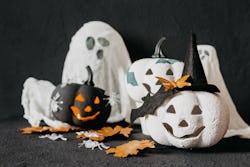 Shutterstock
Getting ready for Halloween is, perhaps, even more fun than actually celebrating the holiday on Oct. 31. You get to do fun fall activities like go pumpkin picking, carve jack-o-lanterns, and roast pumpkin seeds. You get to totally freak yourself out by watching scary movies and playing scary games. You also get to be a little creative when thinking up a costume and, yes, planning your Instagram photos that are all about All Hallow's Eve. If you're doing that, you'll also need some caption ideas, and there are actually lots of Halloween quotes that are perfect for Instagram captions.
Halloween has been around for so long, which means a lot of people have spoken about it, both in literature and just in general. The holiday might be a lot more commercial now, but it has deeply religious roots. Once more commonly known as All Hallow's Eve, it can be traced more than 2000 years back to a Celtic festival called Samhain. People believed Samhain was a time when the barrier went down between worlds, and people were able to communicate with the dead as spirits crossed into our world.
Because of this, Halloween has always been thought of as a day when evil comes out to play, which has helped many create some wonderfully spooky stories and ideas. Halloween quotes bring up the real meaning behind the day, and also act as the perfect boost for your Instagram post.
Check out some ideas below and start trying to decide which one you're going to use:
This article was originally published on