This Is Why It's *Vital* More British Women Get Into STEM — And How To Make It Happen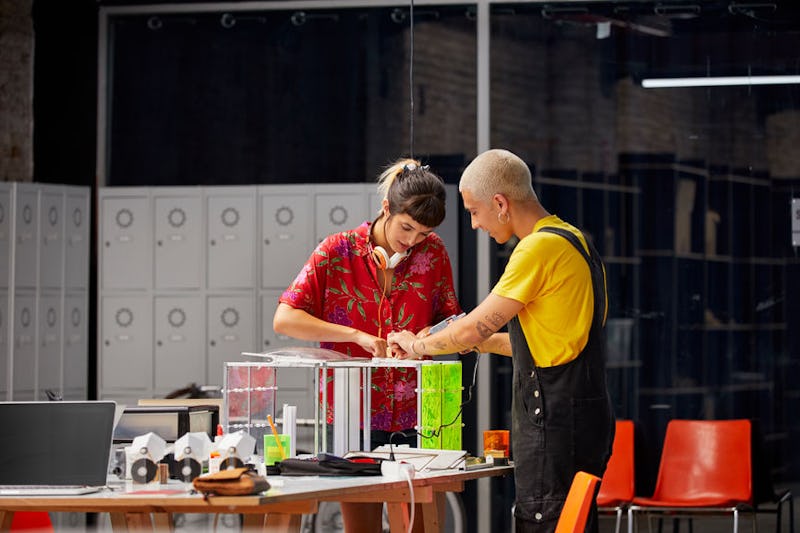 ALTO IMAGES/Stocksy
There are few areas where the gender gap is more pronounced than in STEM, which is Science, Technology, Engineering and Mathematics for the uninitiated. In 2017, there were just 22,340 female graduates in STEM fields in the UK. It's unsurprisingly then, that a 2018 report from WISE, a group which advocates for greater gender parity in the UK industry, found that just 22 percent of people working in these industries are women. WISE's goals — gender parity in the industry, and 1 million women working in these industries by 2020 — requires us to examine ways to close STEM's gender gap. For International Women's Day 2019, I canvassed four experts to find out what needs to be done.
First of all, let's be clear: the stakes are incredibly high. "The fourth Industrial Revolution is here and it is essential that female brains, talent and power are behind the wheel of this digital transformation," STEM veteran Gabriela Mueller Mendoza tells me. Now an executive coach and author of How To Be A Smart Woman In STEM, Mendoza adds that "when we add ethnicity to women's representation in these fields, we see enormous differences."
Reducing bias is a big part of the problem, as is education. "Women have as much of a place in STEM as men do," Karina Larsen, Vice President of Business Development at Honeywell Aerospace explains, so it's vital to get rid of "outdates biases and clichés" that lead many women to think they're not "right" for the industry. But in doing so, it's important to focus attention at the structural level too. "I don't think it should be just on women to shift the paradigm and culture," Stacey Espinosa, Global Research & Development Senior Manager at Mars Inc. explains. "We need everyone, especially those in positions of leadership, to advocate for the role of women."
For fellow women in STEM, they can advocate by serving as role models and mentors for the younger generation. "By sharing our passion and positive experiences of the STEM industry, we can encourage and inspire more women to consider a career in the field," Anne-Laure Thieullent, Artificial Intelligence and Analytics Group Offer Leader at Capgemini explains. Read on to find out more about what needs to be done to even up the scales in STEM and beyond.