40 Illustrators, Graphic Designers, & Muralists Creating Revolutionary Work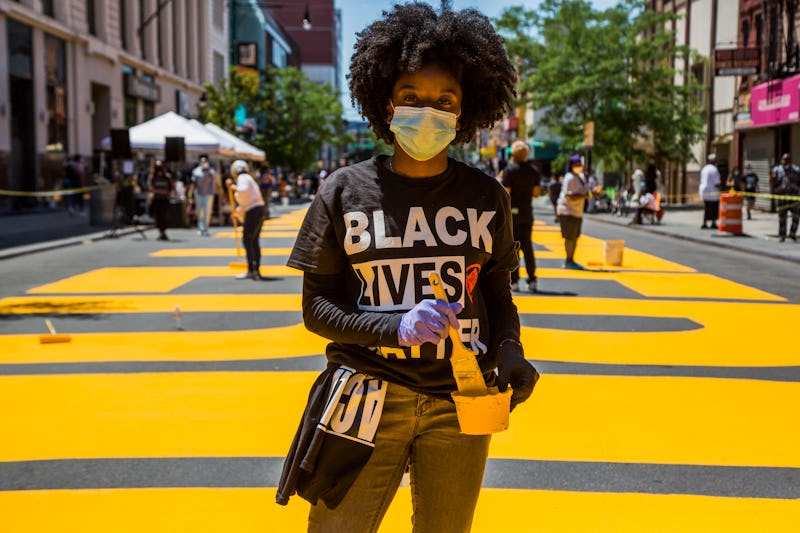 VIEW press/Corbis News/Getty Images
In her 1985 essay, Poetry Is Not A Luxury, writer and Black activist Audre Lorde calls creative writing and making art a "vital necessity of our existence." She describes capitalism as a linear power that thrives on dehumanization and suppressing creativity and emotions in the name of production and profits. In a world dominated by structures of white patriarchy and capitalism, Lorde attests that writing poetry and making art isn't just self-expression, but a means of survival and revolution. Making art helps you articulate your ideas and turns your emotions into tangible actions that work outside of capitalism and other oppressive structures.
Nearly a month after the killing of George Floyd, 46, when a Minneapolis police officer named Derek Chauvin pressed his knee into Floyd's neck for almost 9 minutes, protests about systemic racism and police brutality continue across the globe. According to The New York Times, there have been protests in at least 2,000 U.S. cities in all 50 states. On June 14, thousands of people created a human chain as a "ribbon of solidarity" to protest racial injustice in Berlin. That same day, 3,500 protestors rallied in Tokyo to stand with Black Lives Matter, and to condemn racism in Japan. The day prior, 15,000 people marched in Paris to protest police brutality and to seek justice for Adama Traoré, a 24-year-old French Black man who was killed in police custody in 2016.
While many of these protests are happening in the streets, there are myriad Black and Indigenous people of color (BIPOC) artists and designers who are leading the revolution using their creativity and intuition.
Here are 40 BIPOC artists creating revolutionary work to follow on Instagram and to support in real life, too.