What 7 Afro-Latinx Women Wish You Knew About Their Identity
"We exist and we are a fierce, powerful, and beautiful people."
by Janel Martinez and Mia Mercado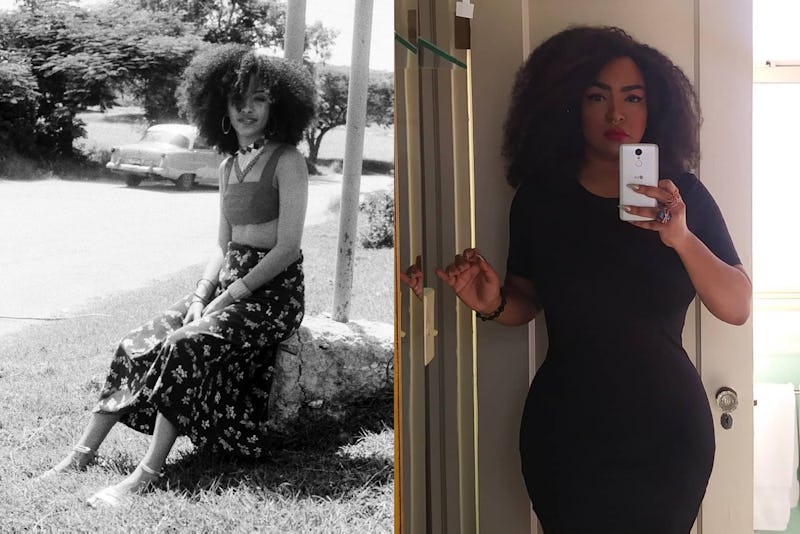 @cityofjules/@bad_dominicana/Instagram
Not all Latinas look like Jennifer Lopez, Sofia Vergara, or Shakira. The damaging myth that Latinxs are a monolith is often fueled by both Spanish- and English-language media, resulting in erasure of blackness from Latinidad. In case it wasn't clear, Latinx people are of all different races, co-occurring ethnicities, and identities. For these seven women who identify as Afro-Latinx, they're all too familiar with these kinds of misconceptions.
A quarter of Latinx people in the United States identify as Afro-Latinx, according to a 2016 report from Pew Research Center. Across the world, Afro-Latinx people make up a notable percent of the population. About half the population of Brazil is of African descent, per Pew Research Center. 1.3 million in Mexico and close to 200,000 in Honduras identify as Afro-Latinx, according to the National Institute of Statistics and Geography and the CIA respectively. As Dr. Marta Moreno Vega, founder of the Caribbean Cultural Center African Diaspora Institute (CCCADI), put it, "There wouldn't be a United States if there wasn't African descendants present for the building of this country [...] but [also] the building of Latin America, the building of the Caribbean, and Europe."
But rarely is it acknowledged that both identities can be celebrated at once. Cardi B, whose father is Dominican and mother is Trinidadian, is among the most prominent Afro-Latinx people in music and pop culture. In 2018, the popularity of Love & Hip Hop: Miami's Amara La Negra — an unapologetically Black, Dominican singer — on a major cable network introduced this cultural identity to a new audience. While many embraced her message, others, including castmates, began dissecting her identity, even accusing her of darkening her complexion, which she denied in an Instagram post. Ultimately, these attempts at invalidating her Afro-Latinx identity stemmed from a critical misunderstanding of what it means to be Afro-Latinx. Jenay Wright, creator of #IAMENOUGH, tells Bustle, "Afro-Latinxs comes in all shapes, body types, dialects, accents, customs, and skin tones."
As the conversation gains more visibility, these Afro-Latinx women are working to set the record straight about their identity. Here's what seven Afro-Latinx women want you to know about them.
This article was originally published on