7 Less-Common Symptoms Of Breast Cancer Doctors Say You Shouldn't Ignore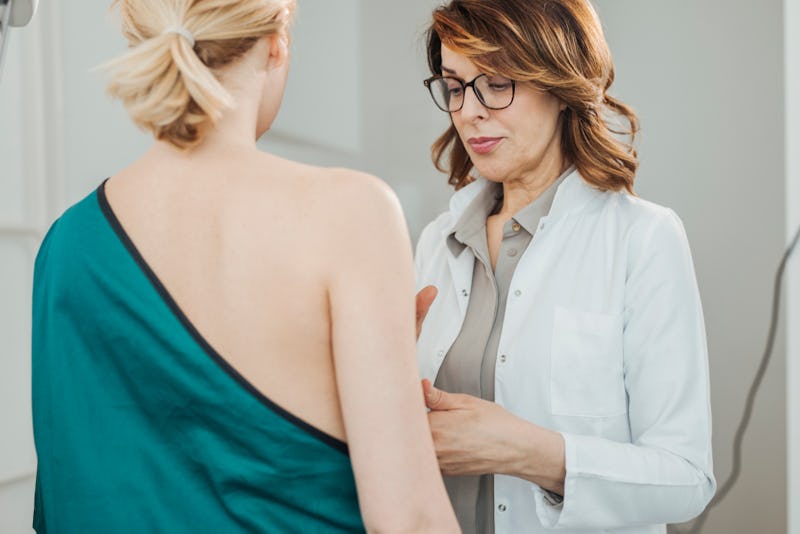 LStockStudio/Shutterstock
Whether you have a family history of breast cancer or just make sure you do a breast check every now and then, you're likely aware of the main symptom of breast cancer: a lump or a mass in the breast. However, experts tell Bustle that there are other possible signals of breast cancer, and if you're only looking for a mass, other symptoms may be missed. Breast surgery oncologist Dr. Janie Grumley, director of the Margie Petersen Breast Center at Providence Saint John's Center in California, tells Bustle, "For most patients, breast cancer does not elicit any symptoms. In general, if patients are doing screening, signs of cancers are picked up before patients experience any symptoms." While the presence of a lump, or a "new mass," is the most common symptom of breast cancer, Dr. Grumley says it's by no means the only one.
Knowing other breast cancer symptoms, even the ones that are rare and unusual, is vital. Around 12% of all American women will develop invasive breast cancers in their lifetime, with 268,600 new cases expected in 2019, according to the American Cancer Society. That works out to around one in every eight women — and early detection can be crucial when it comes to treating breast cancer.
"While breast cancer more commonly presents as a lump in the breast or as an abnormal finding on a routine mammogram, it may also present in other ways," Dr. Amy L. Waer, interim department head of medical education at the Health Science Center at the College of Medicine of Texas A&M, tells Bustle. Men and people who don't identify as women can also experience breast cancer — so if these symptoms appear in anyone, they need to be checked out for cancer too.
Here are seven unusual symptoms of breast cancer that doctors say you shouldn't ignore.