11 Weird Feelings That May Be Triggered By Anxiety
Your body has ways to tell you it's stressed.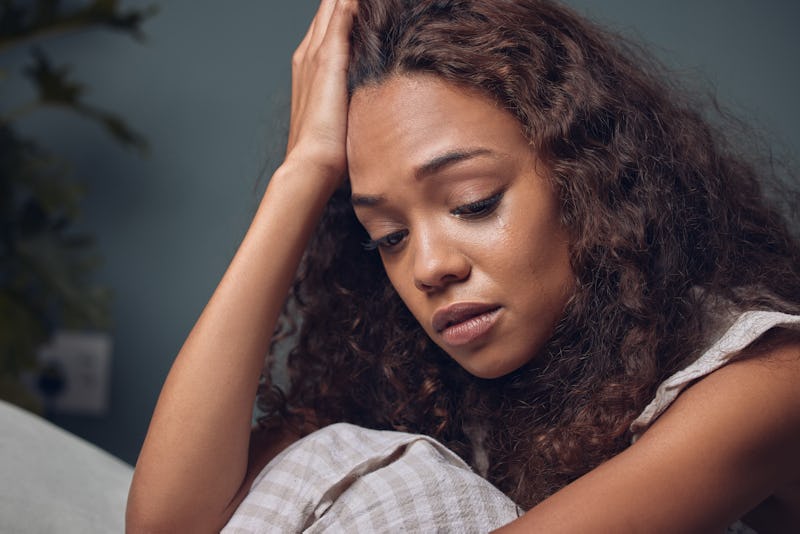 PeopleImages/E+/Getty Images
Anxiety can feel undetectable because it's so hard to pin down. But if you're ever feeling like something is not-quite-right, there's a pretty good chance it's anxiety. Whether you're experiencing a feeling of uneasiness or a physical sensation you can't quite place, it's possible a symptom of anxiety is rearing its head.
Whether or not you have a diagnosable anxiety disorder, there's still a good chance you feel slightly, untraceably off from time to time. This is your body's natural response to fear. "Anxiety is first and foremost a fear response," licensed psychologist Giulia Suro, Ph.D., CEDS, tells Bustle. "The role of anxiety is to protect us from perceived threats in our environment. We may experience anxiety when we feel our social status, reputation, future life, livelihood, emotional security or skills are at risk," Dr. Sanam Hafeez, a neuropsychologist and faculty member at Columbia University, tells Bustle. "For example, those who experience social anxiety are alerted by their bodies that they are being judged or might face future social rejection. Therefore, they will feel symptoms of anxiety, which warns them of a social threat. People can also feel general anxiety simply from the unknown of daily life and playing a 'tape' in their head of 'what if' scenarios."
You may not feel overtly anxious, but your body still has ways to tell you it's stressed. "Anxiety symptoms aren't always obvious, and anxiety symptoms can 'whisper' to us, communicating their message through the vocabulary of discomfort," licensed clinical psychologist Alicia H Clark, PsyD, PLLC, tells Bustle. And some of these "whispers" come in the form of creepy sensations.
Here are 11 creepy feelings you might be feeling that can actually be explained by anxiety, according to experts.
Any of these symptoms, every once and a while, are perfectly common. If, however, you experience one or all of these relatively frequently, you might be experiencing chronic anxiety. "When you are having symptoms that you can't seem to explain, you always want to check with a medical professional," Joshua Klapow, Ph.D., clinical psychologist and host of The Kurre and Klapow Show, tells Bustle. Hafeez agrees, adding that "Chronic anxiety can be extremely debilitating, so do not hesitate to reach out to a doctor if you ever feel it is severely disrupting your life."
Though most people experience anxiety at some point within their lives, some may be more susceptible to it. "For example, specific personality traits such as perfectionism, low self-esteem, avoidance, and dependence, are risk factors for anxiety," Hafeez says. "Those who use drugs and alcohol are also more susceptible to anxiety. Also, stress-inducing life events [like relocating or relationship issues] can contribute to the likelihood of experiencing anxiety."
Luckily, as creepy as these feelings seem, all of them are treatable.
This article was originally published on