10 Things To Donate To Food Banks Around Thanksgiving & Christmas
Here's what's actually helpful during the holiday season.
by Caroline Burke and JR Thorpe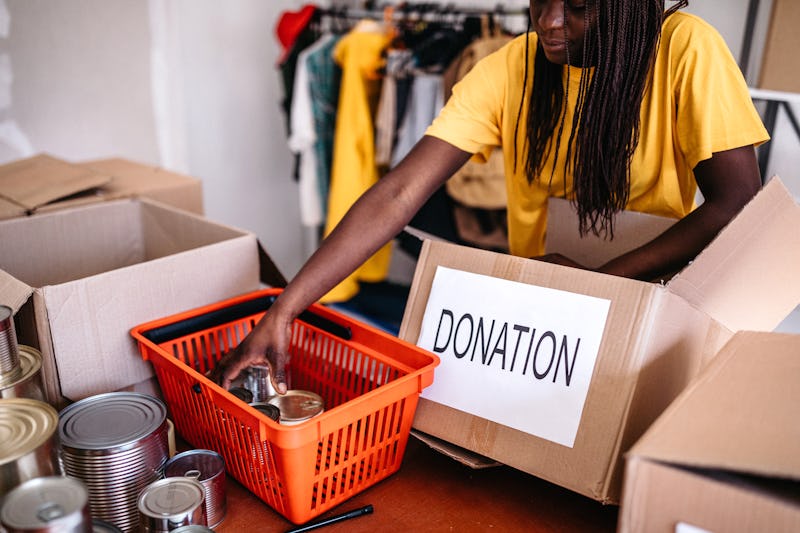 mixetto/E+/Getty Images
We often think of the holiday season as a harbinger of cold weather, good food, and lots of celebrations. But it's also a time to think about how you can support your community at large, so that every family is able to feel safe and eat a warm dinner. For that reason, you might consider donating items to a local food bank before Thanksgiving and Christmas — especially since a lot of the products food banks need might already be sitting in your pantry.
"Holiday celebrations are often centered around food, and for families that struggle to afford groceries, it can be a very difficult time," explains Zuani Villarreal, the Director of Communication at Feeding America, a nationwide network of over 200 food banks. "Canned foods including beans, chicken, fish, meat, fruit, vegetables, soup, stew and chili are always welcome." More people than ever are going hungry; in the U.S., the COVID-19 pandemic has caused nearly one in four households to experience food insecurity this year, according to NPR.
You don't want to treat making donations like a pantry clean-out, though. Villarreal makes a point to caution those who wish to donate against giving food banks anything with glass or cellophane packaging, or anything that has been broken or otherwise tampered with, or doesn't have a label. You should also be COVID-safe this year by following food bank guidelines around donations. Many have set up mobile pantries, drive-through donation centers, and no-contact food collection points, so you can donate safely. Donating money is also a way to stay COVID-safe while supporting food banks' important work.
When donating items to food banks, you should look for food that's preferably canned, has a long shelf life, and is nutrient dense. Here are some suggestions to get you started:
If you have a desire to volunteer during the holidays, Villarreal urges you to contact your food bank first. "We encourage people to call their food banks ahead of time and find out if they have volunteer slots available," she says. "If they have enough volunteers for that day, there are several other ways to help during the holidays." Some food banks are asking volunteers to work from home to remain COVID-safe during the holidays. You can read about some more ideas for helping during the holidays here.
Experts: Zuani Villarreal, the Director of Communication at Feeding America
This article was originally published on