How To Make Red, White, & Blue Jello Shots For Fourth Of July
Plus, a few TikTok-inspired recipes.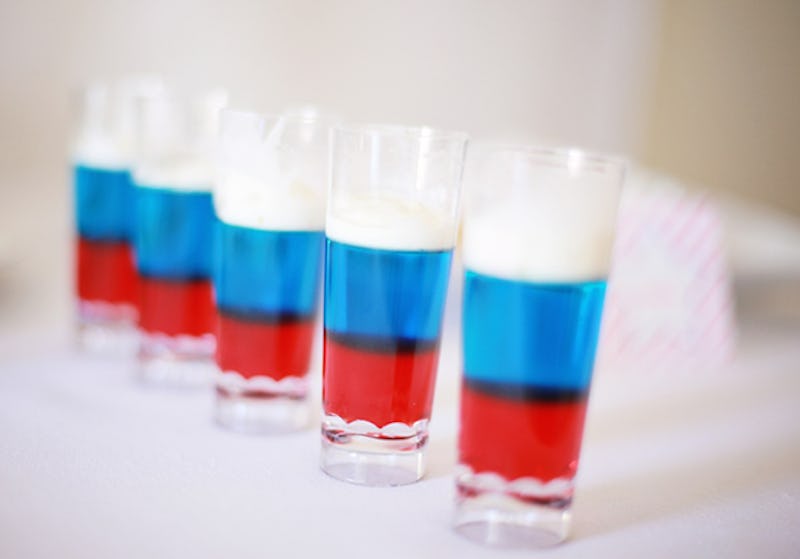 Fireworks, barbecues, and jello shots: the only three party essentials you need to make your Fourth of July shine. Independence Day is cause for celebration and an adult beverage. But instead of the usual beers found in the cooler, why not learn how to make red, white, and blue jello shots... hey, they're patriotic! If the last time you made them was in college, you'll need a refresher course. These party favors are layered red, white, and blue, and you can make them in whatever shapes and sizes you want.
Plan on babysitting these shots for at least three hours — you'll need to wait an hour for each layer of gelatin to set before adding the next layer. Have fun with the variety of alcohol you can use for the red and blue layers. Typically, vodka is the de facto spirit for jello shots, but you can use whatever clear spirit you have on hand. I used white rum.
The red, white, and blue jello shot recipe I used is from Brit + Co, but this recipe by blogger Kristi Murphy is just as sweet. These can be made in shot glasses or in a baking dish. If you're using a baking dish, cookie cutters are fun to make shapes out of the gelatin. If you like the recipe found below, play around with other gelatin flavors and spirits to make your own rainbow layered jello shots. And to top it off, I've also included some of the tastiest recipes on TikTok, because, c'mon, you can never have enough red, white, and blue jello shots, right?!
Red, White, and Blue Jello Shots
Recipe can be halved or doubled
Ingredients:
1 3 oz. envelope of strawberry jello
Clear distilled liquor (try flavored vodka, rum, or tequila)
14 oz. can of sweetened condensed milk
1 envelope of unflavored gelatin
1 3 oz. envelope of berry blue jello
Have your ingredients ready to go: a handle of booze, strawberry and berry-flavored jello, unflavored gelatin, and condensed milk
Starting with the red layer, combine 1 1/4 cup of hot water with red gelatin in a medium bowl. Stir until the gelatin is dissolved, and add 3/4 cup of a spirit of your choice. Fill a shot glass 1/3 of the way full with the hot gelatin mixture, or pour into a baking dish. Refrigerate for 60 to 90 minutes.
Once the red layer is set, dissolve the unflavored gelatin in 3/4 cup of hot water. Stir in half of a 14 oz. can of condensed milk, and combine. Pour over the red layer in your shot glasses or baking pan, and refrigerate for 60 to 90 minutes.
As soon as the white layer is set, dissolve the berry blue flavored gelatin in 1 1/4 cup of hot water. Stir in 3/4 cup of your choice of spirit, and top your shot glasses or baking dish. Refrigerate for 60 to 90 minutes. It's important to let each layer set so that it won't bleed into the following layer. Case in point:
I meant to do that. They make it look so easy.
If you used a baking sheet, cut your jello shots into patriotic shapes — or just go at it with a spoon. Either way, you can't lose.
Take Some Inspiration From TikTok...
Here are a few other super tasty and festive options from everyone's favorite video streaming platform.
This recipe from @oliviaferro on TikTok is set to "Watermelon Sugar" by the one and only Harry Styles, so you know the recipe is going to be good. This recipe calls for strawberry jello, berry blue jello, and sweetened condensed milk.
@amberkristine1 on TikTok uses flavored vodka, sweetened condensed milk, and whipped vodka to create some epic jello shots.
Who knew you could put any alcohol of your choice into the shots?! @celecooks shows us how she does it by preparing the jello, replacing the water with alcohol, and freezing the colors in between layering them.
@jenniifer.cx on TikTok uses a similar recipe as the tutorials above, but she makes the party more fun by adding the jello into shot syringes! Did someone say party time?!
Images: Kristi Murphy; Taylor Henriquez
This article was originally published on