The 4 Best Air Fryers Under $50
We only recommend products we love and that we think you will, too. We may receive a portion of sales from products purchased from this article, which was written by our Commerce team.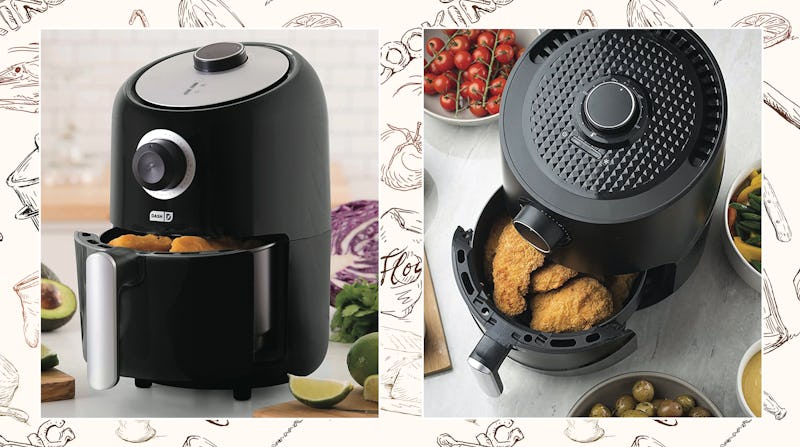 Bustle / Amazon
Air fryers allow you to make crispy, home-cooked meals using less oil than a deep fryer, and some models are super affordable, too. The best air fryers under $50 offer the same essential features as pricier models — like nonstick baskets, auto-shutoff timers, and adjustable temperature control — but depending on your exact budget, you may have to pick and choose which extra features are worth paying more for and which you are willing to sacrifice to save money. Ahead, a few things to consider when browsing the best affordable air fryers.
Each of the highly-rated air fryers below features an easy-to-use cooking basket, though you have a choice when it comes to capacity and nonstick coating. Many budget-friendly air fryers have a capacity of 2 quarts, which is a good size for one or two people, but I've also included 1- and 3-quart options. As for the nonstick properties, most air fryer baskets have a synthetic coating that heats quickly and is easy to clean. However, synthetic coatings can flake off over time, so I've also included an air fryer with a ceramic basket, which costs a bit more but offers excellent heat retention and durability. Either way, all of the air fryers on this list have dishwasher-safe parts for quick and easy cleanup.
Beyond that, you can also consider extra features, such as a digital display and color options — like mint green and bright red — to match your kitchen. Whether you want basic or a few bells and whistles, these are the best air fryers under $50 on Amazon that'll help you cook crisp, juicy food in no time.
1. Overall Best: A Fan-Favorite Air Fryer Under $50
This compact air fryer from Dash is one of the most popular picks on Amazon with 12,000 reviews, and it's a great option for serving one to two people. The 2-quart nonstick basket holds up to half a bag of fries or half a dozen chicken wings, and the air fryer features easy-to-use control knobs for adjustable time and temperature. The temperature settings range from 170 to 400 degrees, and you can set the timer for up to 30 minutes — it'll automatically turn off when your food is cooked. Plus, the fryer basket is dishwasher safe for quick and easy cleanup. Also great: You can choose from five colors, including classic black, bright red, and aqua.
Helpful review: "Outstanding value for the price. Love it for quick reheats, chicken comes out great, and air fried cauliflower bites are delicious!"
2. Runner Up: An Affordable Air Fryer With A Digital Display
If you prefer a digital display, this programmable air fryer is a popular choice. It features a 2-quart nonstick basket and adjustable time and temperature settings. You can set the auto-shutoff timer for up to 30 minutes, and the temperature ranges from 176 to 395 degrees — so it doesn't get quite as hot as the first option on this list, but the display is helpful if you like to check the settings at a glance. Plus, the parts are dishwasher safe for quick cleanups. The digital model comes in one color: classic black.
Helpful review: "The digital time and temp make it easy to set up and know that you're getting the exact number you want rather than a rough estimate as with analog dials. It heats up fast and is very easy to clean."
3. Budget-Friendly: A Single-Serve (1-Quart) Air Fryer Under $40
For the most budget-friendly pick, opt for this 1-quart air fryer from Elite Gourmet. Although the nonstick basket is smaller than the previous picks, this size is great for single servings, and the parts are dishwasher safe for easy cleanup. The air fryer has simple control knobs and features adjustable temperature (195 to 390 degrees) and an auto-shutoff timer (up to 30 minutes). What's more, you can choose from three colors to match your kitchen: red, mint, and black.
Helpful review: "I use this all the time. It is just the right size for snacks."
4. Larger Capacity: A 3-Quart Air Fryer With A Ceramic Basket (Teflon-Free)
If you want to make larger portions of food, it's worth spending a bit more on this 3-quart air fryer. The durable nonstick ceramic basket retains heat well and cooks food evenly, and it's a good choice if you prefer cookware that's free of synthetic nonstick coatings, which can flake off over time. Also great: The parts are dishwasher safe for easy cleaning. The air fryer has control dials to adjust the auto-shutoff timer (up to 60 minutes) and temperature (175 to 400 degrees). At the under $50 price point, this air fryer comes in one color: lux black.
Helpful review: "Works great for my family of 3. It looks good too. It's very good at cooking food evenly and it's vented well."