The 3 Best Air Fryers With Rotisseries
We only recommend products we love and that we think you will, too. We may receive a portion of sales from products purchased from this article, which was written by our Commerce team.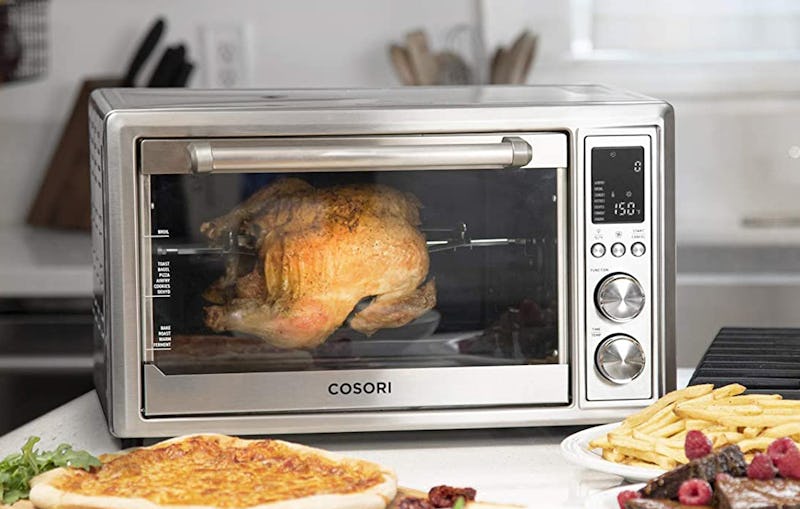 Amazon
Through a combination of high heat and circulating air, air fryers allow you to cook juicy, crispy foods quickly and with less fat than deep frying. But since a lot of air fryers aren't large enough to fit whole roasts and even turkeys, the best air fryers with rotisseries take it to the next level, offering the benefit of air-fry technology, with a revolving spit to prepare delicious, succulent roasted chicken and other meats. However, there are a few things to keep in mind as you sort through the the best air fryers on Amazon.
Many models that offer rotisserie capabilities have a toaster oven design with a larger cooking cavity. The rotisserie's spit should be positioned to ensure that food can turn without hitting the oven's heating element or glass door (I've vetted the options below and can say they can all fit a whole chicken or roast). If you're unsure, reviewers can confirm for you that the air fryer has the capacity to fit the size of meal you're working with.
Some air fryers with rotisseries come with bonus accessories for the spit, like baskets or skewer racks, so think about whether you'd use these features. The air fryer's functionality is also something to consider, and those that offer different programs like toast, roast, bake, broil, and dehydrate will give you the most versatility.
The best air fryers with rotisseries can help you cook delicious whole chickens, roasts, and much more! The top three recommendations are below.
1. The Overall Best Air Fryer With Rotisserie
Dimensions: 20.1 by 16.5 by 12.1 inches (length by width by height)
Capacity: 30 liters; 32 quarts
The roomy 30-liter capacity of this air fryer from Cosori not only lets you cook whole chickens and roasts on the rotisserie spit, but the wide design of the oven can bake a 13-inch pizza and toast six pieces of bread. The rotisserie spit comes with two forks to secure the ends of whatever you're cooking, so heavy loads turn rather than spin when the rotisserie is in use. The 12 preset functions including dehydrate, bake, roast, toast, and broil, and are all accessible via turn dial and an intuitive digital screen. If you'd like to manually use the air fryer, you can set the time and temperature, and even control the browning level for toasted items. The Cosori comes with a recipe book, crumb tray, air fry basket, wire rack, and a rotisserie handle to help you load and remove food easily.
According to one reviewer: "We have been very happy with our COSORI it fits everything we would normally put in the oven. Full sized [p]izza, [w]hole chicken, turkey, city ham, you name it. The rotisserie is great, the air frying could be better but it does work. The different ways you can use this oven is really great!"
2. The Runner-Up
Dimensions: 17.68 by 16.34 by 14.39 inches (length by width by height)
Capacity: 26 liters
With a slightly smaller 26-liter capacity and narrower design than the Cosori, Instant Pot's Omni Plus Air Fryer Toaster Oven can still cook a whole chicken and small roast on its rotisserie and costs a little less. The control interface features turn dials for manual time and temperature settings, while each of the air fryer's 11 functions has its own individual button, which include toast, bake, roast, broil, air fry, dehydrate, and reheat. A multifunctional cooking pan slides directly into the oven, so it can be used in conjunction with the air fry basket to prepare different foods at the same time.
The Omni Plus includes two forks to secure items on the rotisserie and rotisserie lift for easy loading and unloading. There's also an oven rack, air fryer basket, and cooking pan. Another cool feature: Rather than a cookbook, you can download the free Instant Pot app to access more than 1,000 recipes for the brand's various appliances.
According to one reviewer: "We have used it for baking, toasting, air frying, and dehydrating. It has worked great for everything we used it for. It is slightly cumbersome to clean, but not too bad. It is large enough to cook a small roast or chicken. The rotisserie works great and the meat cooked in it comes out tender and juicy."
3. The Best Value
Dimensions: 14.5 by 13 by 15.25 inches (length by width by height)
Capacity: 16 liters; 16.9 quarts
Though this 16-liter air fryer from Best Choice Products is the smallest and least expensive option here, it's not lacking in features, and includes two special accessories that are compatible with the rotisserie — a cylindrical rotating basket and skewers for making kabobs. Also included are an air fry basket, three wire racks, a rotisserie lifter, a drip pan, tongs, and an oven mitt, plus a nine-recipe booklet that showcases the air fryer's versatility. The 16-liter air fryer has a tall, 15.25-inch design due to the upper placement of the convection fan, but the cooking cavity can still prepare a whole chicken and small roasts on the rotisserie spit.
The air fryer's 10 preset cooking functions can be accessed via a touch pad, which uses symbols rather than words to describe each function, which include dehydrate, pizza, French fries, and fish. The only drawback of this design is that its control pad is a bit harder to read, so it may be necessary to refer to the product manual until you get comfortable using the air fryer and its various functions.
According to one reviewer: "This is a great air fryer. It's really reasonably priced for all the features it has. My favorite is that it fits a rotisserie chicken in it. It was pretty easy to use as well."