The 8 Best Bar Carts For Your Home Or Patio
We only recommend products we love and that we think you will, too. We may receive a portion of sales from products purchased from this article, which was written by our Commerce team.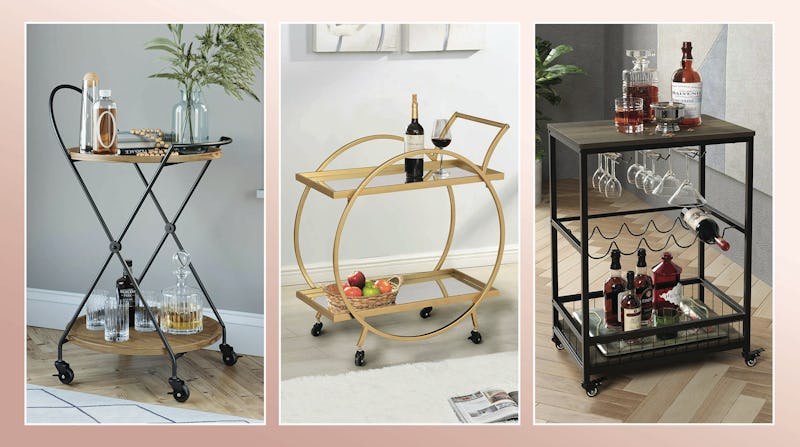 Amazon / Bustle
If you need a place to store spirits, glassware, and drink-making accessories, the best bar carts balance function and style with enough room to stash all of your necessities. In order to make sure a cart will fit nicely in your home, pay close attention to its dimensions, and make sure that it'll blend seamlessly with your decor. Bar carts are meant to be portable, so you'll likely want to choose one with wheels (bonus points if they lock to keep the cart in place during use!) and ideally a handle or two.
A good bar cart should be sturdy but still nice to look at, which is why it's important to consider the material (or combination of materials) that it's made from. Metal is popular since it's strong, durable, and comes in many stylish finishes. Wooden bar carts (made of solid wood or engineered wood like MDF) can add warmth to a space for a rustic farmhouse vibe or clean and classic appeal. If you opt for wood, just be careful when you're pouring your drinks — water stains can mar the wood's finish if you aren't able to clean up spills immediately. Clear acrylic is also sometimes used for bar carts since it's super chic and modern, as well as easy to wipe down. If you plan on using your bar cart outdoors, weather-resistant wicker or metal can be durable enough to withstand the elements.
Most bar carts have two or three tiers to store items. However, it can be nice to have some extra storage options, too, like slots for glasses, racks for liquor bottles, a built-in ice bucket, or even removable trays for serving. If you're tight on space, there are smaller bar carts or ones that fold up for compact storage.
These are eight of the best bart carts on Amazon, according to reviewers. This list covers a range of sizes, styles, and price points, so you can find the perfect one to hold all your drinks and accessories.
1. A Highly Rated Bar Cart With Plenty Of Organizational Features
With a whopping 4.8-star rating overall on Amazon, after more than 2,000 reviews, this bar cart from HOMECHO is clearly loved by those on the site. And what isn't there to love? The cart features three sizable tiers with three rows of hooks for glasses, plus a rack that holds five wine bottles horizontally. Four 360-degree swivel casters allow you to easily move this pick from room to room as needed, and two of the wheels lock to keep the cart in place. Made from a combination of MDF and metal, this pick will mesh well with many decor styles, and it's available in two different shades of brown.
Assembly is required, but reviewers indicate that it's pretty straightforward; it takes about 30 to 45 minutes to do it solo.
Enthusiastic Amazon review: "This is exactly what I was hoping! It's affordable, a great size, and holds all of my alcohol and associated supplies. I have a small kitchen and I use it as an extension of my counter space. I'd highly recommend this as an affordable and functional bar cart."
Size: 23.6 x 15.7 x 32.2 inches (length x width x height)
2. An Outdoor Bar Cart Made From Wicker
Made from weather-resistant, handwoven wicker with a solid steel frame, this bar cart from Best Choice Products might just be the patio upgrade of your dreams. The cart is built for outdoor use — heck, it's even durable enough to be permanently stored out in the elements if you so choose. The bar cart features a pair of handles and a set of front-mounted wheels, meaning it's designed to be portable but you'll have to slightly lift the non-wheeled side in order to relocate it. In terms of organization, the bar cart has an ice bucket to keep your favorite drinks at the ideal temperature and slots to hold up to 12 glasses. The tempered glass top is both stylish and easy to clean.
If you hate assembling furniture, you'll be glad to know that while this cart does require a little assembly, it should only take about 15 minutes, according to Amazon reviewers.
Enthusiastic Amazon review: "Recently purchased and so glad I did! It was perfect for our pool area. It was a great bar for entertaining plus loved the bucket underneath for wine and drinks. Loved being able to store the wine glasses too! Highly recommend for outdoor entertaining!"
Size: 43.5 x 18 x 36.5 inches (length x width x height)
3. A Stylish Gold Bar Car With Mirrored Shelves
Sophisticated, modern, and glamorous, this bar cart from FirsTime & Co. will be a showpiece in your home. The two-tier bar cart features a unique round shape, and it has a sleek metal frame with two glass mirror shelves for extra pizazz. A longer handle and four swivel wheels make for easy maneuvering — and FYI they lock when needed, too. The cart does come disassembled, but reviewers mention it only takes about 30 minutes to put together.
This pick comes in a gold, silver, or black-colored frame, and if you don't like the mirrored look of the shelves, you can also opt for wooden shelves instead.
Enthusiastic Amazon review: "Great little bar cart with tons of style! We love it for showing off some of our vintage glass ware and our liquor bottles. It's fairly compact, which is perfect for our small space. Easy to put together and the quality's not too bad, either. All in all, we're really happy with it!"
Size: 28 x 14 x 32 inches (length x width x height)
4. A Fan-Favorite Cart For Less Than $50
With more than 7,000 reviews on Amazon and a solid 4.7-star rating overall, this beloved rolling cart from CAXXA may not be designed specifically as a bar cart, but it makes a great one. And for less than $50, it's a total steal. The cart is made from durable powder-coated steel, and it features three mesh baskets to organize your bar essentials. The four lockable wheels can spin 360 degrees, and the small handles on top allow you to easily push the cart from room to room as needed. This bar cart is on the more compact side, so it's a particularly good choice if you're in need of something that won't take up too much space. Plus, it has a sleek, simple design that should look great in most homes.
Choose from five color options, ranging from classic black to fun pops of color like aqua. According to reviewers on Amazon, the cart requires some assembly but it should only take about 10 minutes.
Enthusiastic Amazon review: "Perfect for my studio apt! I was looking for someplace to put some bottles of alcohol to free up some cabinet space. this was the perfect choice!"
Size: 16.7 x 11.6 x 30.1 inches (length x width x height)
5. An All-Wood Bar Cart With Removable Serving Trays
This all-wood bar cart from Winsome is gorgeous. Made from a combination of solid and engineered wood, the clean-looking bar cart has a walnut finish that's warm and rich. When it comes to organization, the cart has three tiers to hold all of your bottles, glasses, and accessories. Two removable trays with cut-out handles are another major plus of this pick — it makes serving up drinks a breeze.
This bar cart is easy to transport; it has four wheels, two of which lock to keep it in place. And it has an elegant curved handle for maneuvering. The cart comes disassembled but Amazon reviewers report it's easy to put together. "Eas[y] to assemble. Two people make it really fast. 10 minutes," said one reviewer. Buy it in packs of one or two.
Enthusiastic Amazon review: "We use this as a bar cart in our dining room. It's a beautiful piece and the removable trays are an added bonus!"
Size: 24.8 x 15.9 x 33.2 inches (length x width x height)
6. A Foldable Bar Car In A Variety Of Colors
With the ability to fold down for compact storage, this bar cart from Cosco Outdoor Living is an excellent choice for smaller spaces, both indoors or out. The two-tier bar cart is made from durable, weather-resistant metal, and it's easy to move thanks to four wheels (two of which can lock) and two handles.
Choose from a range of color options, some of which have slatted tiers. And the only assembly required is putting on the wheels.
Enthusiastic Amazon review: "I used this as sort of a portable bar to bring punch and glassware out of doors - and it fit my expectations perfectly. the assembly only included attaching the wheels at the bottom, but otherwise it arrives folded and takes about .5 seconds to figure out. Sturdy without being clunky, and light without looking cheap. Overall, I'm very pleased. It stores easily in a closet to bring out when needed. Overall, I'm very pleased."
Size: 33.0 x 19.3 x 33.7 inches (length x width x height)
7. A Mid-Century Modern Round Bar Cart
With its mid-century modern look and interesting round shape, this bar cart from Nathan James would make a stunning addition to any space. Made from a combination of engineered wood, iron, and PVC, the two-tier bar cart can hold a good amount of bar necessities. It has four caster wheels that lock, as well as a handle, both of which allow you to easily move this piece around as needed.
Choose from different wood grain options and a few different styles as well. Assembly is required, but the manufacturer indicates that it only takes about 25 minutes to put together.
Enthusiastic Amazon review: "This bar cart is perfect! I was more impressed in person with it; my husband put it together in less than 10mins for me it was a breeze. The cart it self is very sturdy and well made even has locks on the wheels so it won't roll when you want it to stay still. It's so beautiful in person I can't wait to show it off for all my holiday parties. When I'm not using it as my bar cart I'll be using it as my roll away hot cocoa station. I can't wait to see more products from Nathan James!"
Size: 23 x 20 x 36.5 inches (length x width x height)
8. A Clear Acrylic Bar Cart
Made from clear acrylic, this bar cart from Safavieh is positively modern and chic in design. Thanks to the smooth material, it's super easy and quick to wipe down when needed, too. The bar cart features two tiers with raised edges, so your bar pieces won't accidentally fall off. And while it doesn't have a handle, this pick is on the smaller side — making it an excellent choice for more compact spaces — so it won't be too difficult to move around (and four wheels will certainly help with that). The only downside? The wheels don't lock.
Assembly is required, but some reviewers on Amazon describe it as a "breeze" to do.
Enthusiastic Amazon review: "Very [stylish 'bar cart'] for much less than most. [...] Buy it! It's adorable and chic! A Palm Springs touch to your space."
Size: 18.1 x 25.6 x 31.1 inches (length x width x height)