The 3 Best Battle Ropes For Your Next Workout
We only recommend products we love and that we think you will, too. We may receive a portion of sales from products purchased from this article, which was written by our Commerce team.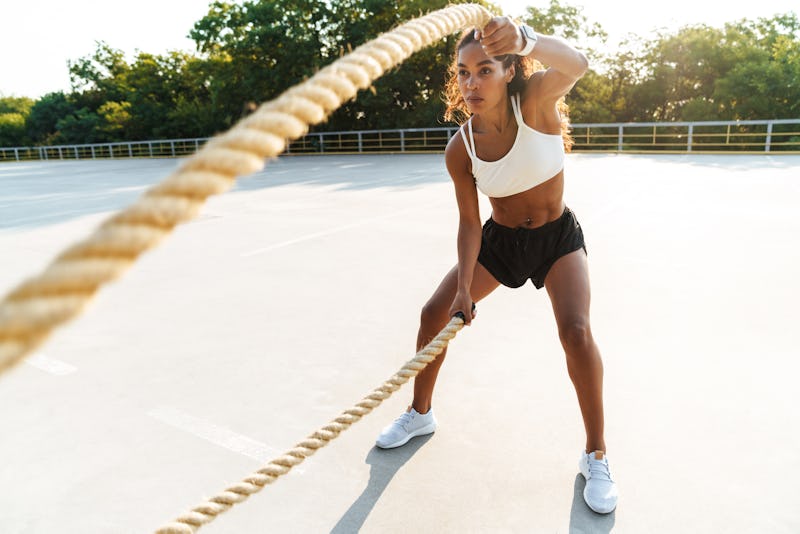 Dean Drobot / Shutterstock
If you've visited a gym, you've probably used — or thought about using — battle ropes. The best battle ropes are woven from polyester fibers and durable enough to withstand repeated thwacking against the floor. They also have coated handles that are comfortable to hold and protective sleeves to help prolong the lifespan of your ropes (especially if you plan to use them outdoors or on rough flooring).
When it comes to material, look for ropes woven out of polyester. One of the most popular types of polyester fiber is Dacron, which is known for its strength and versatility. In addition to the rope's material, look at its handles — coated handles with built-in finger grooves don't just prevent chafing and give you ample traction as you move the rope, they can also keep it from unraveling.
The main decision you'll have to make when choosing a battle rope is the size. They're typically available in lengths ranging from 30 to 50 feet, and you can easily find ropes with diameters ranging from 1 to 2.5 inches. Think about your skill level and the intensity of your desired workout: Thicker, longer ropes are usually heavier, making the workout more intense. While a 50-foot rope might be the most versatile choice, a 30-foot one can still provide an excellent workout and can be better suited for a smaller space. And if you don't quite have room for a 30-foot option, consider a super-short option that's made for jumping rope.
While jump rope-style options are meant to move with you, traditional battle ropes must be secured to a sturdy object or surface. If you plan to attach your battle rope to a post or heavy workout equipment, make sure it comes with a strap anchor or purchase one separately. Alternatively, a metal bracket anchor that bolts directly to the wall is a great semi-permanent solution. Battle ropes can come with or without anchor kits — and I've included a great one at the end if that's of interest.
To help you narrow down your options, I've rounded up three of the best battle ropes you can snag on Amazon.
1. The Overall Best Battle Rope
Boasting more than 1,300 five-star ratings on Amazon, this high-quality option includes everything you need to start right out of the box and offers plenty of options so you can customize your workout. Available in eight different length and diameter combinations (ranging from 30 to 50 feet long and 1.5 to 2.5 inches thick), the rope is made of Dacron and is jacketed in a full protective sleeve that reinforces its durability. Each end of the rope is wrapped with heavy-duty, extra-long handles that have built-in finger grooves, which keep your hands firmly in place as you lift the rope. Plus, it includes a pair of strap anchors that won't snap or sway out of place and a stainless steel carabiner that quickly secures the battle rope to a tree, post, pole, or other sturdy object. As a bonus, the set includes an exercise poster and a money-back guarantee.
Promising Amazon review: "Great quality. Glad I decided to spend the extra dollars, though I'm sure there are more expensive ones out there, these are definitely superior to the more budget ones... the protective sleeve is great protection. I only got the 30' ones for my home gym, but I'm sweatimg just after a few min. The handles are very durable as well. The anchor straps are just two loops and a carabiner.. but it's good, let's you attach how you want to depending on what set up you have. Overall, great purchase.."
Available sizes: 1.5 inch Diameter x 30 ft Length — 2.5 inch Diameter x 40 ft Length
2. The Best Budget Battle Rope
This budget-friendly battle rope is a great option if you want to try your hand at battle ropes without paying a mint. The rope is made of poly Dacron and features a short waterproof sleeve that offers extra protection where it comes in contact with the anchor, plus heat-shrink coated plastic handles with finger grips. This option doesn't come with an anchor, but you can secure the rope around a heavy, upright object if you want to use it without one (or you can purchase one separately). While you don't get as many options to choose from as the pricier rope above, this battle rope is available in four lengths and thicknesses to suit your fitness level and preference. Some reviewers have reported fraying after use, but others have praised the rope's durability.
Promising Amazon review: "As a personal trainer it is important that I have versatile equipment. These ropes are excellent for the price! Sturdy [...] The sheath to protect where you wrap it around is excellent to keep the rope in great shape long-term.."
3. The Best Weighted Jump Rope
This weighted jump rope is like a mini battle rope, replete with a three-strand polyester construction and rubber handles with built-in finger grooves. While it isn't suited to performing all the traditional battle rope exercises, it can still offer a full-body workout. The heaviest of the two thicknesses (1 and 1.5 inches) weighs 5.5 pounds, requiring you to use more power to swing it over your head and move it at a consistent pace than a typical jump rope. Still, it's lighter and smaller than longer battle ropes, which might be ideal for individuals who want a full-body workout in a more limited space. It comes in versions with or without a protective sleeve.
Promising Amazon review: "This jump rope is awesome! This thing is a killer workout. I'm usual pretty good at jumping rope, with this thing I only do sets of 25 a few times and it feels like a total workout. I never knew how much fun a heavy jump rope like this could be and at the same time it's a great workout. Exactly what I needed to make my at home workouts a little more exciting again and get that fire lit."
Also Great: This Versatile Anchor Kit
To lock your battle rope in place, check out this anchor kit. Included in the kit are strap and metal bracket anchors, a stainless steel carabiner, plus the hardware you'd need to install the bracket. The wall-mount anchor can support up to 4,400 pounds and can be attached to surfaces such as cement, wood, and brick. As an add-on, the kit includes an insert that walks users through 21 battle rope exercises.
Promising Amazon review: "I have it attached to a beam in my barn [...] The strap works well for when you need to move your rope attachment point to another location or if you want to travel to another location for a workout! Comes with all needed hardware/anchors."