The 5 Best Bird Feeder Poles, According To Reviewers
We only recommend products we love and that we think you will, too. We may receive a portion of sales from products purchased from this article, which was written by our Commerce team.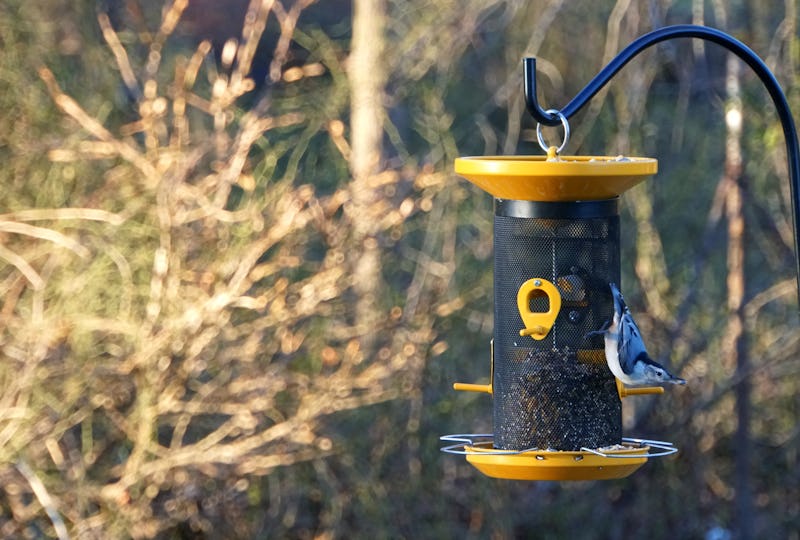 Shutterstock
You've invested time and money into the perfect bird feeder — and now you need a place to hang it. The best bird feeder poles support and display your table, house, nectar feeder, or tube, while being strong enough to stand up to rust, toppling over, and unwanted pests. In order to find the right one for your home, consider the design, the height, and the materials.
The first thing to decide is where you want your bird feeder: Are you looking for a free-standing pole in the middle of your yard, or do you want one that attaches to your deck or balcony? How about mounting a feeder on your fence or a tree? This will determine the design and the price. Free-standing bird feeders tend to be more expensive, as they're larger and need to be more carefully constructed for balance.
Next, think about the ideal height for your bird feeder. For the most part, the longer the pole, the better it'll be at preventing squirrels and other pests from reaching the feed — but if it's too high, it'll be less sturdy and harder for you to reach when it's time for maintenance or a refill. The best-selling bird feeder poles usually land somewhere between 80 to 95 inches in length.
Finally, consider the materials. This will determine the color and overall appearance, but it'll also determine the strength and rust-resistance. Since it'll be exposed to the elements, iron or stainless steel are typically the way to go. While taking all of those factors into consideration, here are the five best bird feeder poles on Amazon.