The 4 Best Blender Food Processor Combos
We only recommend products we love and that we think you will, too. We may receive a portion of sales from products purchased from this article, which was written by our Commerce team.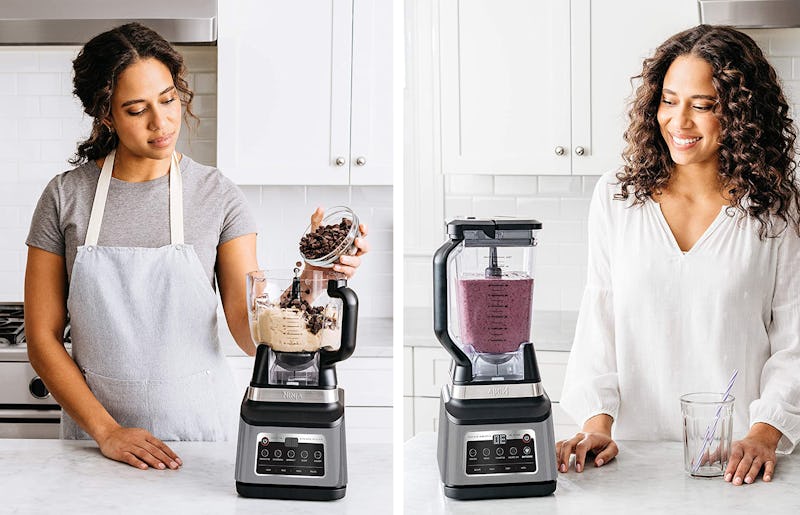 Amazon
If, like a lot of people, you're lacking in the kitchen storage department, the best blender food processor combos can help you make the most of your space and help you whip up a huge variety of recipes and meals. These multifunctional appliances have just one motor base, allowing you to interchange the container as needed. Depending on what you plan to make, there are a few things to keep in mind when shopping for a blender food processor combo.
There's a good chance your combo's blender will get the most action, so make sure the model you pick has a generous volume for making smoothies, frozen drinks, or blending soups. If you want to make small-batch recipes such as dressings, sauces, or marinades, combos that have smaller blending cups are nice to have, and can also be used to make single-serve smoothies for taking on the go, too.
When it comes to the food processor component of your combo, consider what you plan to use it for. Any model you pick should be capable of mixing and chopping, but only certain food processors have attachments and discs to slice, shred, and grate ingredients. Bonus features like auto programs make it easy to perfect your favorite recipes with the touch of a button.
Whichever of the best blender food processor combos you chose, you'll be saving space without compromising the performance of either appliance.
1. The Overall Best Blender/Food Processor Combo
Ninja makes some of the most popular blender food processor combos on the market, including their super versatile BN801 Professional Plus system. Powered by a 1,400-watt motor, it comes with a large, 72-ounce blending pitcher, an 8-cup food processor, and two bonus 24-ounce single-serve cups that have their own small blade assembly. Depending on which of the components is attached to the motor base, the intelligent motor will display available Auto IQ programs for one-touch operation, including: smoothie, extract, ice crush, chop, and dough. This also has four manual programs if you want to control the blending or processing of your recipe.
The Ninja's food processor does not come with a slicing and shredding disc, but excels at chopping, blending, and mixing, and the bonus dough blade can help you make up to two pounds of dough. It's earned a 4.8-star overall rating from over 2,000 Amazon reviewers.
According to one reviewer: "I love this blender for my daily smoothies and food processor. I purchased one about 8 years ago and it was time to pass that one along to my daughter in college. I bought the exact same one, just a new one! Love it."
2. The Runner-Up
Cuisinart's BFP-650 blender food processor combo features a powerful 750-watt motor, and also comes with three different volume vessels. The 56-ounce blending jar is made from durable Tritan plastic and has a drizzle hole for adding ingredients, as well as an ergonomic handle for easy pouring. The blender's blade can be removed for cleaning and also attaches to the top of the included travel cups for blending small-batch recipes, smoothies, or protein shakes. Cuisinart's compact 3-cup food processor functions like a mixer and chopper, and comes with a reversible slicing and shredding disc for prepping ingredients. The combo's motor has manual low, high, and pulse buttons, as well as two programs for making smoothies and crushing ice for recipes like frozen drinks or cocktails.
According to one reviewer: "Love it. I really like the fact that one machine serves three functions. Less clutter. Makes excellent smoothies, great heavy duty blender. Food processor works great too, is a little small, but the efficiency of three in one makes up for it. Would definitely recommend and buy again."
3. The Best Value: A $90 Blender Food Processor Combo
If you're looking for an affordable blender food processor combo, Oster's Pro 1200 model includes an 64-ounce blending jar as well as a 5-cup food processor, and features functionality found on expensive models for less than $90. The Tritan, BPA-free blending jar is dishwasher safe, and has a wide design that encourages ingredients to make contact with the blades for super smooth results. A slicing and shredding blade are included with the food processor, in addition to a chopping and mixing blade. You can customize your recipes using the Oster's manual speed and pulse settings, or choose from one of the programs to make smoothies, salsas, or milkshakes. One drawback? The Oster does not come with small blending or to-go cups.
According to one reviewer: "The food processor works great, just had to figure it out. The blender is awesome. Buy this blender if you're on a budget like me and don't want to spend your whole paycheck on a Vitamix. I give this 5 stars and I used to be a chef."
4. Also Great: A Food Processor Attachment If You Own A Vitamix
Vitamix blenders are a serious investment, but if you happen to own one of the brand's Ascent or Venturist series models, you can easily upgrade it to a blender and food processor combo by purchasing this standalone food processing attachment. Using Vitamix's wireless "Self-Detect" technology, the motor base of your blender will recognize the vessel, and allow you to operate it as a food processor. The large-capacity bowl can process up to 12 cups of dry ingredients, and comes with a multipurpose stainless steel blade that can be used to chop, mix, blend, and puree. The lid has a feed chute for streaming or adding ingredients during processing, and two food pushers help guide ingredients toward the slicing and shredding discs when using these attachments. All of the components to Vitamix's food processor nest and fit together neatly to form a self-contained unit for space-saving storage.
According to one reviewer: "We needed a new processor for a year or two and were just disappointed in what we would look at. Nothing seemed worth the price. We kept saying we wished Vitamix would make a food processor and this does not disappoint. Worth every cent and will last forever like our Vitamix Blender!!"