These Personal Blenders Help You Stay Nourished On The Go — & They're All On Amazon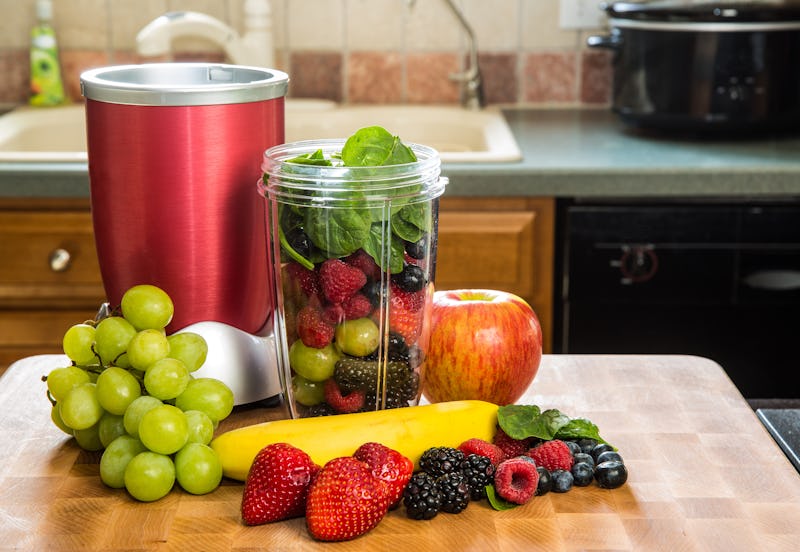 Shutterstock
Whether you're living solo or always on the go, the best single-serve blenders can help you stay nourished. In the roundup below, I've selected a variety of portable blenders — with some being more portable than others — that offer varying levels of power at different price points. From smoothies to protein shakes to crushed ice, there's a little machine here that has you covered.
Power: The selections below range from 120 watts to 1,000 watts. For blending juices and shakes, a lower watt blender should do the trick; but keep in mind that with lower wattage often comes shorter blender life. If you're looking for the most high-powered, single-serve blender (that's still portable), the 1,000 watt option in this roundup promises to crush ice and frozen fruit in seconds.
Capacity & Design: While they're all single-serve, the blenders below range in capacity from just under 13 ounces to 24 ounces. Most of them double as to-go cups as well, but be on the lookout for features that suit your lifestyle, like whether the cup fits in a standard car cup holder or whether it can be recharged in the car.
Cleaning: While one of my picks has a nifty self-cleaning feature rather than being dishwasher safe, most of the blenders below have removable, dishwasher-safe, and BPA-free plastic cups with lids, so you can simply blend and go — with easy clean-up at the end of your day.
Take a look at the best single serve blenders on Amazon. All of them are highly rated, and there's a pick for every budget.