The 5 Best Car Seat Covers For Hot Weather
We only recommend products we love and that we think you will, too. We may receive a portion of sales from products purchased from this article, which was written by our Commerce team.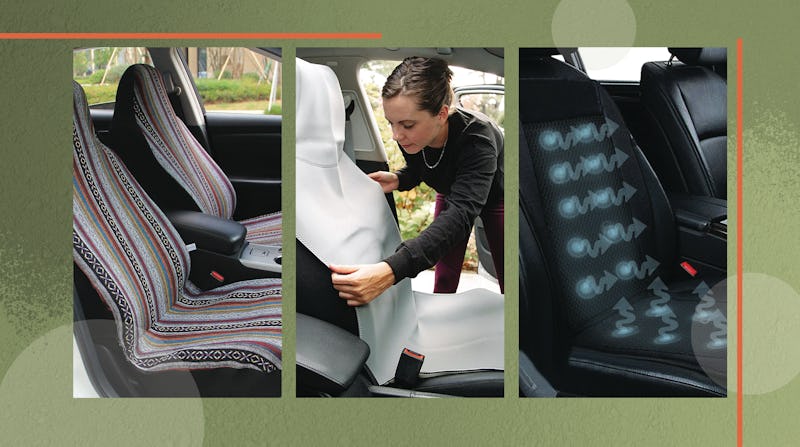 Bustle / Amazon
There's nothing worse than sticking to a toasty car seat on a hot day. Thankfully, the best car seat covers for hot weather can make you much more comfortable. As you shop, look for fabrics and design features that will allow air to circulate and keep you cool. Most car seat covers are designed to fit standard-size bucket seats, but you should always check the measurements and manufacturer's compatibility info to ensure any covers will fit your car seats. Some picks are even designed specifically for bench-style seats, should you need to cover those. All good car seat covers should also have a nonslip backing or some type of straps to ensure they'll stay in place.
What Criteria To Consider
To find car seat covers that will stay cool when temperatures rise, look for ones made with breathable materials and/or constructions. While individual materials will vary from cover to cover, some great options include neoprene (which is durable and waterproof) and cotton terry. For extra breathability, you can opt for covers that feature mesh as well.
Car seat covers with built-in fans are sometimes known as cooling car seat covers — they'll spread air across the surface of the seat to help you cool off. These car seat covers usually have a couple of different options for air flow speed, and you'll have to plug them in to a standard 12-volt (or 24-volt outlet, if you have a truck) to power them.
Shop The Best Car Seat Covers For Hot Weather
In a hurry? Here are the best car seat covers for hot weather:
These five car seat covers will solve your sticking-to-your-car-seat woes. They come in a variety of different colors to match your ride, and Amazon reviewers simply love them.
1. A Fan-Favorite Waterproof Bucket Car Seat Cover
With more than 6,600 ratings on Amazon and a stellar 4.6 stars overall, this bucket car seat cover is adored on the site. And it's easy to see why — the cover is made from a neoprene material that won't get sticky or overly warm even as temperatures soar. It's 100% waterproof, too, so no need to worry about spills, sweat, or wet swimsuits on your seats. The integrated straps and anti-slip backing work together to ensure that the seat cover won't budge when you're driving or getting in or out of the car. The manufacturer bills the seat cover as a universal fit, so the straps are extra important for making sure it fits your specific seat.
This pick comes with a 100% lifetime money-back guarantee, plus a neoprene seat belt cover to protect those as well. It's recommended that you hand wash the seat cover, but the manufacturer notes that, in a pinch, you can also machine wash it on a gentle cycle. Choose from different color options, including black, gray, and pink.
Enthusiastic Amazon review: "Very easy to put on and has stayed in place. None of the sliding around when you get in and out of the car. Material is soft but not bulky and best thing ever- it keeps the seat from getting so hot."
Size: 21 x 56 inches (width x height) | Machine washable: Yes | Available colors: 5
Also available on: Walmart, $43
2. A Budget-Friendly Set Of Patterned Car Seat Covers
Car seat covers can be pretty pricey, but this pair seat covers and belt covers is just around $30 — an absolute steal. The covers are all made from a super soft saddle blanket material that won't stick to you even when it's toasty outside. Sponge padding provides even more comfort, while straps and a buckle ensure the covers won't slide around. According to Copap, these covers fit most car seats with headrests, but you can also click through to the Amazon product page for a list of specific compatible vehicles.
Enthusiastic Amazon review: "Thick, soft material- very comfortable- and they don't slide or move out of place on the seat- the covers stay put!"
Size: 19.3 x 21.6 x 31.1 inches (width x seat depth x height) | Machine washable: Yes | Available colors: 4
Also available on: Walmart, $21
3. The Best Cooling Car Seat Cover With A Built-In Fan
This cushioned seat cover truly takes the concept of cooling to the next level — when plugged in to the 12V outlet in your vehicle, brisk air will circulate throughout the mesh seat cover to keep you comfortable in even the hottest weather. This pick is said to have a universal fit for bucket seats (it'll even work on office chairs!) and an elastic strap will ensure that it stays firmly in place once installed. Choose from two cooling settings (low or high), depending on your preferences.
Enthusiastic Amazon review: "My skin is greatly affected by warm/hot weather and sweating. This not only keeps your bum cool, but up your back as well. So nice to be able to drive comfortably."
Size: 16 x 40 inches (width x height) | Machine washable: No | Available colors: 1
4. A Colorful Bench Car Seat Cover For Hot Weather
If you're in need of a cover for the bench-style seat in your vehicle, this one is your best bet. It's made from a blanket-like woven material that's quite comfortable to sit on, even in hot weather. Built-in pockets on the front are a helpful addition to keep you organized. Tie straps help to keep the cover in place, helping it fit most front truck or bench seats.
Choose from different colorful options, such as green, burgundy, and navy. If you need to clean the seat cover, be sure to hand wash it.
Enthusiastic Amazon review: "My old vinyl was pretty sad looking with tears and foam showing, with a little gorilla tape on the vinyl to smooth everything out and then covered with this saddle blanket, my interior got a huge boost in appearance and comfort. I've also noticed I don't sweat as much on the saddle blanket which is awesome because the old truck doesn't have A/C and I live in Texas."
Size: 56 x 28 x 28 inches (width x seat depth x height) | Machine washable: No | Available colors: 7
5. A Sweat-Absorbing Car Seat Cover
Made from a soft, towel-like material, this car seat cover is amazing at absorbing sweat — and let's be real, on a hot day we all have some. The cover is easy to install, and once in place, the anti-slip backing ensures it won't budge. If you don't want the cover always on your seat, it rolls up (and can be secured with an elastic strap). While there's a soft towel material on top, a waterproof layer prevents any sweat or pool water that the towel might absorb from reaching your car seats. Choose from five color options, and a two-pack as well. This cover should fit most car seats that aren't bench seats (both front and rear ones).
Enthusiastic Amazon review: "This washes very soft and is great for over a leather seat-especially in the summer. Today was 90 degrees and it is nice to get in the car and have a NOT hot seat. Also, after I have played tennis or hiked it is nice to have the towel texture to sit on."
Size: 26.4 x 54.7 inches (width x height, according to a reviewer) | Machine washable: Yes | Available colors: 5
Also available on: Walmart, $28