The 5 Best Cat Brushes, According To A Groomer
We only recommend products we love and that we think you will, too. We may receive a portion of sales from products purchased from this article, which was written by our Commerce team.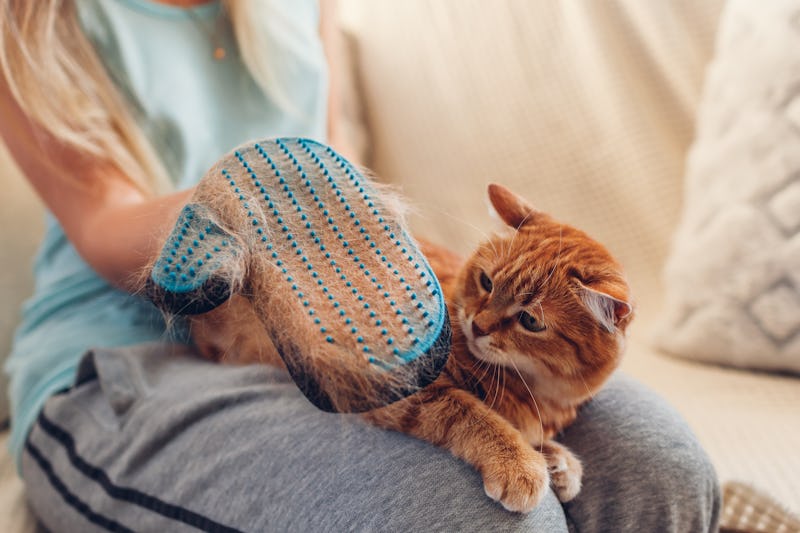 Mariia Boiko / Shutterstock
Most cats don't love sitting through a proper grooming session to deal with tangled fur and mats, so it's important to choose a grooming brush that'll work quickly and effectively. Even though there's a wide variety of grooming brushes on the market, according to Jacque Opp, certified feline master groomer, the best cat brushes include grooming tools with soft silicone bristles and durable combs with steel tines that remove hair easily while being gentle on your cat's skin. "Cats don't have a lot of patience so I recommend being thoughtful with your brushing methods. Being effective in a short time frame makes a difference," Opp tells Bustle.
The length of your cat's coat will be a deciding factor when choosing a brush. For short-haired cats, Opp recommends a two-step approach. "My clients have great success with a silicone curry followed up with a metal comb," says Opp. "The metal comb will need to have teeth very close together to be effective." Besides being gentle on kitty's sensitive skin, Opp says silicone brushes are long-lasting and can easily be cleaned and sanitized.
"A metal comb will be the most effective [tool] for long-haired cats," says Opp, so you can skip the silicone brush if your pet has long fur. "I would avoid any type of rectangular slicker brush," cautions Opp, since that type of brush can easily miss tangles.
What's more, Opp would "completely avoid a brush with hooked teeth" and ones that are labeled for shedding, which can be damaging to your pet's delicate hair and skin. And even armed with the best cat brushes, you may run into some resistance from your cat. "I am a big fan of positive reinforcement," says Opp. She recommends trying treats, like Churu lickable purées, to get your kitty on your side.
With that in mind, scroll on for the best grooming tools that might actually make your cat enjoy being brushed.
Expert:
Jacque Opp, Certified Feline Master Groomer & Certifier