The 11 Best Cuticle Oils, According To Amazon Reviewers
We only recommend products we love and that we think you will, too. We may receive a portion of sales from products purchased from this article, which was written by our Commerce team.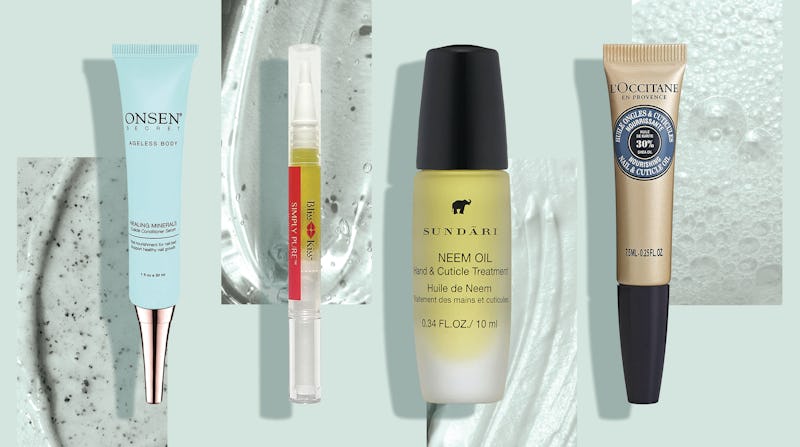 Bustle/Amazon
To help keep the skin around your nail beds healthy, the best cuticle oils use hydrating plant oils that penetrate deeply into the skin to relieve dryness. Cuticle oils come in liquid, serum, and balm forms, and you can choose the method that's most convenient for you. Plus, moisturizing cuticle oils will not only make your nails look and feel healthier, but they can also help your manicure last longer — so it's a win-win in terms of self-care.
When it comes to nourishing your nails, cuticle treatments usually contain plant oils such as sunflower, jojoba, and grape seed, all of which can help restore the skin barrier and have anti-inflammatory properties. In addition, many cuticle oils include moisturizing vitamin E or hydrating squalene.
Since many cuticle oils contain similar ingredients, your biggest shopping consideration is the application method — and you'll want to choose an oil you find easy to apply so you're likely to use it regularly. If you have a few minutes to sit down while treating your nails, you might want a bottle of cuticle oil that you apply with a dropper or brush, allowing you to thoroughly saturate your cuticles and nails. But if you want a convenient on-the-go application, there are easily portable options such as a cuticle oil pen brush, an oil-infused balm, and a roll-on bottle.
Whichever application method you choose, read on for the best cuticle oils that are all highly rated, packed with moisturizing ingredients, and available in a variety of scented and fragrance-free formulas. While you can apply oil before and/or after using nail polish, there are a few tips to keep in mind: If you apply oil before nail polish, be sure to remove the oil before applying polish to ensure the polish adheres well to your nails. Post-manicure, applying a small amount of oil a few minutes after painting your nails can help the polish dry faster.
Study referenced:
Lin, T. K., Zhong, L., & Santiago, J. L. (2017). Anti-Inflammatory and Skin Barrier Repair Effects of Topical Application of Some Plant Oils. International journal of molecular sciences, 19(1), 70. https://doi.org/10.3390/ijms19010070