The Best Dog Pools To Keep Your Pup Cool
We only recommend products we love and that we think you will, too. We may receive a portion of sales from products purchased from this article, which was written by our Commerce team.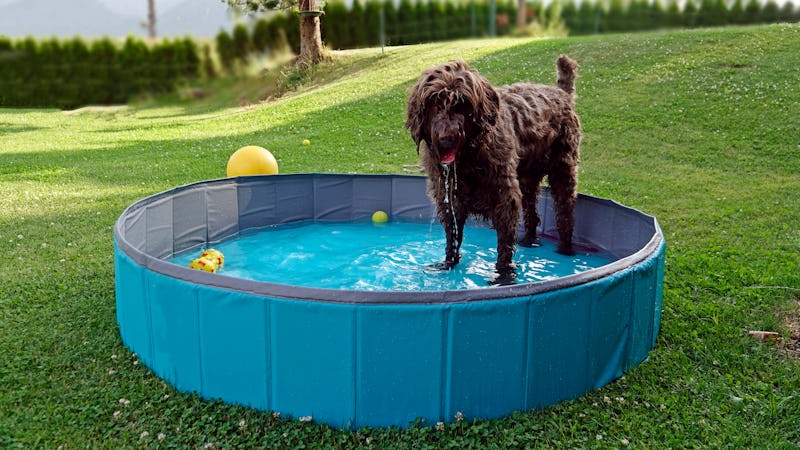 Shutterstock
A free-standing pool is a low-maintenance way for your dogs to make a splash in the hotter months. But instead of just going for any basic baby pool, the best dog pools are made of durable materials that can stand up to sharp claws or teeth. They'll also be sized for your pup and their swimming abilities.
Before you do anything else, you'll want to have your dog's measurements handy, so that you know what size pool to get. Generally, you want one that's wide enough for them to stretch out, — whether standing, wading, or paddling — but that will still allow them easy access in and out. But, no matter how comfortable you think they are around water, you should never leave your pet unattended in a pool.
Next, consider materials. Dog-friendly pools are most commonly made from a harder plastic polyvinyl chloride (PVC) because it's sturdy and provides a slip-resistant textured finish. However, if you're looking for longevity, ones that are reinforced with dense fiberboard or steel frames are worth the extra cost. If you're shopping on a budget, an inflatable kiddie pool may work out for a few splash sessions, but since they are more prone to rips and tears, it's best to avoid them if your pet is a heavy chewer or digger.
For the most portability, a lightweight, foldable model will be easy to pack up to throw in a car. Also, take note of extras like a drain valve for quick emptying, though if you're hoping to avoid a muddy yard, you'll also appreciate the ability to connect a hose to control where the water output goes.
Ready for your deep dive into the best dog pools on Amazon? Keep scrolling to find your dog's new favorite place to play.
1. The Overall Best Dog Pool
With more than 17,000 positive reviews on Amazon, this heavy-duty dog pool is an undisputed fan favorite thanks to its solid construction. It's made of tough PVC with reinforced edges and a thick, slip-resistant floor, and the walls are constructed with high-density fiberboard to give you even more longevity. One other stand-out feature? The drain pump on the side makes it so easy to empty. You can choose to open it and let it run out on its own onto your lawn or attach the included hose connector cap to a screw-on a hose (the brand didn't indicate which size is compatible but one reviewer confirmed a 0.5-inch one fits best), and redirect the water outward to wherever it's most convenient. Then, you can fold it down to a flat, compact size for storage.
Promising review: "This has been the best purchase!! My pups are obsessed with water and this pool is actually strong enough material that it withstands them. I got the biggest size and they both have more than enough room when they are in it. One of my dogs is really into digging while in the water and this material didn't even scratch (and my dog put some muscle into the digging). Definitely recommend!"
Available sizes (diameter x height):
Small: 32 x 8 inches , 5 pounds folded
Medium: 39.5 x 12 inches, 9 pounds folded (featured)
Large: 48 x 12 inches, 11 pounds folded
X-Large: 55 x 12 inches , 13 pounds folded
XX-Large: 63 x 12 inches, 15 pounds folded
2. The Bet Pop-Up Pool
For something that's a little more lightweight, opt for this ultra-portable, 4-pound pop-up dog pool. It's made of a sturdy, 300-denier ripstop oxford fabric that's layered with PVC to protect against tears or leaks. Its steel spring frame allows it to easily pop up or fold down, and an attached elastic band will secure it once collapsed. While it can simply be pushed down flat to empty, that also means the walls can be easily tipped — thus draining water right out — so in order to avoid that frustration, this pick may be more ideal for less rowdy pets.
Promising review: "I've tried multiple pools and they've each failed […] The Alvantor pool blows them all out of the water. This pool is super compact when folded up - great for my condo lifestyle. It is very easy to pop up and fill, and the material is impressive. This is some thick, durable material - it's like the roof of an outdoor screen tent! There aren't any seams on the inside of the pool, so I have no concerns around construction - it's solid!"
Available sizes (diameter x height):
42 x 12 inches, 4 pounds folded (featured)
63 x 12 inches, 8 pounds folded
3. The Best For Really Active Swimmers
Though it's not made solely for dogs, this above-ground pool is a great option if your furry family member loves to swim. With three-ply walls, it's made of heavy-duty PVC and polyester with durable steel frames that have a rust-resistant coating. It has a drain plug that attaches to your garden hose for emptying and it can be disassembled for storage (some shoppers suggest securing it with bungee cords to keep it compact). Note that because it's taller, your dog may need a ramp to get in or out. Finally, you'll have the option to attach a filter (reviewers overwhelmingly recommended this one) — while it isn't required, it's a great solution for keeping the water clean long-term.
Promising review: "I bought this pool for my 3 big dogs. I was skeptical because they all have sharp nails. I have had this for over a month now and my pups have loved every minute of it. The liner is pretty strong and I have no complaints."
Available sizes (length x width x height):
86 x 59 x 23 inches, 35 pounds folded (featured)
102 x 63.6 x 25.2 inches, 39 pounds folded
118 x 78 x 29.5 inches, 46 pounds folded
177 x 86.4 x 33.6 inches, 86 pounds folded
4. The Best On A Budget
If you're looking for something that's truly inexpensive but still loved by dog owners on Amazon, go with this inflatable pool, which per reviewers feels like a thinner plastic. In exchange for the price, you'll have to put in the effort of inflating it, and it may only last one season since it can be easily punctured (though it does come with a repair patch, just in case). But, if your dog just wants to chill in the water on a hot day or you're looking for a reliable place to bathe your pets, this is a great option. There are no built-in drains, so when you're done, just tip it over or deflate it to empty.
Promising review: "Bought this as we have a lot of heatwaves this summer and no air conditioning. My dog was very happy, she can lay down in it and still enjoy the sun."
Available sizes (diameter x height):
Also Consider: A Pool With A Splash Pad
If your dog prefers playing in the water instead of just relaxing in it, this PVC splash pad can offer hours of fun. Here's how it works: Attach your garden hose to the side nozzle, then the outer ring will inflate with water and push it up in a cool fountain-like stream. Water will pool at the base of the pad — so once playtime is over, just tip it over to drain it. Bonus: you'll get two repair patches.
Promising reviews: "Both of our dogs lost their minds with happiness when I set this up. They had a fantastic playtime with both the fountain effect and just tromping around inside the pool. Great way for them to cool off and get some exercise when it's just too hot for their normal trail runs. Highly recommend if your dogs love water, and this would be fun for small children as well!"
Available sizes (diameter):
Large: 51 inches, 2 pounds folded (featured)
X-Large: 68 inches, 4 pounds folded
You May Also Like: A Pet-Safe Flotation Vest For Large Bodies Of Water
It's always a good idea to invest in your pet's safety, no matter their swimming skill level, but if your dog will be taking dips beyond just your backyard — like in rivers, lakes, and larger bodies of water— you'll be glad to have this life vest ready. It's made from padded foam panels covered by a buoyant ripstop material, as well as a neoprene belly band that supports their chest. Likewise, there is a front support to keep your dog's head above water at all times. It fastens with three adjustable buckle straps that are reinforced with Velcro, providing a secure, customized fit. For extra safety, it has a top "rescue handle" as well as reflective striping. Choose between two highly visible, neon colors: orange (pictured) or green.
Promising review: "Most dogs can swim but unfortunately Bulldogs cannot. Before I got this product I had to hold up my bulldog by the skin on her back or she would sink, not anymore with this life jacket she can now swim freely by herself with no assistance from anyone. One really nice feature about this life jacket is the part of it that wraps around the neck underneath the dog's head, it does a great job holding the dog's head above the water and keeping it there. Really happy I purchased this life jacket!"
Available sizes (in chest circumference measurements):
XS: Fits 11–15 inches, 5–10 pounds
Small: Fits 16–20 inches, 10–30 pounds
Medium: Fits 21–27 inches, 30–55 pounds (pictured)
Large: Fits 28–32 inches, 55–85 pounds
XL: Fits 33–44 inches, 85–100 pounds