The 3 Best Dog Seat Belts To Keep Them Safe
We only recommend products we love and that we think you will, too. We may receive a portion of sales from products purchased from this article, which was written by our Commerce team.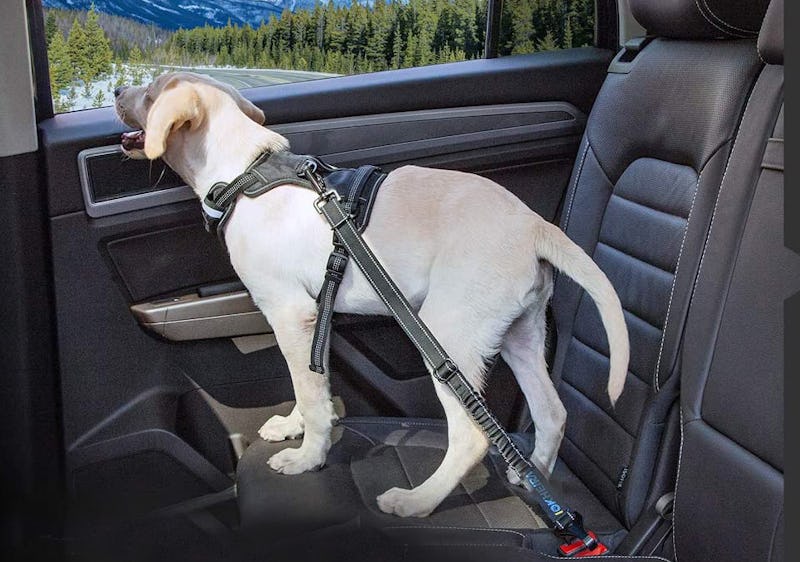 According to Dr. Rebecca Greenstein, veterinary medical advisor for Rover, "Choosing a pet travel restraint is not just about reducing distraction while driving. Most owners don't realize it's also about keeping pets safe within the car, especially in case of a collision." That's where the best dog seat belts come in, but unfortunately, "companies can make outrageous claims of safety without any proven evidence." So before choosing any one option, you should first consider the seat belt's design and fit — and this is what an expert says to look for:
When securing a pet with a seat belt, you should always attach it to a dog harness rather than something that secures around the neck. This design will "more evenly distribute pressure (and any excessive forces in case of a car accident) and decrease stress on the delicate throat area," Dr. Greenstein wrote to Bustle. "NEVER just attach your dog's regular neck collar directly to the car's seat belt." The top option below comes with a padded harness, and numbers two and three are good choices if your dog already has a harness. Finally, if you're looking to combine one of these seat belts with a crash-rated car safety harness, scroll to the bottom of the article.
"Fit is extremely important!" Dr. Greenstein wrote. "Just like a human seatbelt, the better it fits, the less likely a pet will come loose in the event of sudden impact." For that reason, you should "make sure all clasps and clips are robust and secure." Finally, while it can be tempting to give your dog extra room while you drive, a longer belt is actually a bad thing. According to Dr. Greenstein: "Not only does it increase the likelihood of roaming around and distraction, but in case of a collision, the extra leeway is downright dangerous."
Using Dr. Greenstein's advice, as well as reviewer feedback, these are some of the best options when you're looking to hit the road with your dog.
1. The Best Dog Seat Belt & Harness Set
This affordable seat belt set from SlowTon comes with two things: A breathable harness, and a belt strap that secures into the car's existing buckle. The former is made from padded mesh and adjusts in four places, plus it has dual D-rings on the back. The latter is length-adjustable with an elastic bungee band to absorb impact and a rotating metal clasp for strength. Most importantly, this set comes in six different sizes, so you can find the most secure fit for your pet using their chest and neck measurements. It also comes in over a dozen different colors and patterns, and it has gotten a 4.5-star overall rating after more than 10,000 reviews.
Available sizes: XXX-Small — Large
One reviewer wrote: "I got into a car accident, and my car was t-boned. This harness and leash both protected my labradane puppy and kept him calm. He didn't have a scratch on him, but he would have been hurt without it."
2. The Best Dog Seatbelt
If you already have a harness for your dog, consider the IOKHEIRA three-in-one seat belt, which has over 3,000 reviews and a 4.7-star rating overall on Amazon. It's length-adjustable with an aluminum-alloy buckle so you can keep your dog comfortable yet secure. Plus, it has a sturdy nylon strap with an elastic bungee that minimizes the force of impact in case of a crash. Since it offers a locking carabiner clasp, a latch plate, and a hook lock, you can secure your dog to a wide range of things, including the seat belt buckle, the safety seat lock, and the clips in the trunk. However, it only comes in one length. (Please note that this does not come with the pictured harness.)
Available sizes: one size
One reviewer wrote: "I have a 120 lb Great Pyrenees and this works great! Fits my seat belt perfectly and with the stretchy insert I don't worry if I have to stop a bit quickly."
3. An Extra Sturdy Belt For Chewers
The Mighty Paw seat belt is the ideal pick if you're worried about adjustment clasps slipping or your dog chewing through the strap. That's because it's made from a steel-braided cord and it stays at one length (though you can choose between three size options depending on the size of your dog). On one side, it has a latch bar attachment that clips onto the car seat clasps in most vehicles, and on the other end, there's a metal carabiner that attaches to your dog's harness (not included). While it's not the most flexible option, it's definitely a great pick for heavy chewers.
Available sizes: Small — Large
One reviewer wrote: "What a great option for dogs and puppies that chew, especially when restrained while riding in the car. With this belt, the driver and passengers can relax and not worry about their dog chewing through the safety belt or accidentally stepping on the regular seat belt release button."
Also Great: A Crash-Tested Car Harness
"I encourage pet parents to look into the product recommendations of independent third-party pet safety testing organizations (like the Center for Pet Safety or CPS), which scientifically crash-tests products and evaluate their safety performance under collision-like conditions," Dr. Greenstein wrote, and the Sleepypod ClickIt harness is one of the CPS' recommended options. It features three points of seatbelt contact, a wide design that disperses impact, and automotive-grade materials, all of which help to protect most breeds in case of accidents. Get it in three sizes and four colors on Amazon. (Please note this harness does not come with a separate seat belt, so you might want to buy one separately.)
Available sizes: Small — X-Large
One reviewer wrote: "We take frequent car trips with our German Shepherd and I've been increasingly concerned for her safety in the event of a crash. If you've done your homework, then you already know that this harness is the only one with a passable rating after crash tests."
Expert:
Dr. Rebecca Greenstein, veterinary medical advisor for Rover