The 4 Best Dog Treadmills, According To A Vet
We only recommend products we love and that we think you will, too. We may receive a portion of sales from products purchased from this article, which was written by our Commerce team.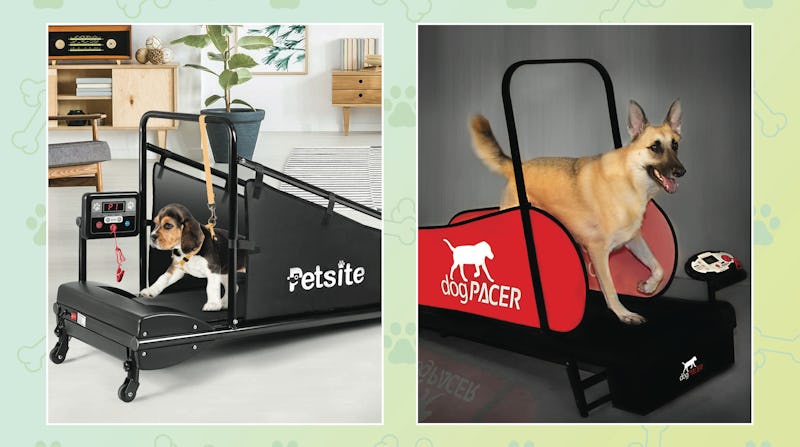 Amazon / Bustle
While a dog could learn to use a treadmill intended for humans, the best dog treadmills are safer and better-suited for your canine friend. According to Dr. Gary Richter, a veterinary health expert with Rover, "Treadmills offer good cardio and muscle-building capabilities [... and] can be a great way to exercise a dog if extended outdoor time is not an option." All quality dog treadmills should feature safety rails, an emergency stop, and an accident-preventing design, but the right pick for you and your dog will depend on the machine's speed settings, size, and weight capacity.
"It is important that the treadmill speed be able to go very slow and increase speed slowly to allow dogs to adjust," Dr. Richter wrote to Bustle. As a result, you'll want to look for a treadmill with a wide selection of modes or speeds so your pet can advance at their own pace. And like with most other pet tools, a little training might be required — especially for more skittish animals. In that regard, the quieter and more accessible the machine, the better.
You'll also want to check the treadmill's dimensions and maximum weight capacity before you purchase. Often, the right pick for you will depend on the size and weight of your dog. If your pet is still growing, opt for one that can accommodate them both now and later — but note that the bigger the machine, the more difficult it'll be to store and move. Luckily, most designs fold up for easier portability.
"As with any exercise program, it is always recommended that pet owners consult with their veterinarian before using a treadmill," Dr. Richter wrote. "If possible, consulting with a veterinarian trained in physical rehabilitation would be ideal to get the best results and prevent injury." Once you've cleared it with your vet, these are some of the best options the internet has to offer.
1. The Overall Best Treadmill For Small Dogs
For dogs up to 55 pounds, there's the dogPACER MiniPACER. This treadmill with a large screen has several preset modes and can be set in 0.1 mile-per-hour increments from 0.5 to 7.5 miles per hour. As a result, it's easy to find the right initial setting for your dog and advance from there. Its 4.5-degree angle and overhead bar height are specially designed with small dogs in mind, while its smaller, portable design make it easy enough to incorporate into your home. (The incline is not adjustable.)
Dimensions: 42 by 28.5 by 21.5 inches
Maximum weight capacity: 55 pounds
One reviewer wrote: "This treadmill has been a blessing to keep my dog in shape and healthy. The treadmill was easy to put together. I was able to train my dog in one day to use the treadmill while on the leash and by the second day she was off-leash walking on her own!"
2. The Overall Best Dog Treadmill For Big Dogs
For dogs up to 180 pounds, there's the dogPACER full-size treadmill. This pick has a much higher overhead bar, larger safety rails, and a long, wide walking surface, so it suits larger breeds. You can also adjust the treadmill's angle as well as the speed (in 0.1 increments from 0.5 to 7.5 miles per hour). And with a 4.6-star overall rating after more than 200 reviews, it's one of the most popular picks on Amazon. Despite the fact that it can stand up to the most energetic pets, it still folds in half for easier storage.
Dimensions: 76.77 by 27.16, by 46.18 inches
Maximum weight capacity: 179 pounds
One reviewer wrote: "I'm a dog trainer and canine behaviorist. I have two Siberian huskies and we live in the desert... And it's summertime. [...] Since buying the DogPacer, my dogs have stopped pacing the house every afternoon, bored out of their minds. Instead, they hop on the DogPacer and wait for me to turn it on!"
3. The Best Budget Dog Treadmill
In addition to its 200-pound capacity, the PETSITE dog treadmill has tons of features that make it a fan-favorite among reviewers: It has an LCD screen that allows you to easily adjust the speed from 0.5 to 7.5 miles per hour. And at less than $400, it's one of the more affordable picks out there. Its magnetic safety lock turns the machine off immediately in case of emergencies. The remote allows you to control the treadmill from afar. You can even track your dog's speed, distance, time, and more. Last but not least, this treadmill has three adjustable heights as well as a foldable design and built-in wheels. No wonder it has a 4.4-star overall rating after more than 100 reviews.
Dimensions: 49 by 21 by 28 inches
Maximum weight capacity: 200 pounds
One reviewer wrote: "Living in excess temperatures, this is a great way to drain their energy. Speed options are perfect. Remote is great. When my dog wants to go for a walk on the treadmill he will get on it to let me know. Then I can turn it on with the remote if I'm across the room and he can walk."
4. The Best For Older Or Skittish Dogs
The GOPET PetRun treadmill has a few features that others don't: Its walking surface is virtually flat and extremely low to the ground, which is helpful for older dogs or less-mobile pups. Its safety rails don't obstruct your pup's view, meaning that more skittish dogs can look to you when they're scared. And, finally, since the driving system has an extremely quiet operation, your pets won't get spooked by the noise. This option also has an emergency stop system, a remote control, a folding design, and ample speed settings that range from 0.6 to 7.5 miles per hour. Due to its higher weight capacity and larger tread area, it's suitable for dogs of most sizes, and you can control it manually or with a remote.
Dimensions: 15 by 123 by 74 inches
Maximum weight capacity: 132 pounds
One reviewer wrote: "Really well made, very sturdy and quiet so it doesn't spook my dog. With a longer stride than a human treadmill and protection, so fur doesn't get caught, it works really well for my 80 lb dog. I was surprised at how quickly he learned it, I followed instructional videos on YouTube and it took only minutes."
Expert:
Dr. Gary Richter, veterinary health expert with Rover