4 Signs Of A Good Vet — And 3 Signs Of A Bad One, According To Experts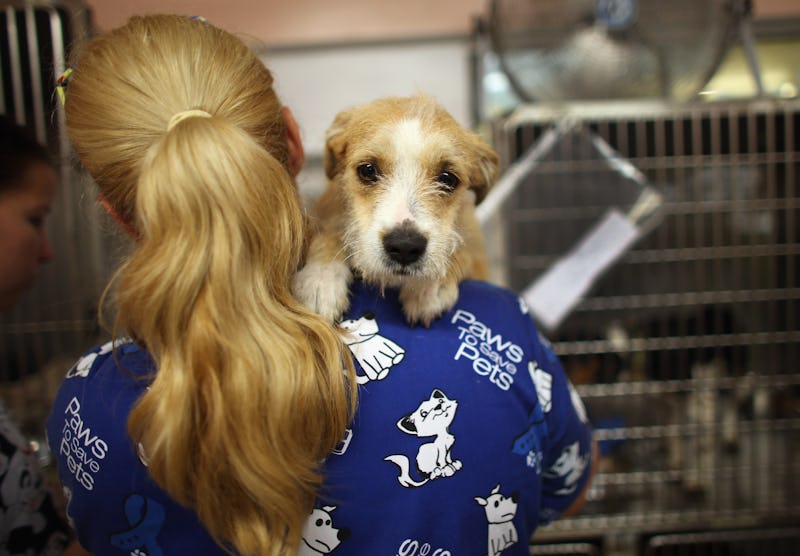 Joe Raedle/Getty Images News/Getty Images
If you're taking your pet to get a checkup or be treated for a health issue, you want to be sure that the doctor they're seeing meets all of the signs of a good vet. After all, your precious fur baby is in their care.
When it comes down to it, though, some vets will be what you're looking for, and some won't. You probably have some preferences about how your doctor acts. Maybe you like someone who gets straight to the point, or maybe you'd rather have a doctor who's willing to talk through different ideas with you. This is similar for vets. "Some owners prefer vets that take control and tell them what to do for the best [care]," Dr. Joanna Woodnutt, MRCVS, a practicing veterinarian and veterinary writer, tells Bustle. "Others prefer every decision to be made together."
If you find yourself in need of a new vet, there's no harm in asking your friends and family members who they take their pets to. Just make sure that you ask them why they love these vets so that you can determine whether they'd work well for you and your pet. "If you find yourself in search of a new vet, I would advise that you first search online for the nearest four or five practices," Woodnutt says. "Then, you need to find out a bit about their facilities and how they operate."
If you aren't quite sure what makes a good vet, here's what to look for.