The Best Face Masks You Can Buy On Amazon
We only recommend products we love and that we think you will, too. We may receive a portion of sales from products purchased from this article, which was written by our Commerce team.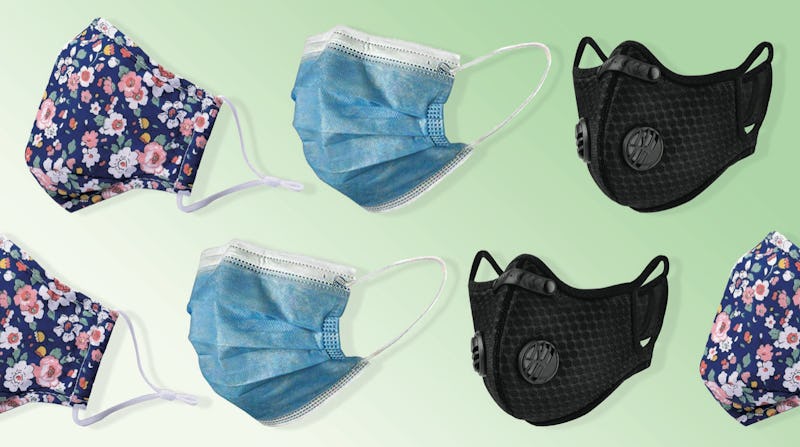 Bustle/Amazon
The Centers for Disease Control and Prevention recommends that most people wear face masks in public settings to help prevent the spread of novel coronavirus (Covid-19). While tight-fitting N95 respirators are the most protective against COVID-19, due to shortages the CDC suggests that they should be reserved for health care workers and first responders. The best face masks have filters or multiple layers of fabric that help prevent respiratory droplets from spreading to other people. You'll want to consider a few facts before you purchase a face mask that's right for you.
Mask Types
Surgical: Surgical masks, when worn correctly, have been found to offer some ability to filter pathogens, though they're typically blocking larger droplets, not smaller particles. Disposable surgical masks don't vary in terms of style and color and can not be washed and reused.
Cloth: Softer than surgical masks and reusable, cloth masks sometimes have filter pockets or built-in filters that are removable and disposable. You can cut fabric to make a homemade filter or rely on disposable carbon or HEPA filters to absorb, capture, and remove particulates in the air. The best cloth masks without filters are made of heavier "quilters cotton" with a thicker and tighter weave. Masks made of synthetic fabrics like polyester did not filter as well as cotton in studies, but experts say any mask is better than no mask.
Neck Gaiter: Also called buffs and often worn during sports and workouts, these thin layers of fabric aren't as effective as a facial mask, but if it's a style you'll fiddle with less, any face covering is better than no covering. This style also doubles as a face shield from wind and dust. You can make a gaiter more effective by doubling up on fabric.
Features
The majority of face masks are designed to fit around your ears and some boast adjustable straps for a more secure fit. If a mask irritates your ears, there are also options that tie behind your head.
Below are some of the highest-rated masks on Amazon — and some are even surprisingly stylish.
Editor's note: Face masks with or without filters can help prevent the spread of germs, but please keep in mind that experts agree that masks alone can not prevent the spread of COVID-19 and that social distancing and washing your hands are critical.