The 7 Best Fidget Toys For Skin Picking, According To A Clinical Psychologist
Expert tips and toys to help you reduce the habit.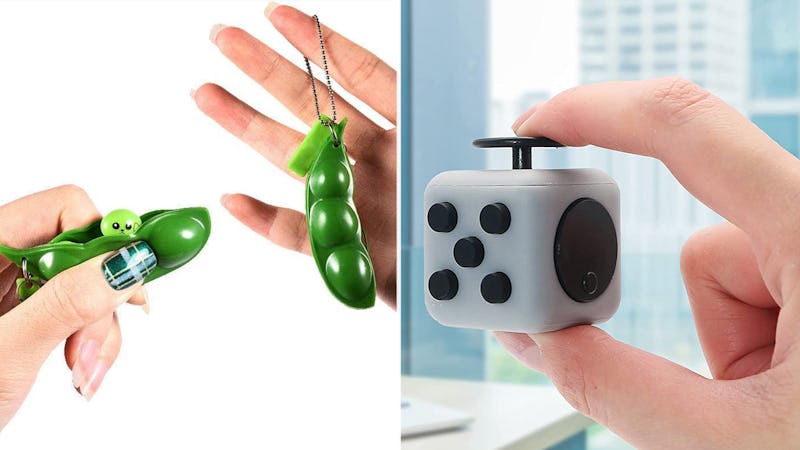 Bustle/Amazon
We may receive a portion of sales if you purchase a product through a link in this article.
Stress and anxiety can manifest in different ways, and for some, it can lead to skin picking. If you're looking to reduce the impulse to pick, the best fidget toys for skin picking will be based on your individual triggers and sensory preferences and can help you reduce or stop the habit for good, according to Corrie Goldberg, Ph.D., a licensed clinical psychologist at Shore Therapy Center for Wellness. There are lots of toys to choose from, including putty, rings, and multi-activity cubes, and most of them feature compact, whisper-quiet designs that can be used almost anywhere.
The Expert
Dr. Corrie Goldberg is a licensed clinical psychologist and the founder of Shore Therapy Center for Wellness, located on the North Shore of Chicago. She works with adults to address the impact of anxiety, stress, burnout, and trauma in their lives with specializations in parent and caregiver burnout; trauma and PTSD; EMDR therapy; and affirming therapy for marginalized populations including neurodivergent individuals and the LGBTQIA+ community.
What To Consider When Choosing Fidget Toys For Skin Picking
To find the best fidget toy for you, Dr. Goldberg notes it's "important to reflect on when, what, why, and how" you pick your skin, which will help you choose a toy that meets those needs "in a less harmful way." For example, Goldberg tells Bustle: "Some fidget toys are designed to emulate the satisfying sensation that some people derive from skin picking. These fidgets allow you to extract, pill, dig, or otherwise pick without the associated harm to the skin." Below, there are fidget toys that involve digging or pulling, others that focus on popping and squeezing, and some that can be rolled, molded, and bent. You may even find that you benefit from switching between two or more toys to satisfy your sensory preferences.
It's also important to consider where you plan to use the fidget toy. Some options are extra quiet so as not to be a distraction in meetings, classes, or other quiet spaces, while others offer a clicking sound you may enjoy. Additionally, all of the options on this list are small enough to fit in one hand, but some are extremely discreet while others are slightly larger, more colorful, and offer more sensory features.
So to keep your hands occupied and help reduce stress and anxiety, scroll on for the best fidget toys for skin-picking on Amazon, plus a few other ways to help reduce skin-picking.
1. A Small Fidget Cube With 6 Sensory Activities
Packing six sensory activities into a little pocket-sized cube, this fidget toy is great for fiddling with any time skin-picking urges arise. Each side of the cube hosts a different sensory activity, including clicking, gliding, flipping, rolling, and spinning, plus a side with an oval-shaped indent that's like a worry stone for your thumb. It measures just 1.65 inches wide, has a soft rubber coating on the outside, and comes in six colors to choose from, including a white and pink, gray and black, and starry purple design.
One reviewer wrote: "I tend to pick at my skin. I will pick dead skin off of my lips, bite my cuticles, and pick at scabs. I couldn't stop so I ordered something to distract my hands and it works great. I constantly have to have something in my hands or there comes the picking. [...] this definitely solved the problem."
Size: 1.65 x 1.65 inches | Colors: 6 | Noises: Clicking
2. An Expert-Approved Picking Stone
Dr. Goldberg recommends a picking stone such as this one "for people who like to dig, pull, or who enjoy the sensation of pulling scabs off of skin." This kit comes with a pumice stone and a 2.5-ounce bottle of paint, plus a pick, scraper, tweezers, and a wooden stand. Simply coat the stone in the paint, allow it to dry, and then use the tools to pull the paint out of the holes and crevices. Plus, you can reuse the stone over and over again and choose from blue and red paint.
One reviewer wrote: "I was really impressed with this picking stone. I have dermatillomania (skin picking disorder), and I was able to pick at this for an hour and felt satisfaction."
Size: The stone is 4 x 3 inches | Paint colors: 2 | Noises: Light scraping
3. This Chain Link Toy That's Surprisingly Quiet
This stainless steel fidget toy is great if you're looking for a discreet option that doesn't make a lot of noise. Many reviewers are surprised by how quiet it is, despite being made out of metal, with one reviewer writing, "It is quiet and small enough that I can take it anywhere and people don't even notice I am using it." The feeling of the chain-link design and silicone rings is a sensory experience on its own, but you can also manipulate and twist the toy into different shapes for even more fun. Choose from four colors: orange, black, blue, and green.
One reviewer wrote: "I got this in hopes of relieving my bad skin picking habit [...] this design is perfect. The size is small enough to remain discrete and from another perspective, it just looks like I'm rubbing something between my fingers. I also love that it is small enough to use with one hand comfortably (which is a main focus of mine since my hands are rather small). I can take notes with one hand while having this in the other. Another plus: its so quiet! I can take it to the library and not have to worry about disturbing someone else's focus [...] If you're looking for something discrete, quiet, and one handed operation, this is the perfect fidget toy!"
Size: About the size of two quarters, according to a reviewer | Colors: 4 | Noises: None
4. A Cute Set Of Popping Peapods
This adorable little pea pod fidget toy provides satisfying squeezing and popping motions and has a convenient hanging strap so it's easy to attach to your bag, phone, or simply wrap around your finger. Each pod has three beans inside that pop out when you squeeze and retreat when you let go. The center pea even has a cute face (one of five random expressions). The peapod measures 2.75 inches long and 0.78 inches wide (not including the chain) and feels smooth to the touch, according to one shopper.
One reviewer wrote: "This toy was just the thing I needed to help curb a bit of the nervous energy I always have. I hold it all the time in my university classes and am able to focus a little better when I have a place for that energy to go to. It's easy to squish, pleasant to hold, and easily attachable to your phone or lanyard (which is where I keep it with my keys). I highly recommend it."
Size: 2.75 x 0.78 inches (not including the strap) | Colors: 1 | Noises: None
5. This 10-Pack Pack Of Spiky Rings
These sensory rings help provide a distraction from skin picking thanks to their spiky stainless steel construction that you can quietly roll and twist between your fingers. One reviewer describes them as being "firm enough to feel but not hurt." Each one measures less than half an inch thick and has an anodized coating to give it rust-proof protection and durability. It can also stretch slightly to accommodate your finger size. The pack includes five colors (two of each): gold, red, green, black, and blue. A pastel collection is also available.
One reviewer wrote: "These are amazing. I spent most of my life a chronic skin/nail picker and honestly this sensory toy more than satisfies the urge to pick. I like to knead, twist, squeeze, and roll them."
Size: 1 x 0.4 inches | Colors: 2 | Noises: None
6. This Colorful Putty That Can Mold, Stretch & Bounce
This stretchy putty not only feels great to play with but also looks cool with its color-shifting tones of metallic blue, purple, copper, and red, depending on the angle of the light. The nontoxic silicone material promises to never dry out, and the 3.2-ounce ball is about the size of your palm, so it's easy to play with single-handedly while working or on your phone.
One reviewer wrote: "LOVE this stuff! Not only is it beautiful to look at, but it is also fun and keeps my hands busy. I cannot recommend this stuff enough! I am a notoriously anxious person and this stuff is extremely helpful, as it keeps my hands preoccupied so I don't pick at my nails/fingers/etc. I will definitely be purchasing more of this stuff to place throughout my environment so it's always available when needed."
Size: 3.2 ounces | Colors: 1 | Noises: None
7. A 12-Sided Cube With Plenty Of Activities
If you're looking for something with a bunch of different things to twist, press, and feel, this 12-sided fidget cube has you covered. It's packed with activities, like sliding switches, bumpy textures, and mini silicone balls, to keep your hands busy and skin-picking at bay. An ABS plastic construction makes it durable against drops, however, one of the sides has a convenient loop to wrap around a finger to keep the cube in place.
One reviewer wrote: "I've bought fidget spinners, several different types of fidget rings and other fidget toys, and none of them kept my hands occupied. THIS ONE DOES! It has so many different textures and features that it really is like a toy. [...] I'd definitely recommend this to anyone who needs to keep their fingers or hands occupied."
Size: 2.3 x 2.3 x 2.3 inches | Colors: 7 | Noises: Clicking
How Do Fidget Toys Prevent Skin Picking?
According to Dr. Goldberg, skin picking (also known as excoriation disorder or dermatillomania) can develop "as a way to manage anxiety or other uncomfortable emotions," adding that it may be a habit that develops over time and gets triggered by certain situations. Fidget toys can "replace or prevent skin picking," says Goldberg. "Simply put, it is harder to pick at your skin if your hands are occupied."
Other Ways To Prevent Skin Picking
In addition to fidget toys, Goldberg notes there are some other ways to help reduce skin-picking:
Expert:
Corrie Goldberg, Ph.D., licensed clinical psychologist and founder of Shore Therapy Center for Wellness